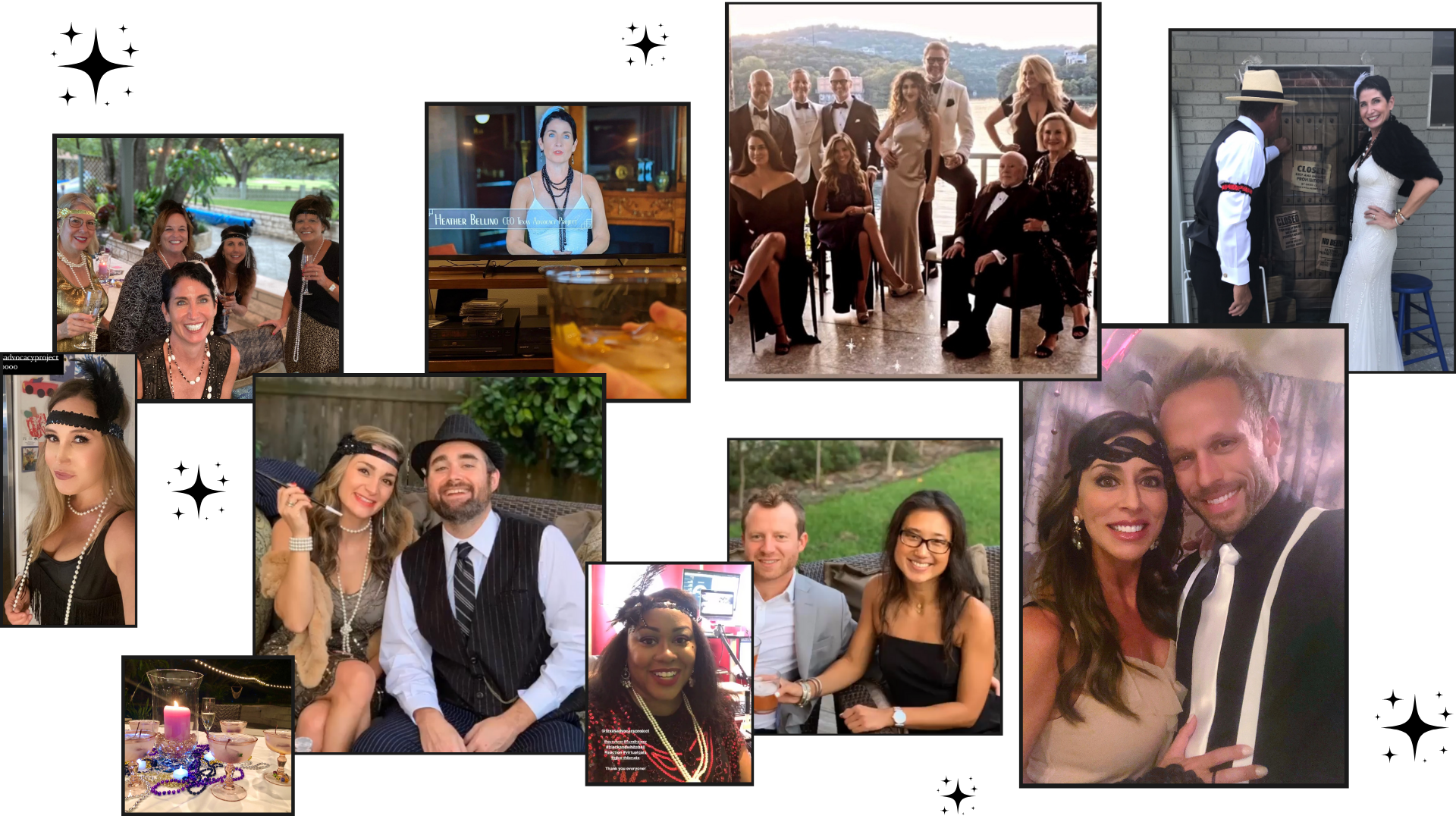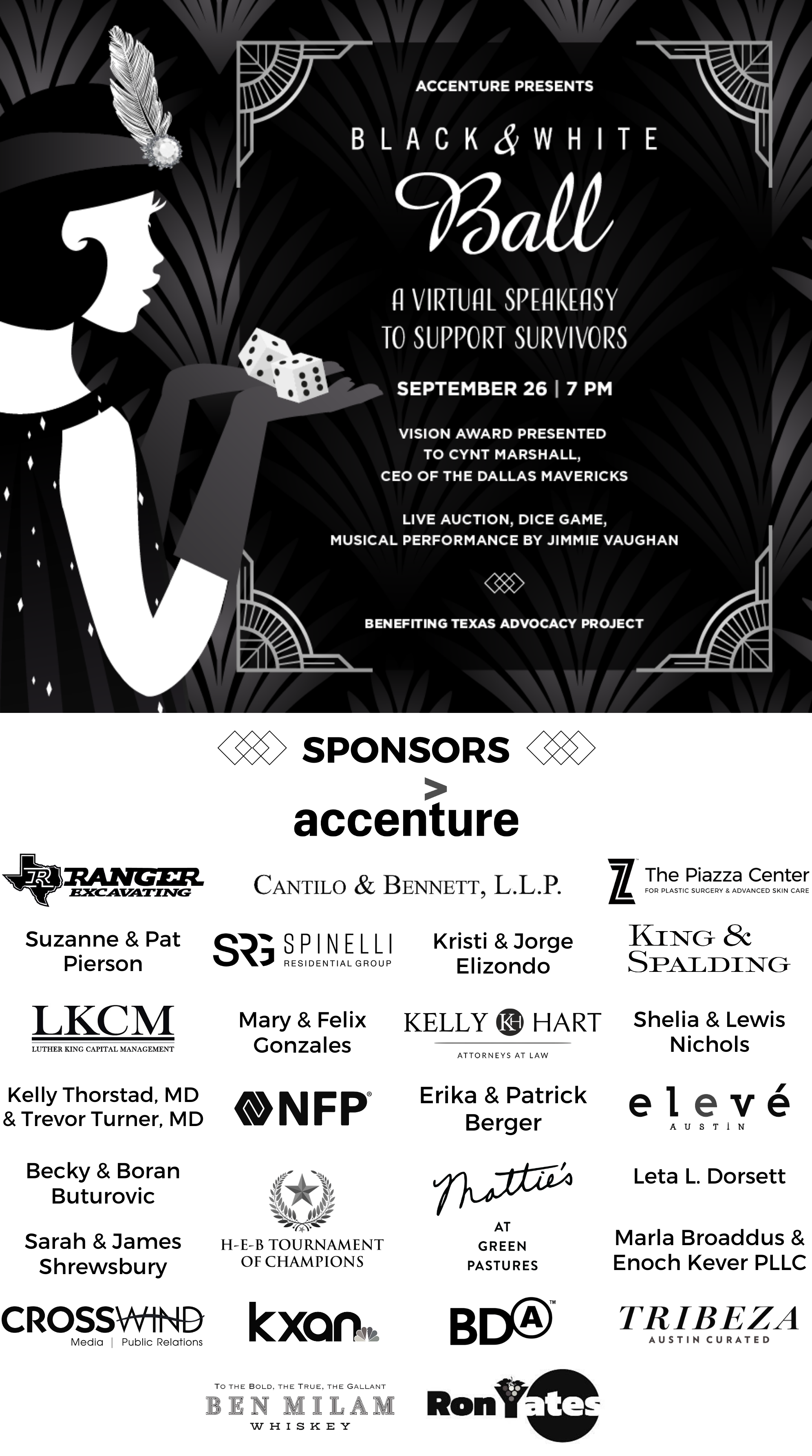 Gather all the Guys and Dolls to celebrate Texas Advocacy Project's 38 years of providing free legal solutions to end power-based abuse in Texas at the 14th annual Black & White Ball, presented by Accenture. A Virtual Speakeasy To Support Survivors Saturday, September 26, 2020 at 7pm.
 
Don your 1920's apparel, grab a cocktail, and have a Ball with us virtually!  The hour-long presentation features…The launch of TAP's new PSA outreach videos, the Vision Award presentation, a Live Auction, Silent Auction & More.
 
Then try your luck with a roll of our dice game and then settle in for a short concert, featuring local musical talent, Jimmie Vaughan!
 
The Project is proud to honor Cynt Marshall, CEO of the Dallas Mavericks, with the 2020 VISION Award, which is presented annually to a leader committed to ending personal violence in Texas. Be on the lookout for some Dallas Mavericks players to pop in as special guests!
 
Prohibition era costumes are encouraged. We will be sending out costume ideas, including where to shop, fashion tips, cocktail recipes, and how to host your own house party should you choose. 


Tickets & Sponsorships:
Title Sponsor $30,000 - SOLD OUT
Red Carpet Sponsor - SOLD OUT
Black & White Sponsor - $10,000
Diamond Sponsor $7,500
Platinum Sponsor $5,000
Gold Sponsor $3,500
Gold Individual Admission $350
Individual Admission $100
Interested in 2020 Black & White Ball Sponsorship Opportunities?
Contact jrathke@texasadvocacyproject.org
Obsidian + Blush has created a Self Portrait Guide with Posing Tips so that you can look your best on the night of an event! Click below to view.
---
A LOOK BACK AT THE 2019 BLACK & WHITE BALL...
Leaders in the legal, consulting, finance, and technology fields joined together for an evening of live music, auctions, and awards celebrating 37 years of service. At the 13th Annual Black & White Ball, The Project honored community leaders who embody its mission of preventing violence through free legal services, access to the justice system, and education for victims. The Project's Generosity of Spirit Award was presented to Accenture; the Vision Award was given to State Representative John M. Zerwas, M.D.; and Danielle, a client who has escaped abuse and transitioned to a new life of safety, was honored with the Courage Award.
In addition to the awards, the evening featured a plated dinner, live music from local band The Zebbras, and one of Austin's liveliest auctions of the year, helmed by Heath Hale Auctioneers.
Thanks to the communities support, the 2019 Black & White Ball was able to raise over half a milion dollars to help continue The Project's work!
2019 Ball Pictures     2019 Live Auction Packages    2019 Auction Donors 
---