Texas Advocacy Project provides FREE trainings and webinars to judges and prosecutors, law enforcement, educators, students, military, health care professionals, and more.
Training Topics Include
Understanding Protective Orders 
Teen Outreach
Healthy Relationships
Dating Violence & Digital Abuse
Legal Rights & Advocacy and more!
training menu & request formEMAIL THE TRAINING TEAM!
---
Teachable | Texas Advocacy Project's Training Portal
Access Texas Advocacy Project's online courses anytime, anywhere!
---

​​Upcoming Trainings & Webinars
***Texas Advocacy Project is back to providing trainings both virtually and in person.***
7/8 | Summer Learning Session 1: Back to School: Everything You Need to Know About Title IX | 10 – 11:30am | REGISTER
In the current landscape of ever-evolving Title IX regulations, it is important to understand the basics of Title IX coverage. This training will cover the changes and give a solid foundational knowledge of Title IX's purpose and protections. Attendees will come away with the latest recommendations and best practices. This training is not only recommended for attorneys and advocates, but parents, school staff, and anyone interested in learning more.
7/15 | Summer Learning Session 2: Firearms & Family Violence: Connecting the Pathways to Prevent Violence | 10 – 11:30am | REGISTER
A critical look into the criminology of perpetrators of mass shootings is needed to prevent these crimes from happening. In this workshop, presenters will take a deep dive into a case study of recent mass shootings, identify red flags, and discuss current laws. Attendees will examine federal and state laws that may provide loopholes for these offenders to slip through the cracks and will learn how our communities can collaborate effectively to identify high-risk offenders, create firearm surrender protocols, and secure protections for survivors.
7/22 | Summer Learning Session 3: Advocating for Survivors of Violence: A Systems Approach | 10 – 11:30am | REGISTER
This training focuses on the complexity of the systems that survivors of family and sexual violence may encounter or from which they may seek assistance. Advocates will develop a deeper understanding of their roles in supporting survivors through trauma and carving a path for access to justice, with an approach grounded in empowerment-based advocacy. Legal options and remedies available through the various systems are discussed.
 
---

Past Trainings & Webinars
April 2021
4/21  |  Region 2 Training  |  10am - 10:45am
4/29  |  Legal Rights of Sexual Assault Survivors Webinar  |  1pm - 2pm 
March 2021
3/3 | Webinar | Texas Advocacy Project General Information Session Webinar
3/12 | CACTX | Understanding Protective Orders in Texas
3/15 | Family Compass | In Her Shoes
3/16 | Prairie View A&M (female athletes) | Healthy Relationships, Consent, & How to be an Upstander
3/17 | Prairie View A&M (male athletes) | Healthy Relationships, Consent, & How to be an Upstander
3/23 | Family Compass | In Their Shoes
3/25 | Family Compass | Advanced Safety Planning
January & February 2021
January
1/21 | Family Compass | Legal Options for Survivors of Violence
1/26 | Webinar | IPV & Digital Abuse | 11AM | Register
1/27 | Eastfield College | Intimate Partner Violence  and Digital Abuse
1/28 | Webinar| Economic Advocacy: Helping Survivors Understand Financial Abuse and Building Legal Protections | 11AM 
February
2/3| Webinar | Texas Advocacy Project General Information Session Webinar | 4PM | Register
2/9 | Webinar | Healthy Relationships, Teen Dating Violence, and Digital Abuse | 10AM | Register
2/9 | Prairie View A&M (female athletes) | Sexting and Cyberbullying: Redefining Dating Violence and the Legal Remedies for Teens
2/10 | Prairie View A&M (male athletes) | Sexting and Cyberbullying: Redefining Dating Violence and the Legal Remedies for Teens
2/11 | Eastfield College | Healthy Relationships, Teen Dating Violence, and Digital Abuse
2/12 | Austin Community College | Legal Rights of Sexual Assault Survivors  
2/18 | Family Compass |  Advanced Safety Planning
2/19 | CACTX | Understanding Protective Orders on Texas
2/26 | Austin Community College | Advocating for Survivors of Violence: A Systems Approach
October & November 2020
10/7 | Texas Advocacy Project General Information Session Webinar | 4PM
10/8 | Stanford Health Law Pro Bono
10/13 | Virtual Texas Summit on Gender-Based Violence | Title IX
10/14 | Concho Valley Workforce Solutions | IPV and Digital Abuse
10/15 | Stanford Health Law Pro Bono | TAP Services and MLP
10/19 | Dallas County Child Protective Services | Protective Orders and Dynamics of Intimate Partner Violence and the History of the Movement (combined)
10/23 | Warfield Center for African and African American Studies at UT AUSTIN | IPV and Digital Abuse 
10/28 | Concho Valley Workforce Solutions | Advanced Safety Planning
10/28 | Tarrant County College | Dynamics of Intimate Partner Violence and the History of the Movement    
10/29 | Dallas College's Domestic Violence Awareness Panel Discussion
10/29 | TDCJ VSD TxCVC | Going Beyond the Job Description: How to Recognize & Respond to Domestic Violence in the Workplace
NOVEMBER
11/4 | Texas Advocacy Project General Information Session Webinar | 4PM | Register HERE
11/6 | CACTX | Understanding Protective Orders in Texas
11/19 | Family Compass | Legal Rights of Sexual Assault Survivors
September 2020
9/2 | Texas Advocacy Project General Information Session | 4PM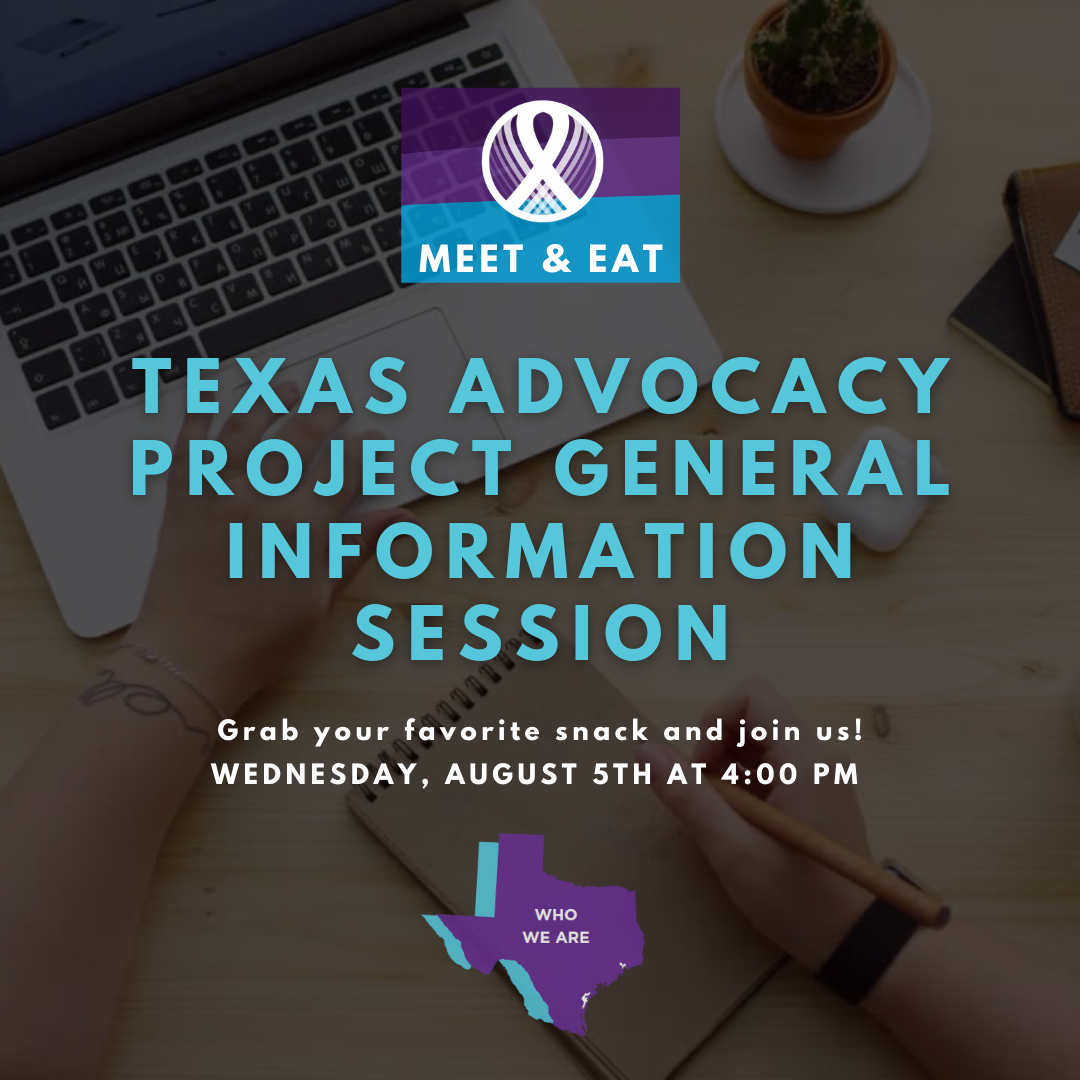 9/23 | TDCJ Webinar | Legal Rights of Teen Dating Violence
9/23 | Eastfield College | Dynamics of Intimate Partner Violence and the History of the Movement           
9/29 | Alliance of Local Service Organizations | Mandated Reporting and Confidentiality
9/30 | Concho Valley Workforce Solutions | Legal Options for Survivors of Violence
August 2020
8/5 | Texas Advocacy Project General Information Session | 4PM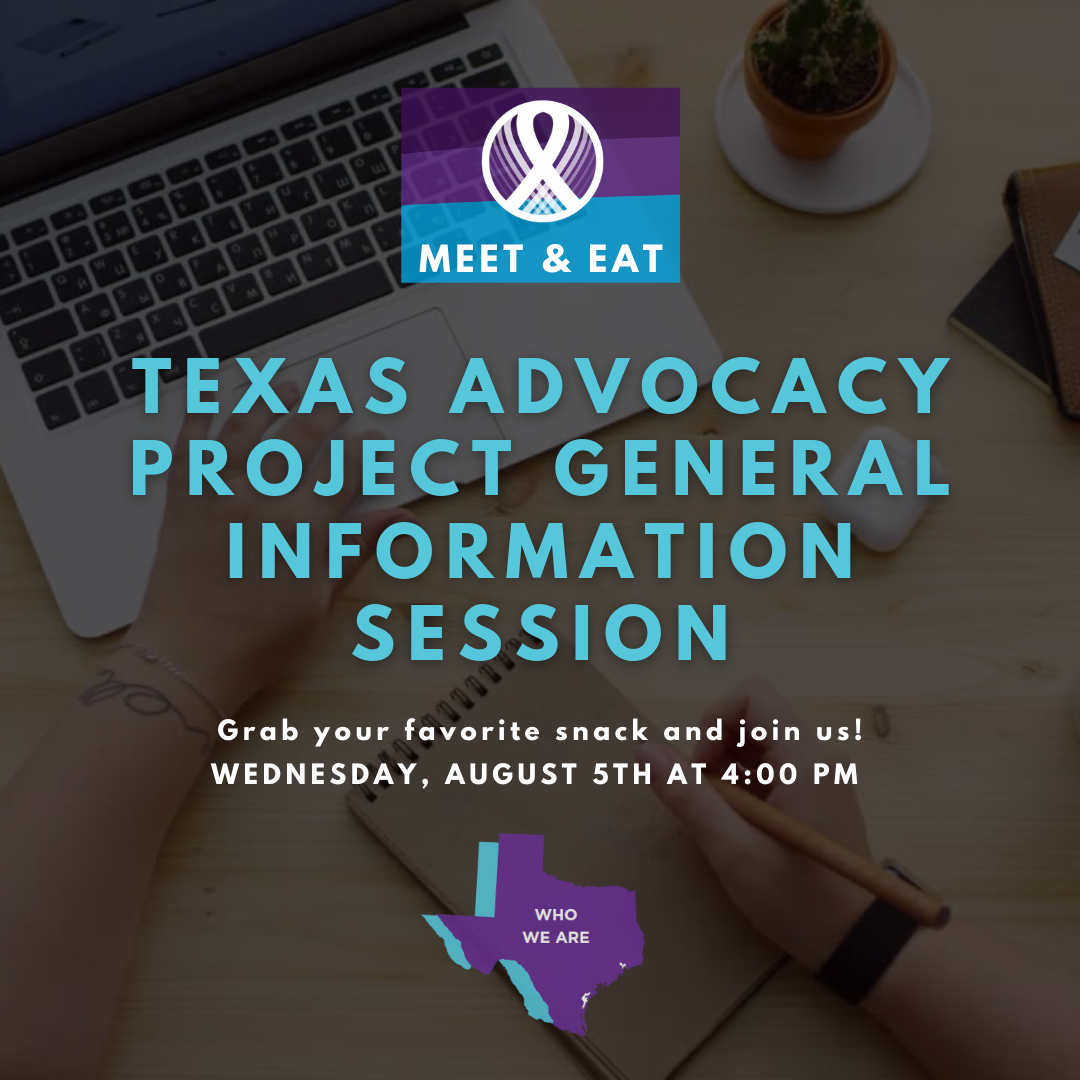 8/6 | Economic Freedom: Snack & Share Series | Economic Abuse and Civil Legal Advocacy (COVID Information Included) | 12PM 
8/12 | Economic Freedom: Snack & Share Series | Legal Barriers and Solutions for Survivors of Economic Abuse | 12PM
8/19 | IPV and Digital Abuse | Genesis Women's Shelter Virtual Lecture Series
8/20 | Economic Freedom: Snack & Share Series | Coercive Debt and Legal Protections Available for Survivors | 12PM
8/22 | Legal Rights, Legal Options, IPV (combined) | University of Houston-Victoria Virtual Orientation
8/27 | Economic Freedom: Snack & Share Series | Building Economic Legal Advocacy Practices for Your Program | 12PM
July 2020
7/9 | Empowerment Based Advocacy and Trauma Informed Practice with Survivors of Violence (combined)| Family Compass Webinar
7/10 | Understanding Protective Orders | CACTX Webinar
7/13 | Dating Violence | TXPSTA Online Summer Conference 
7/20 | Surviving R. Kelly: Vilifying the Victims & Protecting the Perpetrator | TAASA Virtual Conference
7/20 | Navigating Relief After a School Sexual Assault: A Guide to Coordinating and Customizing Survivor Relief in Title IX and Protective Order Cases  | TAASA Virtual Conference
7/20 | Coercion and Consent: A Study of the Social and Legal Implications of #MeToo, Dirty John, and Suicide-by-Text  | National Council of Juvenile and Family Court Judges' 83rd Annual Conference
7/22 | Dynamics of Intimate Partner Violence and the History of the Movement | EA Sports Webinar
7/23 | Coercion and Consent: A Study of the Social and Legal Implications of #MeToo, Dirty John, and Suicide-by-Text | CCAW Web Series
June 2020
6/4 | Stalking and Intimate Partner Violence | Family Compass Webinar
6/5 | Securing Equal Access to the Courts for All Texans During a Pandemic| Poverty Law Section's Annual Meeting
6/18 | Empowerment Based Advocacy and Trauma Informed Practice with Survivors of Violence| Family Compass Webinar
6/24 | Understanding Protective Orders | TDCJ Webinar
6/24 | Empowerment –Based Advocacy | VAN UT Austin Webinar
6/24 | Surviving R. Kelly: Villifying the Victims & Protecting the Perpetrator | Webinar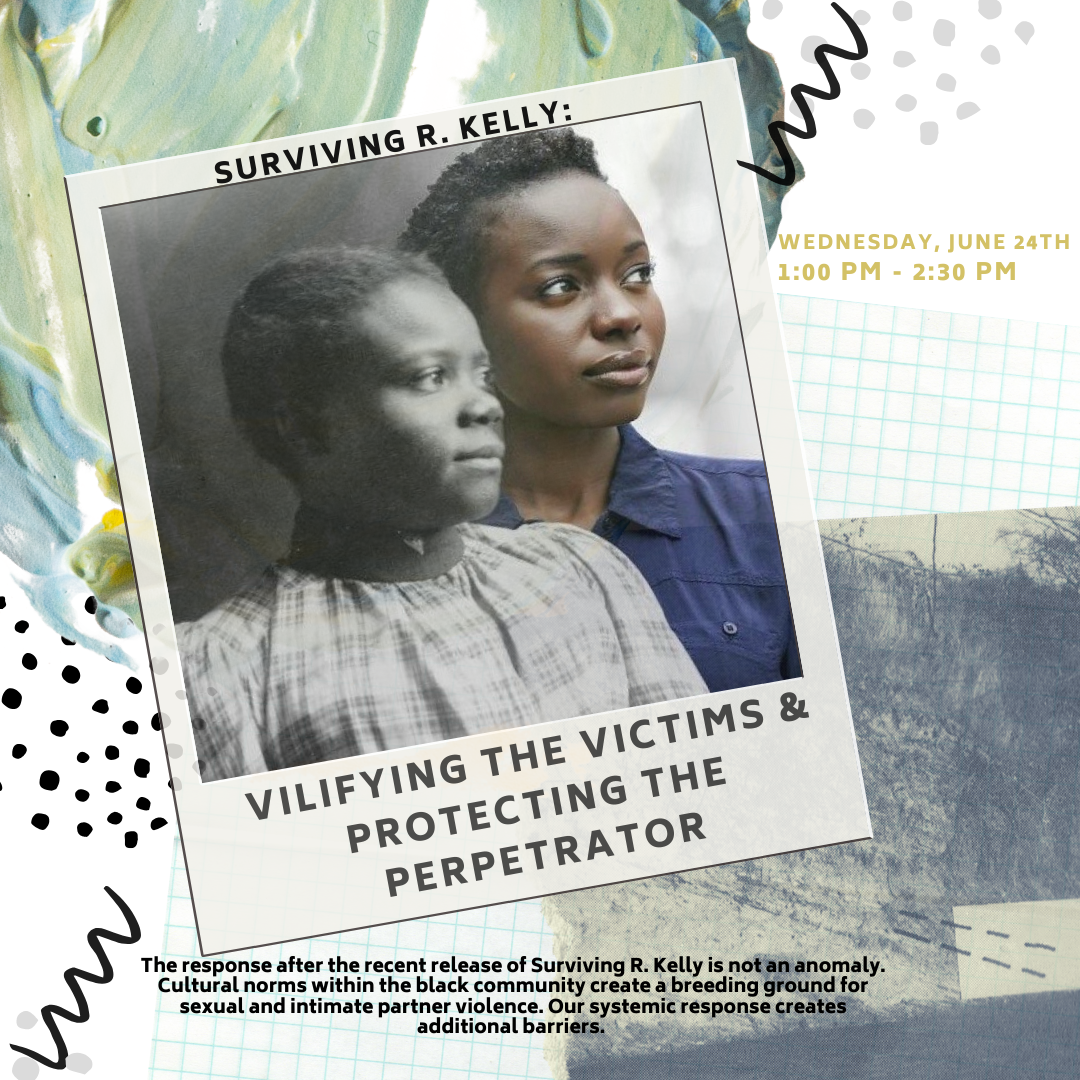 May 2020
5/6 | Understanding Protective Orders | Hope Alliance Shelter Webinar
5/7 | Healthy Relationships | Girl Scouts of Central Texas Webinar
5/13 | Healthy Relationships & Sexting and Cyberbullying | Girl Scouts of Central Texas Staff Webinar
5/14 | Empowerment-Based Advocacy & Trauma-Informed Practice with Survivors of Violence | Girl Scouts of Central Texas Staff Webinar
April 2020
4/3 | Advanced Safety Planning (Amid COVID-19) | Register to Watch the Recorded Webinar HERE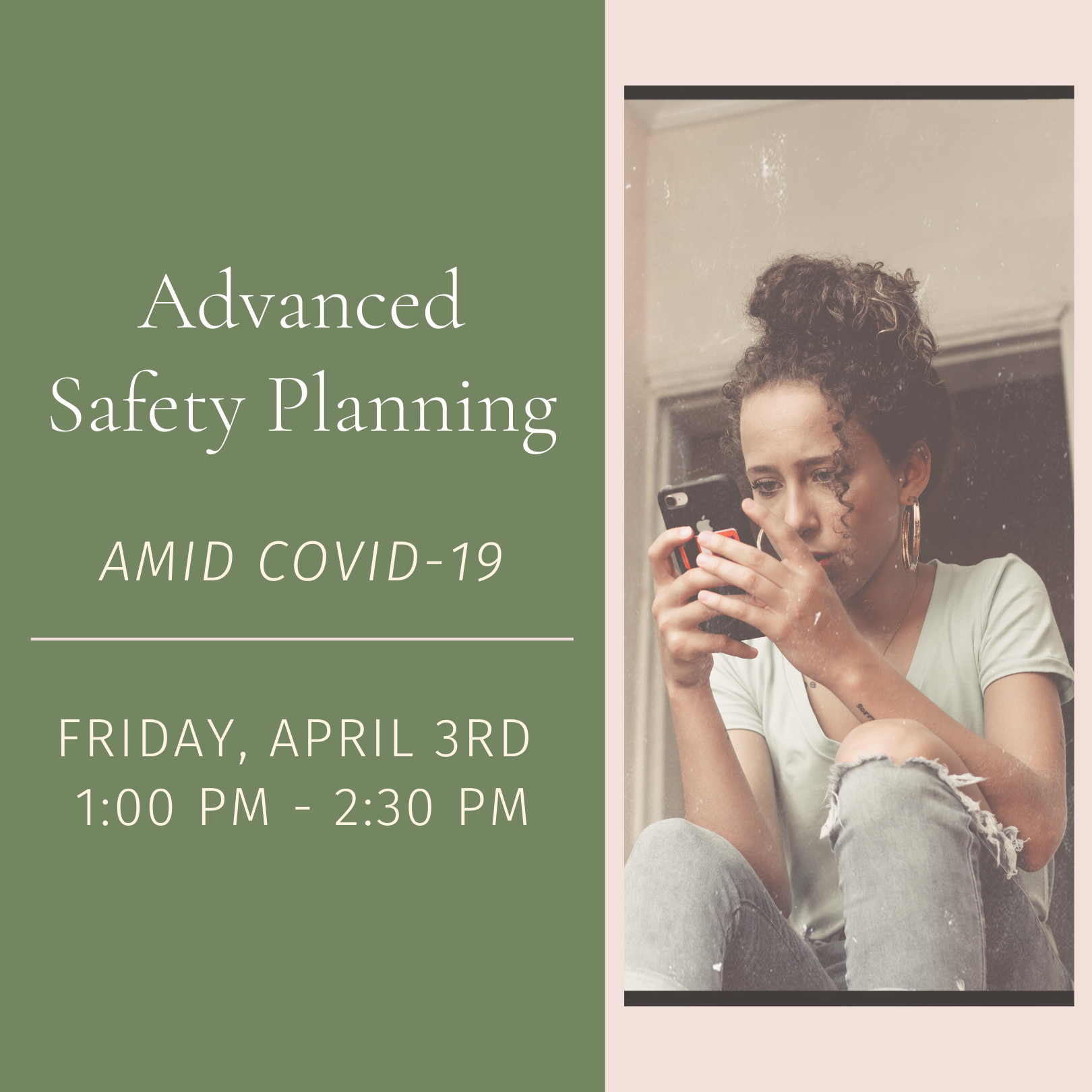 4/13 | Emergency Protective Orders (COVID-19 information included) | Register to Watch the Recorded Webinar HERE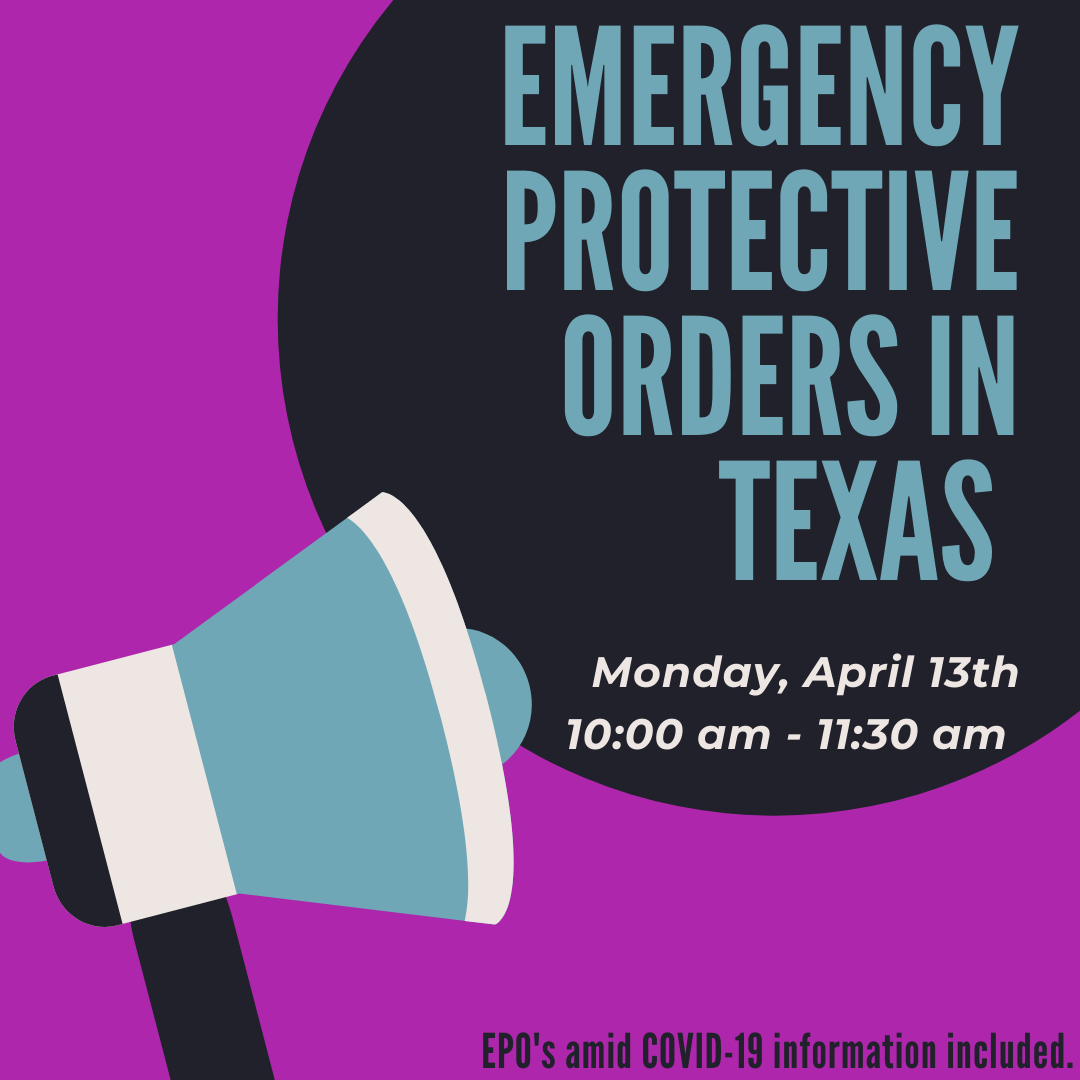 4/15 | Title IX and Teen Dating Violence | UT Law Class Webinar
4/16 | TAP Services and Virtual Legal Clinics | Hope Alliance Shelter Webinar
4/23 | TAP Services | Brighter Tomorrows Shelter Webinar
4/24 | Legal Rights of Sexual Assault Survivors | Register to Watch the Recorded Webinar HERE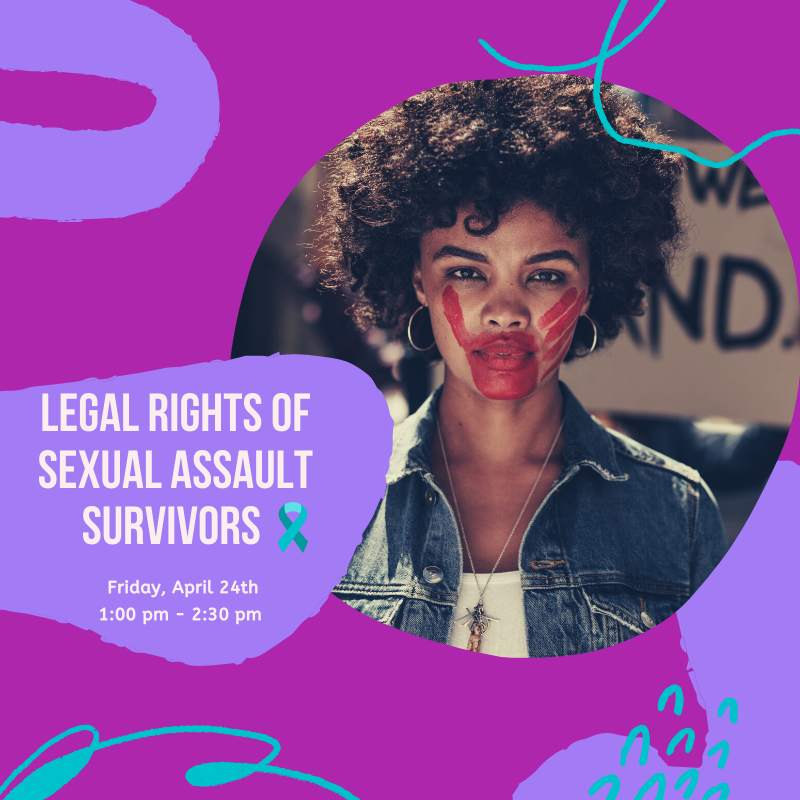 March 2020
3/6 | Banquete JH | Healthy Relationships | Banquete
3/6 | Poverty Law SBOT Webinar | Intimate Partner Violence and Digital Abuse | Austin
3/10-12 | Dailey Middle School 6th grade students | Healthy Relationships, Sexting and Cyberbullying | Austin
3/25 | Innovative Legal Solutions for Survivors | Register to Watch the Recorded Webinar HERE