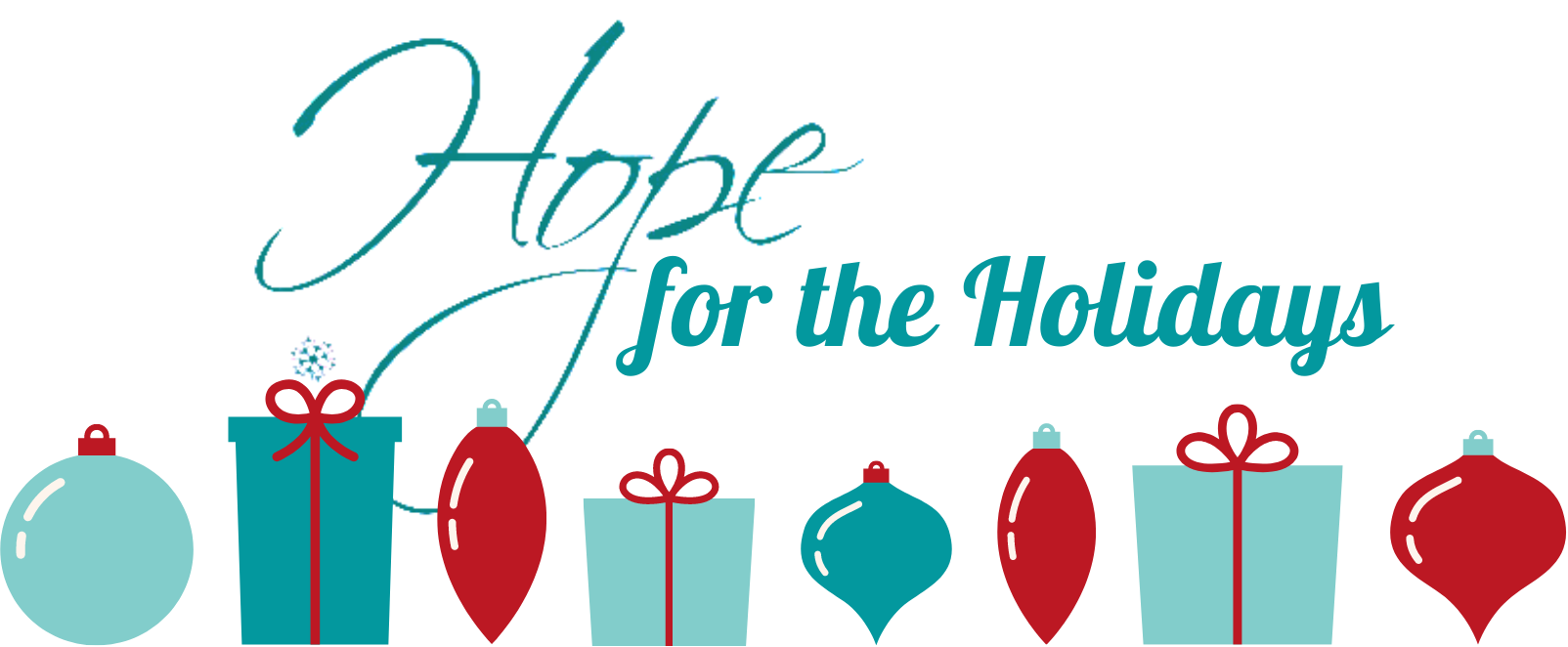 Our 2020 Hope for the Holidays campaign has ended. Thank you to everyone who donated and helped give some hope to these very deserving families. We appreciate you.
---
Help fill the holiday wishlists of ten survivors and their children and support their transition from a home of violence to one of safety. NOVEMBER 6 - DECEMBER 4
There are a few ways to give this holiday season...
 ADOPT an entire family or individual. Email hope@texasadvocacyproject.org with the name of your selected family.

 SHOP directly* from a family's wishlist by clicking on the link next to their name below.

 DONATE any amount you wish and we will do the shopping for you!
*Shopping online through each family's wishlist will prevent duplicates from occuring. We ask that all gifts are purchased by no later than Friday, December 4th, 2020. 
 
For donations by check please mail to 1524 S. IH 35 Box 19, Austin, TX 78704 or contact hope@texasadvocacyproject.org. 
Thank You & Happy Gifting! 
---
Remi's Family [Two daughters, ages 7 and 2]
Remi endured physical and emotional abuse at the hands of her husband for years. She was able to gain enough courage and strength over a year ago to leave the abusive relationship with her two children. However, even after she was able to leave, her husband still found ways to constantly torment her and abuse her. Texas Advocacy Project helped Remi obtain a lifetime protective order to protect herself and her two children and currently TAP is helping Remi obtain a divorce to finally separate herself from her abusive husband. Help provide a great Christmas to this deserving family this season!
Sage's Family [Three daughters, ages 18, 7 and 3]
Sage was a stay-at-home mom to 3 children to a horribly abusive man for over eighteen years. After years of physical abuse, Sage decided that she wanted to end the marriage after her abusive husband assaulted their daughter, who was seventeen years old at the time. With TAP's help, she will hopefully soon be legally free of her abuser before the holidays. Sage has now had to completely restart her life and raise her three children on her own with little to no support from her husband. Give Sage and her children some hope and holiday cheer this Christmas.
Nova's Family [Two Adult Daughters]
Nova has endured physical abuse at the hands of her husband for years. In 2009, Nova was diagnosed with cancer and is now a person with disabilities. Nova's husband broke her confidence by cutting up the wigs she purchased after her hair fell out. Throughout her relationship with her husband she called the police eleven times but no one believed her. Earlier this year, Nova gained the strength to call the police one more time and obtained a protective order against her husband. Texas Advocacy Project is currently helping her move forward with her divorce. Nova is now safe from her abuser, just in time for the holidays- help make this season one to remember.
Shiloh's Family [Two daughters ages 5 and 2 & Three sons ages 12, 11, and 8]
Shiloh and his wife have five children together, ranging in age from 2-12. Throughout their relationship, his wife has been verbally and physically abusive to both Shiloh and their children. Shiloh was terrified to report the abuse because his wife would repeatedly say that if he ever called the police on her she would say that he was the abuser and make sure that he never saw the kids again. Finally, Shiloh made an audio recording of one of the instances of abuse, called the police, and received an emergency protective order. TAP is working to get him a two-year family violence protective order and temporary orders in his divorce, so their children will also be protected from the wife's abuse. Since his wife stayed at home with the children, there is a significant financial hardship with him trying to find suitable childcare for all of his children. Shiloh would greatly appreciate the opportunity to make this holiday season truly magical for him and his children.  
June's Family [Two 10 year-old sons and Three daughters ages 14, 13, and 8]
During her marriage, June endured years of physical abuse at the hands of her husband. Once she got the courage to leave, one of her daughter's came forward with a horrible secret about her father sexually abusing her. June's ex-husband was sentenced to five years in prison and was due to get out soon when she contacted Texas Advocacy Project. Our legal team helped her terminate the parental rights of the father to all of the children and secured an extension of her protective order to keep the family safe.
Demi's Family [13 year-old daughter]
Demi came to Texas Advocacy Project after her daughter's paternal grandparents, and father, physically abused her daughter. CPS became involved and when the initial forensic interview was held at the end of three days, Demi was able to get more information about the full extent of the abuse. Over the course of three days, the child was screamed at, struck with a hanger, pushed, choked, and locked by herself in a room with no way to contact anyone, including her own mother. With TAP's help, Demi has been able to request new orders that have protected her daughter from further harm. This mother and daughter duo deserve a wonderful Christmas together, full of hope and not fear of abuse.
Lane's Family [One 11 year-old son and Four daughters ages 18, 12, 9, and 8]
Lane left her husband when she found out he had been sexually abusing her daughter. He has since been arrested and is in custody awaiting trial. With TAP's help, Lane was connected to her county's PO Unit to pursue a Protective Order on behalf of her daughter. The court granted the Protective Order request and ordered that it be effective as long as her daughter is alive. TAP is now assisting Lane with a divorce and her family is safe and beginning to thrive.
Stella's Family [11 year-old son and 7 year-old Daughter]
Stella's ex-boyfriend was emotionally and physically abusive towards her and her children, an eleven-year-old boy and a seven-year-old girl. When he kidnapped her children and hid them from her, Stella contacted the Texas Advocacy Project to try to get them back. After both court and CPS involvement, TAP attorneys were able to secure the return of Stella's children to her. Help provide a great Christmas this year for this reunited family!
Blair's Family [4 year-old twin boys]
Blair endured physical and emotional abuse at the hands of her ex-fiancée. A few Christmases ago, he even broke her finger. It got to the point where she feared for her life and fled with their young twin boys. Despite this, Blair's ex-fiancée continued to harass and threaten her. He has not provided any financial support for their boys, who are now four years old. Texas Advocacy Project is working with Blair to finally get her some much needed custody orders and child support, but your gift will go a long way to help provide this family with a joyful holiday season.
Birdie's Family [5 year-old Son]
Birdie has suffered physical, sexual, and emotional abuse at the hands of her husband. After her husband installed cameras in their house to track her every move and violence escalated resulting in a physically abusive incident outside their church in front of their son, Birdie knew she needed to act fast. With the help of Texas Advocacy Project, Birdie was able to create a safety plan that helped her and her son escape the violence and find refuge. Birdie was able to obtain a protective order and has been able to secure a new teaching position and home on her own. Since seeking safety, her abuser continues to attempt to restrict her access to their son. Help Birdie and her son start their new life free from fear and filled with hope!
*All the names have been changed to protect survivors.