Summer Law Clerks
The History of the Domestic Violence Movement
Teen Hope Awards
Black & White Ball
Advocate Spotlight
Open Positions
---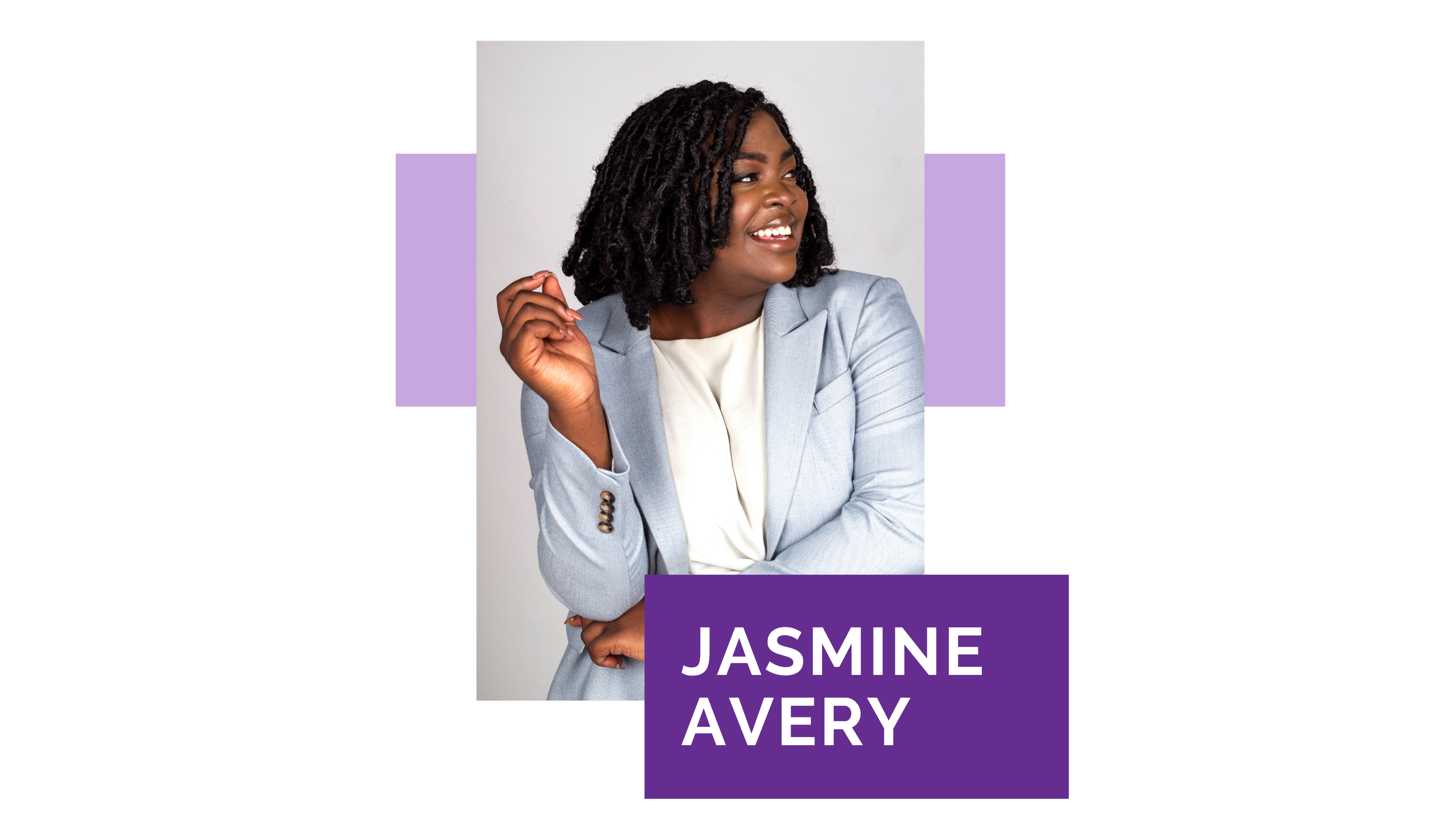 My name is Jasmine Avery and I am from St. Louis, Missouri. I am a third-year law student who has had the amazing opportunity to work as a summer law clerk for the Texas Advocacy Project! The thing I've loved most about TAP is watching the attorneys fight so passionately to get their clients the very best outcome. They walk people through some of the most difficult and life altering situations you can imagine, and yet they still put forth the effort to personalize each experience and meet the client's needs. I'm grateful to be surrounded by attorneys who care about my experience as an intern and work to give me every opportunity to learn, observe, and participate in their day-to-day legal world. One day, I hope to fight as zealously for my clients in the public sector.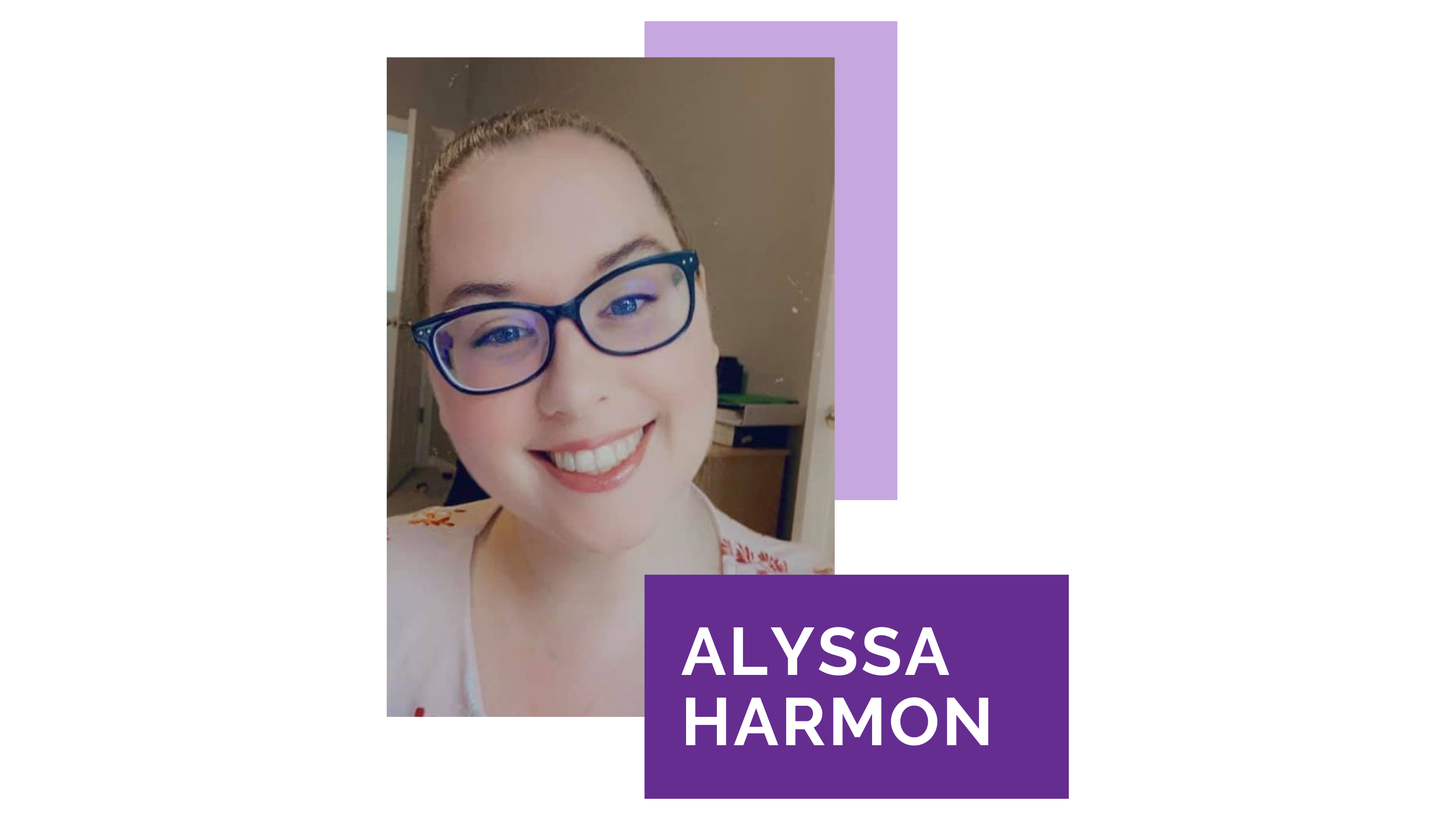 I'm Alyssa Harmon and I am a Texas Advocacy Project Paralegal Intern. I completed my BA in French/Linguistics in 2006 at the University of Texas. My original goal was to apply to law school, but as John Lennon said, "life is what happens when you are making other plans." Life, for me in this instance, was that both my parents were besieged by terminal illness. So, I took a prolonged period of time to family build and care give my family.
Now I am back in the saddle and ready to get back into the legal field. I started with Austin Community College's Paralegal Studies program the Spring of 2020 right as the pandemic set in. My favorite part about interning with TAP is the patience and willingness everyone has to help us learn on the fly. The staff is all very understanding while helping us learn the ropes. My hope for the future is to branch out into paralegal service for either the Williamson County or Travis County District Attorney's office, or a family law practice.
I am planning on taking the LSAT at some point and hopefully matriculating through law school. If I get through that gauntlet, I would love to return to TAP as a staff attorney. I'm endlessly grateful for the opportunity to learn valuable skills with Texas Advocacy Project.  
---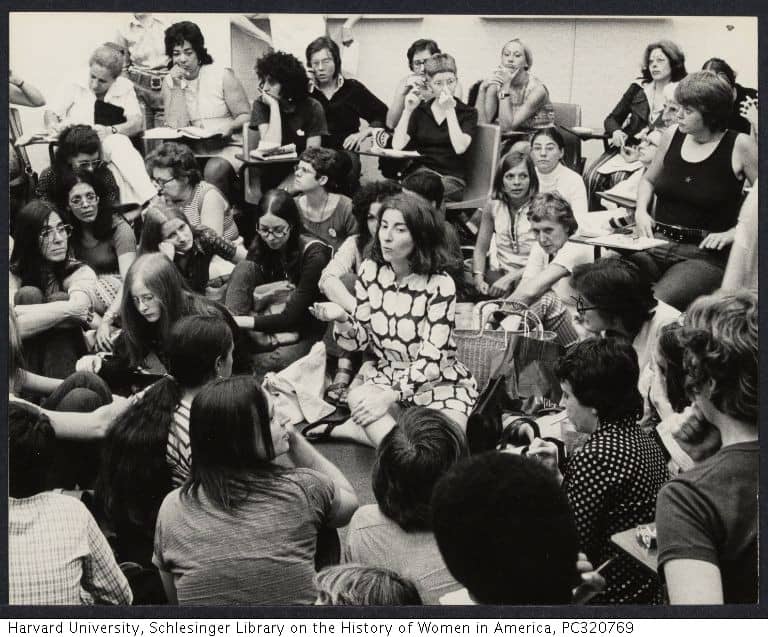 Acknowledgement: Domestic violence began as a heavily gendered idea, focused on women as the victims. We know that all gender identifying people can be both abuser and victim of abuse, and are doing our part to end the stigma in reporting, as well as provide services to survivors of all gender identities and sexualities. 
The Battered Women's Movement, the Women's Liberation Movement, the Domestic Violence Movement, Intimate Partner Violence Reform. Whatever you call it, there was a time in history when domestic violence as a social norm was recognized as being a powerful and effective tool in keeping people in line. This covers partnerships and marriages, of course, but also describes society's greater dynamic of inequality across sexuality, race and ethnicity, socioeconomic status, and more.
These movements stemmed from a "perfect storm" of women entering the workforce during WWII, the civil rights and anti-war movements, the invention and distribution of birth control pills in the early 60's, and so much more. When we think about an abuser's main goal of holding power and control over their victim, we can also see the parallel of these same goals and tactics in the way entire groups of people have been treated throughout history.
You've heard of marches, protests, and bra burning ceremonies, but possibly the most pivotal activity that happened during this time was the consciousness-raising group. Women would gather together and talk about the issues they were facing in their relationships, as well as greater wants and desires for their gender and the movement as a whole. The previously buttoned-up and tight-lipped expectation of housewives was blown out of the water when ideas such as marital rape came to the surface, creating the need for formal shelter and legal protections. Psychological and emotional abuse were recognized as being just as dangerous as physical and sexual violence, and laws and federally-funded programs were created to combat these issues. Even groups like the NFL have tightened restrictions on players involved in abuse and have instituted educational training programs.
We can acknowledge how far we've come in terms of standing up to power-based abuse, while also recognizing that survivor-centered work is needed now more than ever to bring survivors to safety, and to bring greater equality to all people.
Want to learn more? It doesn't end here! The conversation continues at TAP's online on-demand training portal. Learn more about the history of the domestic violence movement, as well as a primer on domestic violence dynamics. Then take any of the other featured courses that interest you. Always free, always accessible.
TEACHABLE - ON-DEMAND TRAINING PORTAL 
---


On Sunday July 25th, we wrapped up our 7th annual Teen Hope Awards, where we celebrated the great accomplishments of our Teen Ambassadors of Hope. Our keynote speaker, Kevin Helgren, gave a compelling speech - he spoke about advocacy, authenticity, and leadership.
"Find something that fires you up and do something about it. The cool, energizing thing about advocacy is that it is specific to you. That is, you get to choose how, when, and where you show up, for whatever it is that speaks to you."
- Kevin Helgren
We are beyond grateful that he was able to address and inspire these young leaders.
The Teen Ambassadors competed among each other for the following six honors all based on their campaigns: Business Networker, Fundraising, Innovation, Leadership, Outreach, and Social Media. The winners are listed below.
Business Networker - Peyton DeMarco held an online raffle and used different social media platforms to reach supporters. She raffled off three prizes, including a classy picnic from Austin Picnic Club and a weekend getaway from Trout Creek Farms. Through her journey of finding prizes for her raffle, Peyton spoke to several businesses about the services TAP provides.
Fundraising - RJ Ohls was able to reach family and friends by texting and emailing them information about TAP and its services, healthy relationships, and warning signs of teen dating violence. Before he knew it, donations started flooding in and in the end raised a total of $2,750!
Innovation - Meghna Ittycheria created a campaign called Singing out of Silence. Her goal was to spread awareness and raise funds through her existing talents and passions. Meghna collected donations in exchange for personalized song covers, which could be requested through an interactive website she created.
Leadership - Finnley Willms demonstrated leadership in all Teen Ambassadors of Hope activities and beyond. She was always the first one to ask the group how they were doing in their campaigns, lent a helping hand to anyone who needed it, encouraged those who were going through rough times, and was an overall resource for both her peers and TAP as a whole.
Outreach - Saksham Singh set up a par three contest during one of the golf tournaments at Balcones Country Club. To enter the contest, players were asked to donate any amount they could and the winners received TAP swag like sunglasses or a t-shirt. Saksham spoke to players about TAP and why this cause was important to him. 
Social Media - Anna Palmer posted regularly on her mom's social media accounts about the Teen Ambassador program and gave statistics on teen dating violence. She was also interviewed on a radio show in her Dallas hometown (94.9 KLTY Dallas), where she talked about TAP, the TAOH program, and the prevalence of teen dating violence. Listen to the segment here.
We know these teens will continue to be advocates of healthy relationships in their communities and with their peers. The entire TAP team is immensely proud of the 2021 Teen Ambassadors of Hope and can't wait for next year's cohort!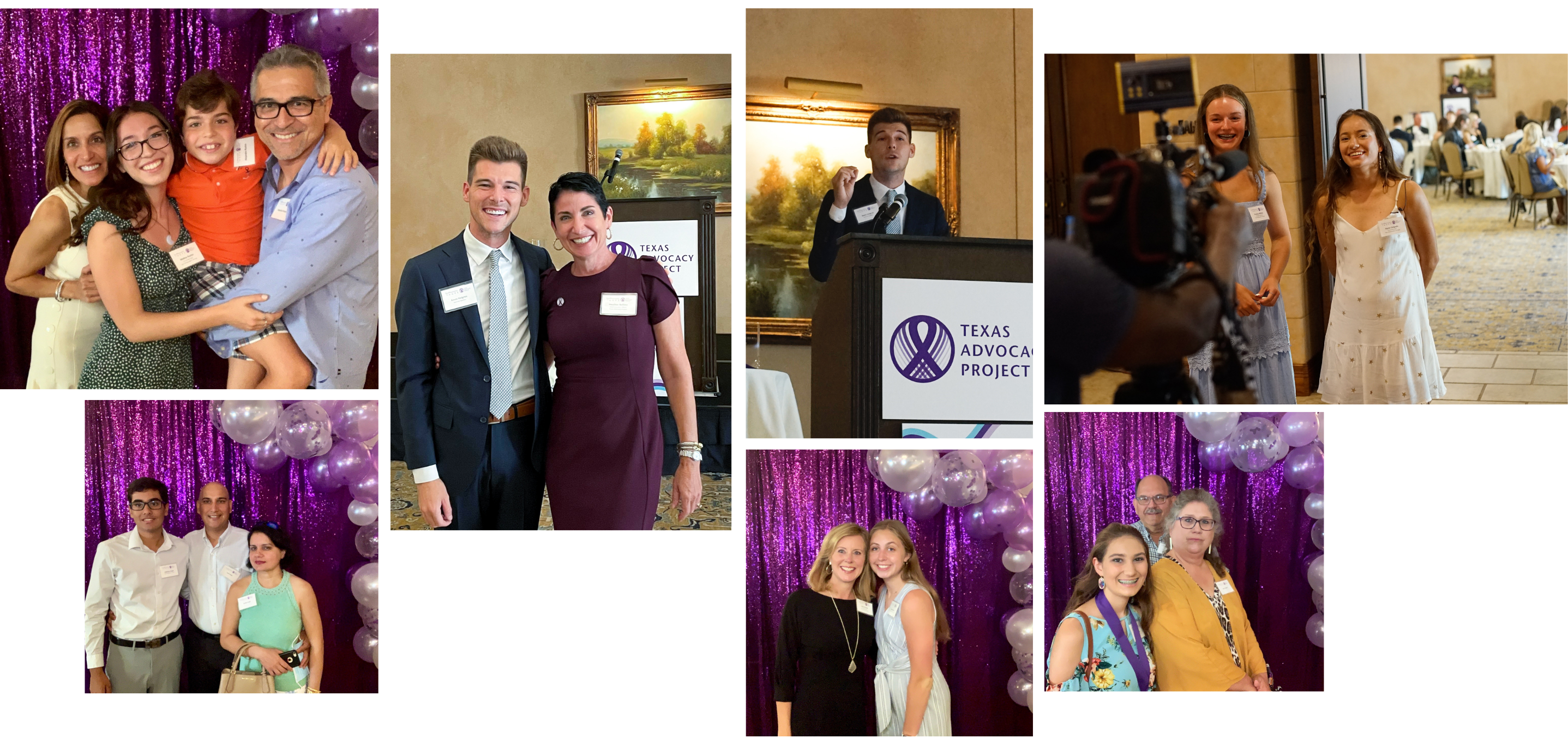 VIEW THE 2021 TEEN HOPE AWARDS PHOTO ALBUM 
---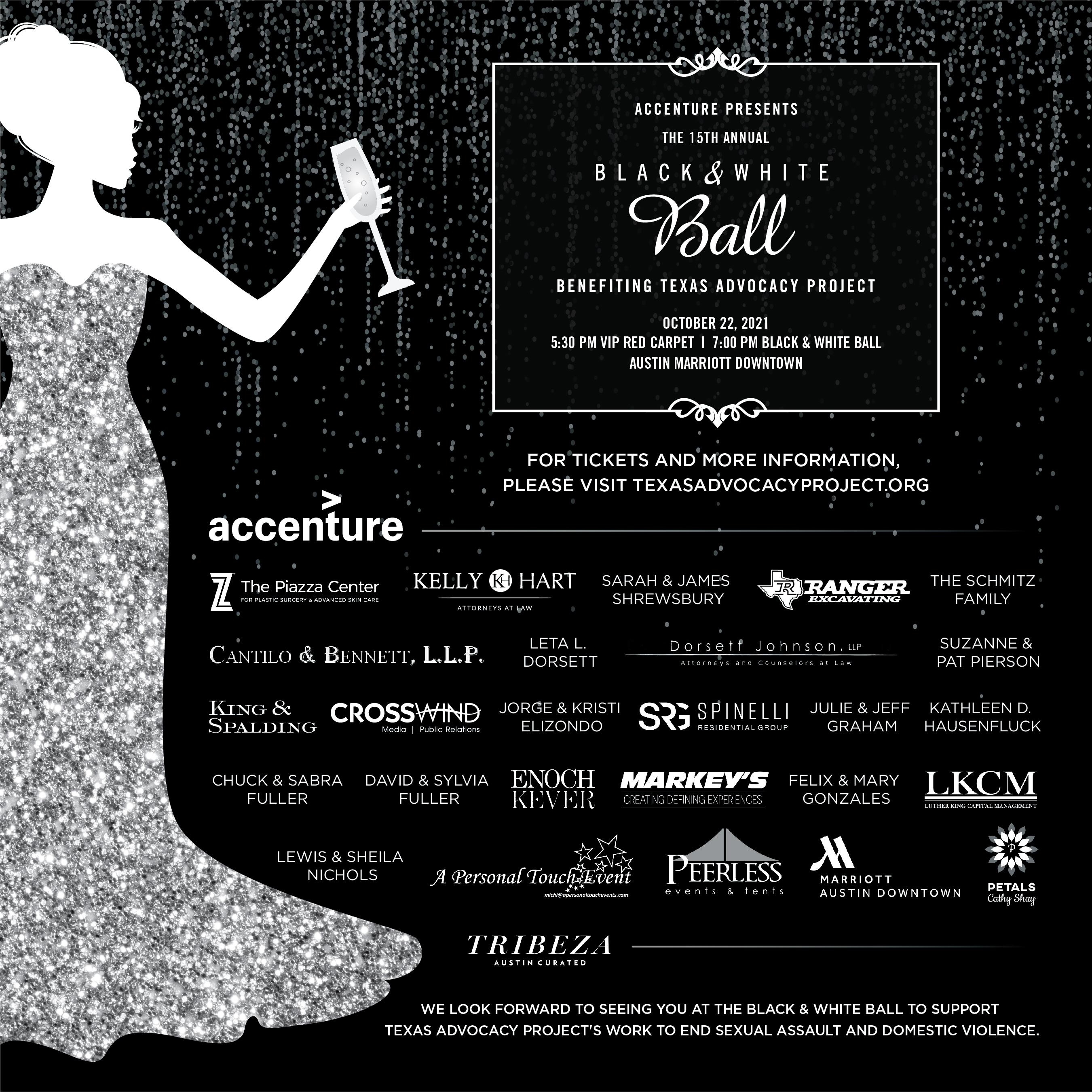 Celebrate Texas Advocacy Project's 39 years of providing free legal solutions to end power based abuse in Texas. Join leaders in the legal, government, consulting, finance, medical, and technology fields, in person, at the 15th annual Black & White Ball, presented by Accenture. 
Friday, October 22, 2021 at 7pm
Austin Marriott Downtown
Don your black & white formal attire for a glamorous evening featuring a plated dinner, awards, live music, dancing, and Live & Silent Auctions. Texas Advocacy Project will honor community leaders who embody its mission:
The Courage Award will be presented to Madison, a former client who has demonstrated the courage to stand up to their abuser and create a healthy, productive, and secure life.
 
The Vision Award will be presented to Mayor Sylvester Turner of Houston Texas, a leader committed to ending power based violence in Texas.
 
The Generosity of Spirit Award will be presented to Andrew Weber, an individual who has significantly impacted Texas Advocacy Project through his leadership on the Board of Directors and his continued support of our mission.
Tickets and sponsorships are now available!
ATTEND THE 2021 BLACK & WHITE BALL 
---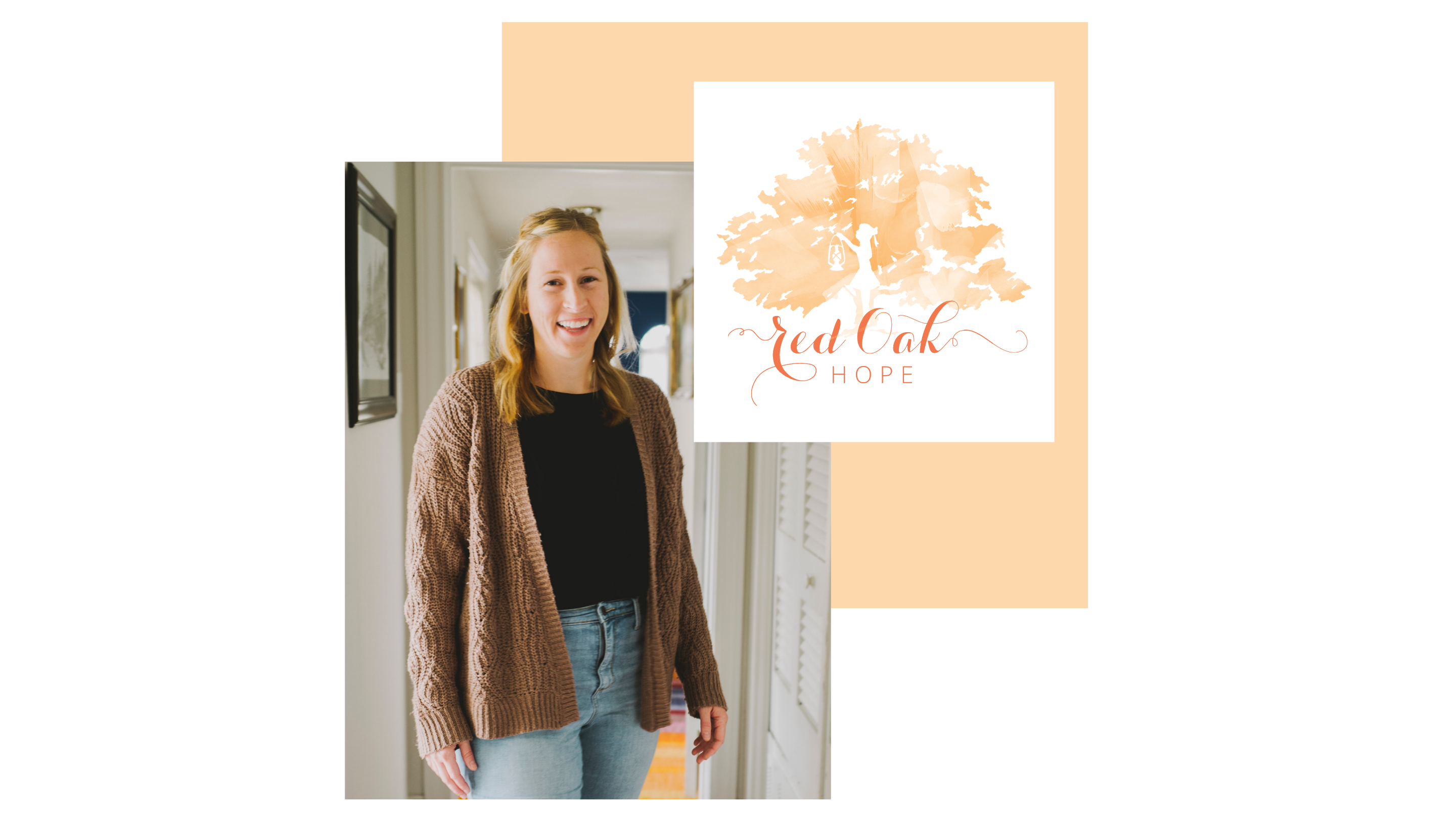 Tell us about Red Oak Hope's mission and the services you provide to survivors in your community.
Red Oak Hope is an organization dedicated to bringing freedom, hope, and restoration to survivors of sexual exploitation. We work to stop trafficking and exploitation on a large scale while simultaneously providing holistic care to individuals and communities already affected.
In Austin, we have a transitional housing program for female adult survivors of exploitation. We can house up to four women at a time for 12-18 months. The program provides housing, basic needs, comprehensive case management, and advocacy to meet survivors where they are and help them get to where they want to be! It is a highly individualized program, and we partner with many other service providers in the community to create a network of support. We hope to help each participant move towards health, stability, and independence and remain free from re-exploitation. 
What is one thing you wish people knew about being an advocate? 
Advocacy is a need in EVERY aspect of anti-trafficking work. You can be an advocate for a specific person, but you can also be an advocate for all survivors, anti-trafficking organizations, and the dignity of all people anywhere you find yourself. You don't have to be a full-time employee of an organization like TAP or Red Oak to advocate for freedom, hope, and restoration. You can advocate by raising awareness of the community's needs in your workplace, faith community, family, and friend group. Encourage people to learn about what trafficking and exploitation look like right here in Austin, donate, ask organizations what they need, and how you can support survivors. 
How do TAP and Red Oak Hope work together?
TAP has been a readily available resource for us with client legal needs! We're grateful for the work they do to support survivors on their journey. We also engage with TAP as a part of the adult sex trafficking working group with the CTCAHT (Central Texas Coalition Against Human Trafficking). The whole community benefits by having their specific expertise as we work to provide the best services possible.
We know being in this field of work isn't easy or stress-free – what is something you practice for "self-care"?
As the weather has changed and the world is slowly re-opening, I have spent a lot of time outside playing games with friends! Leaving the day behind and playing pickleball, volleyball, or climbing is a great way to let the stress melt away. Moving my body and being outside always does wonders for the mind and soul. And if I can't get outside, there's always an episode of The Office to make me laugh. 
What is your role at Red Oak Hope and what does your day-to-day look like?
My title is Program Development, and as part of a small staff, we each wear many hats. I work on program growth and structure, connect with the broader anti-trafficking community to build relationships for both referrals and services to meet the needs of our clients, connect with other programs similar to ours to learn, act as a relational touchpoint for clients, and oversee day-to-day operations of the house and offices. Additionally, I work with our local volunteers and run our social media. 
What is the best career lesson you've learned so far?
Keep listening and keep learning. We can always grow in our understanding of what is needed, and what works best in any space and while working with people. A great example of that in the anti-trafficking space has been the inclusion of survivors' voices and experiences in recent years. Of course, we should be listening to and learning from those who have lived through trafficking and exploitation, but that wasn't always the way "things were done."
Tell us about your personal journey in becoming an advocate and being in this field of work.
It's been a winding journey that has led me to my current role, but in short, the answer is yes! I believe deeply in the dignity and worth of all people and the hope that the good things that have been taken from them due to injustice can and should be returned to them! My faith continues to motivate me to see, love, and care for people the way that I believe God does. 
Where is your favorite place to unwind in your current city?
Recently I have been enjoying tacos from Texsueño, pickleball anywhere I can find a court, and climbing at Crux! Austin is a great place to explore new food and swimming spots too.
---