NEW Social Work Program
Black & White Ball
DVAM Recap
Staff Spotlight
Intern Spotlight
Upcoming Events
---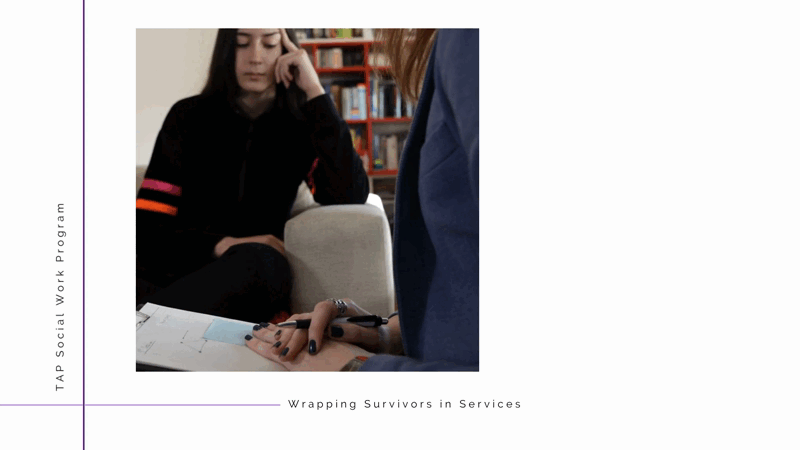 The COVID-19 crisis has highlighted a new increasing need, for our survivor-clients to have access to a social worker on staff, working alongside our attorneys to support their mental health. When overwhelming stress and mental health issues are present, survivors are sometimes unable to fully absorb the legal advice and follow the steps our attorneys outline. Evidence indicates that a trauma-informed social work program will lead to improved mental health outcomes as well as improved legal outcomes for our survivor-clients. Post-Covid research out of The University of Texas at Austin found that: 1) Survivors' greatest unmet need is for mental health services and 2) More legal aid is needed.
Traditionally, survivors were referred to TAP by a shelter with a social worker on staff. With the amount of outreach we now do across the state, survivors are coming to us directly through our Legal Line (800-374-HOPE). Our Vice President of Outreach and Advocacy has typically handled our clients mental health needs and referrals, but with the COVID-19 crisis, it became clear that we needed a full-time Licensed Masters in Social Work (LMSW) professional running this program. In late 2020, we ran a pilot program and brought on a contract LMSW to research, create the framework for, and establish goals for our future program.
We are excited to announce that with support from Shield-Ayres Foundation and Topfer Family Foundation we have officially launched TAP's Social Work program! We have created an evidenced-based social work program, delivering trauma informed mental health and referral services to our survivor-clients. We have hired our first licensed social worker to work alongside our attorneys, addressing survivors' immediate needs, while our attorneys provide the legal solutions.
The four primary goals of the program are to: 
Provide case management to survivor-clients that need mental health support.

Provide warm referrals to community partners (shelters, health care, law enforcement, etc.).

Provide staff trainings.

Supervise an intern program, allowing us to leverage more support for survivors.
TAP's social work program will concurrently address the mental health needs of survivors while providing the legal remedies for safety and justice. When survivors' most basic needs are addressed, they are less likely to operate from a mode of survival and more likely to have improved engagement AND improved legal outcomes. TAP hopes this new social work program will further wrap survivors in all the services they need for long-term safety!
---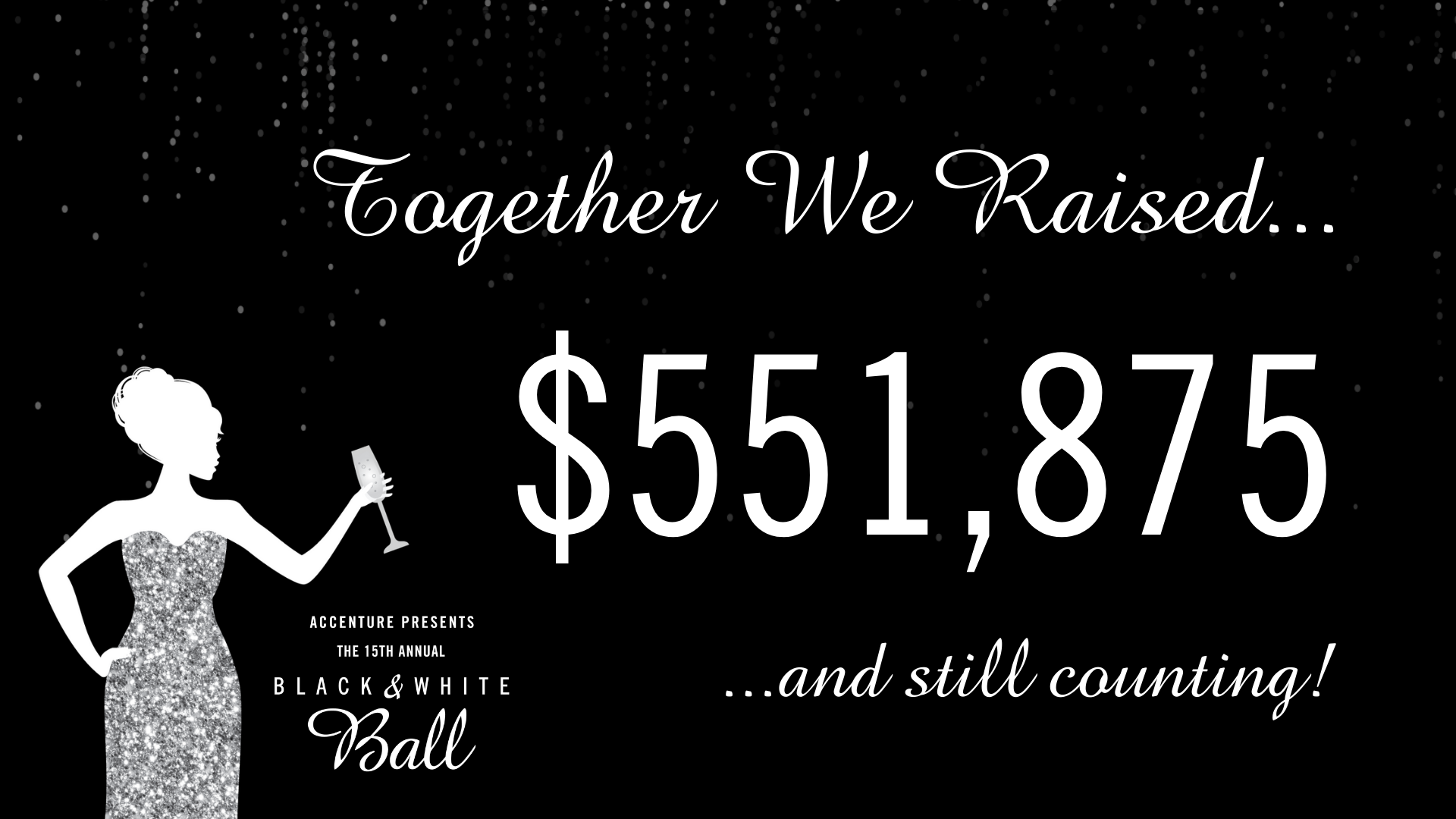 Our 15th annual Black & White Ball, presented by Accenture, was a magical evening filled with hope, laughter, tears, and a wonderful sense of community. 
We honored Mayor Sylvester Turner of Houston, Texas with The Vision Award and Andrew Weber, Partner in Charge at Kelly Hart & Hallman, LLP, with The Generosity of Spirit Award. Mayor Turner's daughter Ashley, who accepted the award on his behalf, and Andrew Weber, our longest standing TAP supporter, gave powerful speeches from the stage.
Our annual Courage Award was presented to Madison, a survivor whose journey illustrates the power of standing up for oneself, accessing resources, and what holding others accountable can have on her life and those that may face the same abuse. As we watched Madison's Courage video, the room fell silent. She gave a speech that spoke volumes about her, her courage, and her determination to never give up- to say that Madison is an inspiring young woman, is an understatement. The evening was followed by the Live Auction and Raise the Paddles, and ended on the dance floor, celebrating an evening worth remembering.
At the end of the night, the grand total raised amounted to $545,472. Since then, donations have not stopped, making this year's Ball RECORD BREAKING! Keep the momentum up and help us raise even more funds to help survivors in need by making a financial gift.
---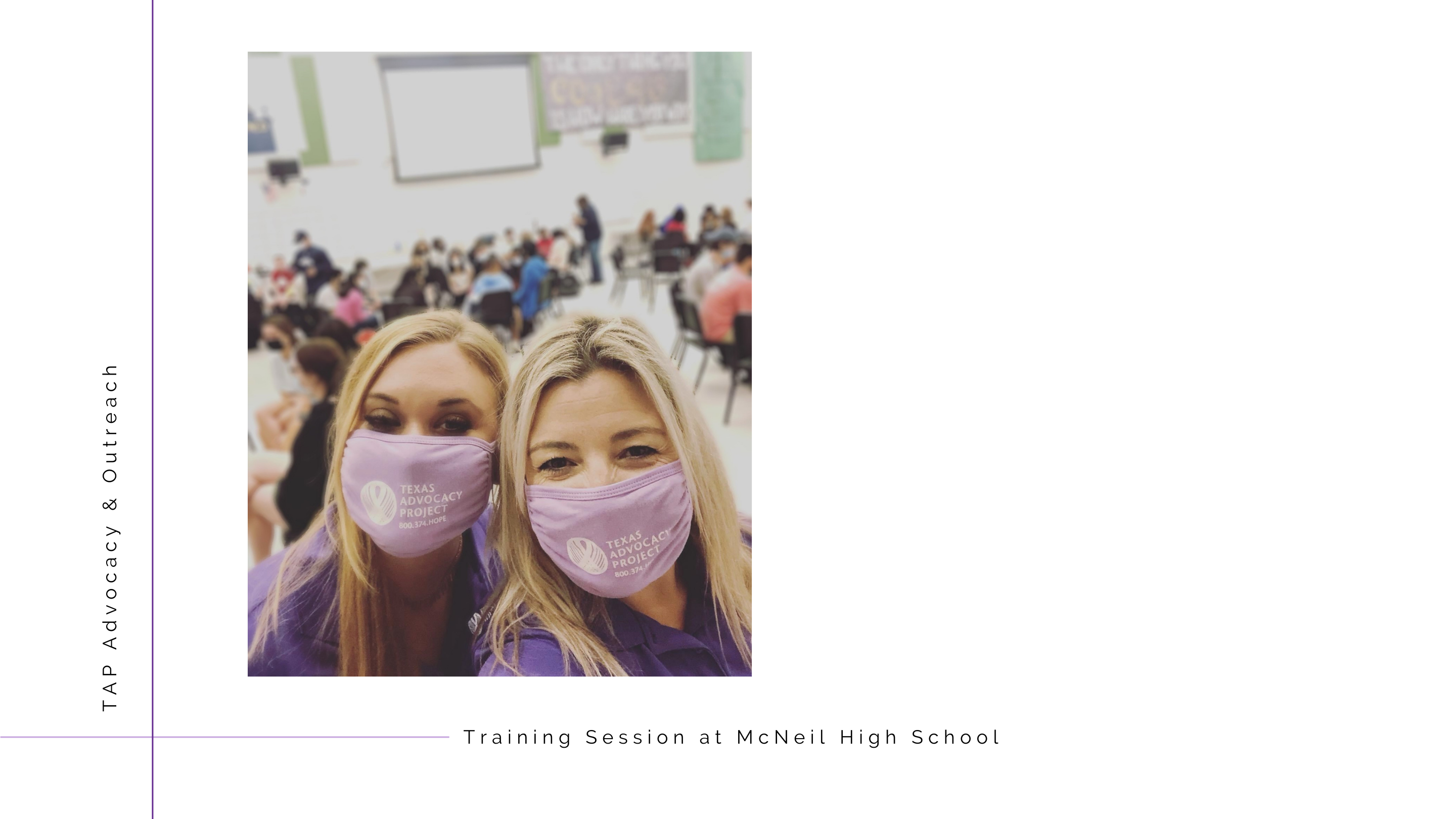 We are wrapping up Domestic Violence Awareness Month (DVAM), and reflecting on the amazing work that has been done by advocates across the country throughout October. This month, in addition to the typical hustle and bustle of projects and trainings, the Advocacy & Outreach Team here at TAP has focused on connection and interaction – whether in-person or virtual. Here are a few of our favorite moments from the past month:
In early October, 400 seniors at McNeil High School participated in the scenario-based In Their Shoes activity. Groups of students "became" characters based on real teen relationships and made decisions around themes of sexting, sexual assault, stalking, and other tough topics facing teens today. The seniors then came together in larger groups to discuss the decisions they made, the lessons they learned, and how they could support themselves and each other in these issues in the future.
On October 18, the Advocacy & Outreach team led participants through the virtual activity In Her Shoes: Living With Domestic Violence. This is a scenario-based activity, similar to In Their Shoes, but the adult version, in which participants become characters, and walk through the life of a survivor or victim, making decisions for them as they go. The activity is half of the experience, and the real magic lies in the debriefing conversation. Participants during this session had meaningful conversations around barriers they found surprising, and ways to improve upon the systems a survivor faces. One participant commented, "I enjoyed becoming immersed into the story of the victim and actually having real options, such as 'go back home' or 'abuse happens.' It gave a realistic perspective about the cycle of abuse and how people actually respond to it."
The next week, participants gathered virtually again, this time to go through the Economic version of In Her Shoes. This activity focuses on walking through dynamics of one of the most common forms of abuse: financial abuse. It is estimated that 99% of survivors in abusive relationships experience some form of financial abuse, so it is imperative we continue to have conversations about what makes decisions around financial abuse so difficult, and share real world and creative solutions to the problem.
If you're interested in walking through the In Their Shoes or In Her Shoes activities, please reach out to the Advocacy & Outreach team at [email protected]. We'd love to bring this important conversation to your group or organization!
---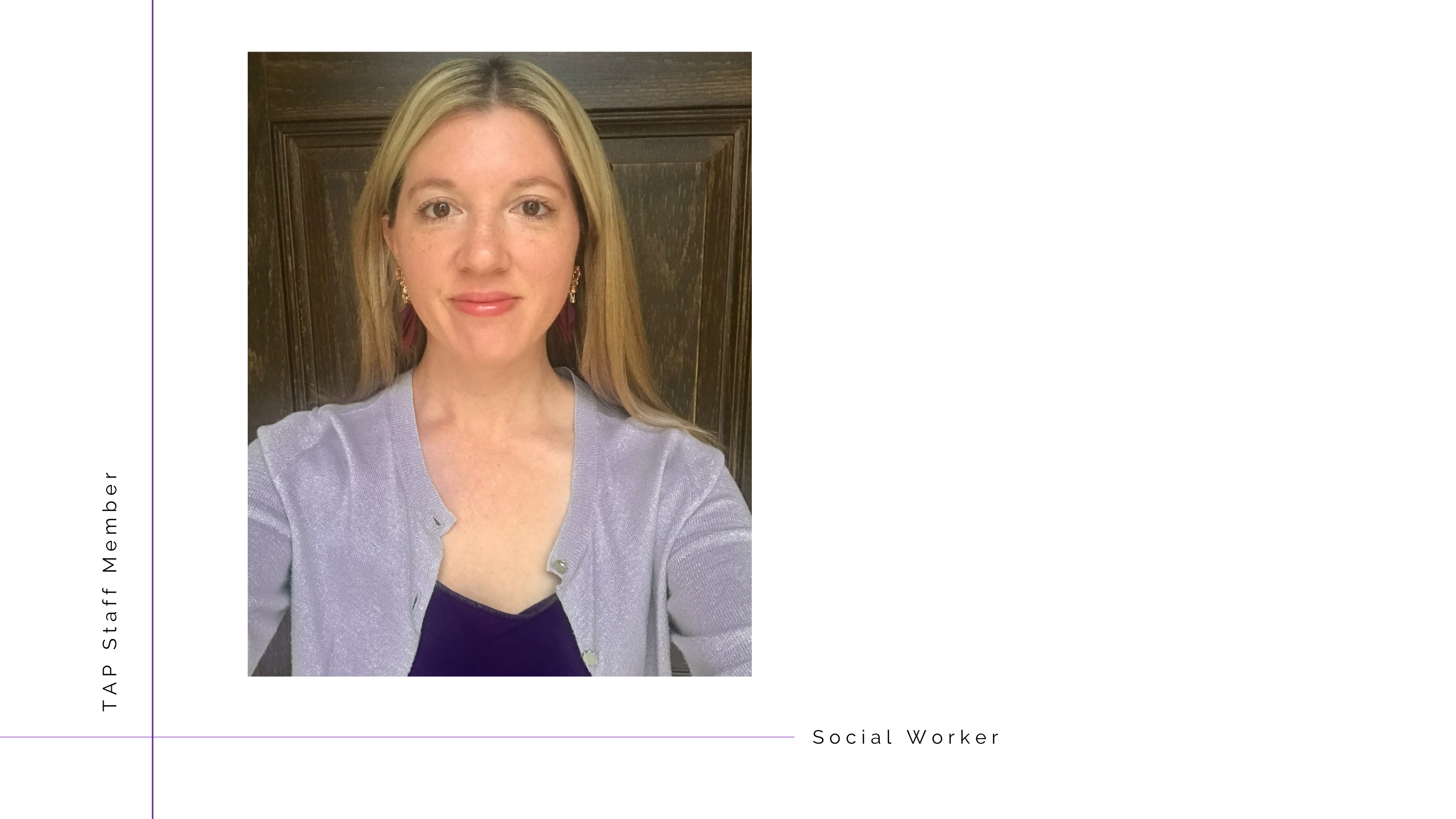 What initially brought you to Texas Advocacy Project?
I had been a medical social worker for 13 years, and most of that time involved working with the elderly and people with disabilities. I enjoyed hearing about the life experiences of so many amazing people and being able to contribute to their quality of life. One of my passions is hospice and palliative care, so I especially enjoyed being able to make a difference in the last weeks or months of someone's life. After COVID hit, it became clear how damaging the pandemic was going to be on society, and not just from a healthcare standpoint. I felt pulled to focus on the cases I had where people were experiencing homelessness, addiction, or domestic violence. I saw all of these things escalating, but would hit so many barriers in trying to get them the assistance they needed. I started to look for jobs where I could continue direct work with clients, but also be involved in a large-scale effort to make change in these areas through advocacy and education. As soon as I interviewed with The Project I knew it was my dream job. I feel that this is where I was meant to be.
How will a social worker be able to help victims of abuse?
The survivors who call our Hope Line are seeking legal advice, but that doesn't mean that they don't have other very important needs. Most people who call us have SO many things going on. They are often trying to navigate multiple systems like local law enforcement, CPS, local domestic violence services, Crime Victims' Compensation, and more, which is overwhelming while also going through the most difficult time in one's life. Social workers are able to provide emotional support, education, referrals for local community resources, and engage in collaborative problem-solving conversations.
What do you most like to do to unwind?
Well, I have two boys, Derek (5) and Sam (3). So most of my free time is spent with them. Our preference is to be outside so we are usually in the backyard, at the pool, or at the park- it also helps them burn off some of their energy! Other than that, I am hoping to have some date nights with my husband soon, especially since live music is back.
What's your favorite thing so far about working at TAP?
Since I come from the medical field, I am very comfortable working on an interdisciplinary team. I believe that a strong team of professionals can accomplish so much more together than we can as individuals. I am so impressed by everyone that I work with and love that we have such diversity in background and experiences. Right when a situation starts to seem hopeless, someone will come up with a helpful contact or an out-of-the-box idea that has worked before, and we are able to keep moving forward. 
What is your favorite dish or restaurant?
I'm a pretty healthy eater and don't eat out very often. So when I do, I like to go ALL OUT and make it count. My top pick is usually Tex-Mex and we love Lupe Tortilla. Give me all of the chips, queso, guacamole, enchiladas, and margaritas!
---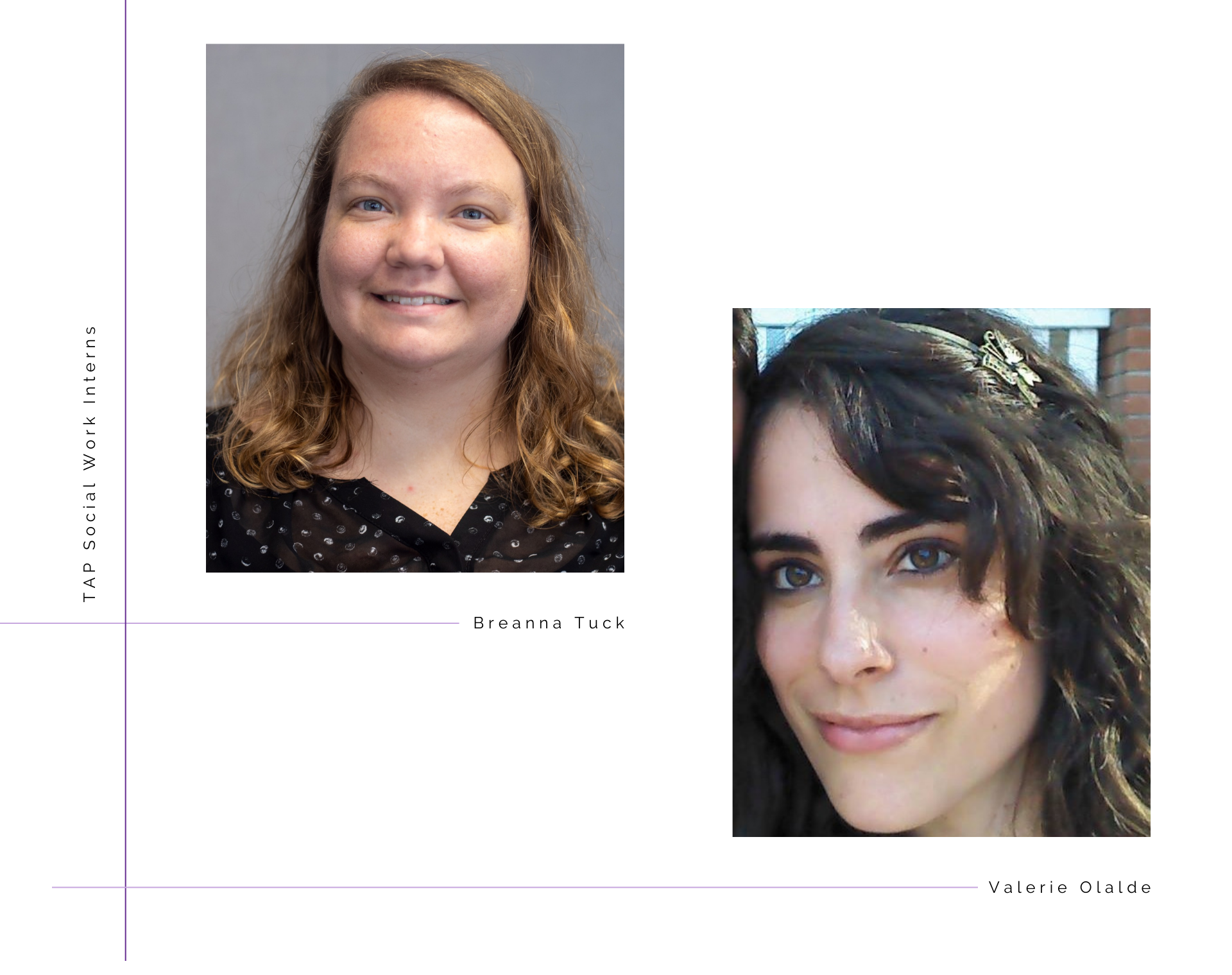 Breanna and Valerie are our inaugural Social Work Interns. They are currently helping our Social Worker, Sarah, build the foundation of our new program and implementing new procedures and protocols for the rest of the TAP team. They are both passionate about working with survivors and victims of abuse and we are grateful to have them on board!
What school do you currently attend?
B: The Steve Hicks School of Social Work at the University of Texas at Austin.
V: Texas State University online since 2018.
Why do you want to be a Social Worker?
B: I have known for a long time that I wanted to go into some type of helping profession. The thing that drew me to social work is the field's focus on social justice. I wanted to work with people on a micro level, but also advocate for social justice policies on a macro level in order to better serve my community. 
V: My childhood was very chaotic and challenging because of situations beyond my control. Homelessness, poverty, food insecurity, and mental health issues are matters that I experienced or observed during my childhood and adolescence. Thankfully, the immense community support I received kept me afloat during the most challenging periods of my life. You can say that my life experiences set me on a trajectory to pay my blessings forward onto someone else. On the other hand, my values have caused me to find a career that seeks justice for the systemically oppressed.
What have you learned so far as a Social Work Intern?
B: I have learned a lot about how to find different resources across the state of Texas and how to be creative when safety planning with someone. I have also learned a lot about the different ways abusers use technology to their advantage and what technology safety planning looks like. 
V: I have learned that it is possible to maintain a positive work culture in a multidisciplinary organization. It is truly inspiring to see how well everyone works together. This is a great opportunity for me as I aspire to one day lead a non-profit.
Tell us a fun fact about yourself!
B: I am an avid Pokemon Go player! I have loved Pokemon since I was a kid and now in my free time I can often be found walking my dog at the park while catching Pokemon or completing raids. 
V: I used to be in a mariachi where I learned how to play the guitarron (Mexican bass guitar) and the violin.
Why did you choose to intern at TAP?
B: My career goal is to work with survivors of intimate partner violence and TAP provided me with an opportunity to get some experience with this population. I also think it is so interesting and great to be part of a non-profit law firm, instead of a domestic violence shelter, in that we are not limited by the services we can provide. 
V: I wanted to intern with TAP because it provided me with more opportunities to delve into non-clinical forms of social work such as program planning, tackling issues via multidisciplinary approaches, and being surrounded with people passionate about improving people's lives. ​
What has been your favorite part about being a Social Work Intern?
B: I adore the people I work with. They have all been so wonderful and kind to me and have so much knowledge to share. The Advocacy and Outreach team is a fun group and I am very thankful for the opportunity to work with them. 
V: I like that I get to work on a highly goal-oriented team. I never imagined interning for an organization that works with the entire state of Texas, or having its advocates work with young women who were part of a documentary that highlights domestic violence issues. In short, there is so much you can accomplish if you put your mind to it.
---

Hope for the Holidays | Launches November 8th
Kendra Gives Back Event | Online and Virtual November 10th