IN THIS ISSUE - May 2018
Backpacks for Hope Launch

Teen Ambassadors of Hope Update

Training & Outreach Spotlight

Sponsor Spotlight - Frost

Recap: David Yurman Shopping Event
---
Backpacks for Hope
On Tuesday June 12th, Texas Advocacy Project kicks off its 8th Annual Backpacks for Hope campaign. The campaign will run from June 12 –July 27 during which time The Project will collect NEW backpacks and school supplies to distribute along with free legal line and safety planning literature to mothers and their children in domestic violence shelters across Texas.
Last year we were able to distribute over 700 backpacks, but this was only 40% of our goal.  We are counting on the community to help us fulfill this years order of over 1,900!
Your donation makes all the difference to families in crisis.  A previous Backpacks for Hope shelter advocate said, "The impact was significant since school supplies for students in our area cost approximately $180 for each student.  This makes it impossible for most victims & puts a strain on our small agency finances."
A special 'thank you' goes to the Allstate Foundation, last year's largest contributor to Backpacks for Hope through volunteer hours and grant funds!
How to donate?
Buy a backpack or school supplies and drop them off at one of our Central Texas locations.  List will be available on June 4.
Build your own Backpack for Hope.
Backpack Supplies:
2 inch binder
4 pocket folders
4 spiral notebooks
Pencil box or pouch
1 pack of markers or colored pencils
2 glue sticks
1 pair of scissors
1 pack of crayons
1 pencil sharpener
1 pack of black or blue pens
Donate $25 and we will do all the work for you. DONATE
Find drop-off locations and more information here: texasadvocacyproject.org/backpacks-hope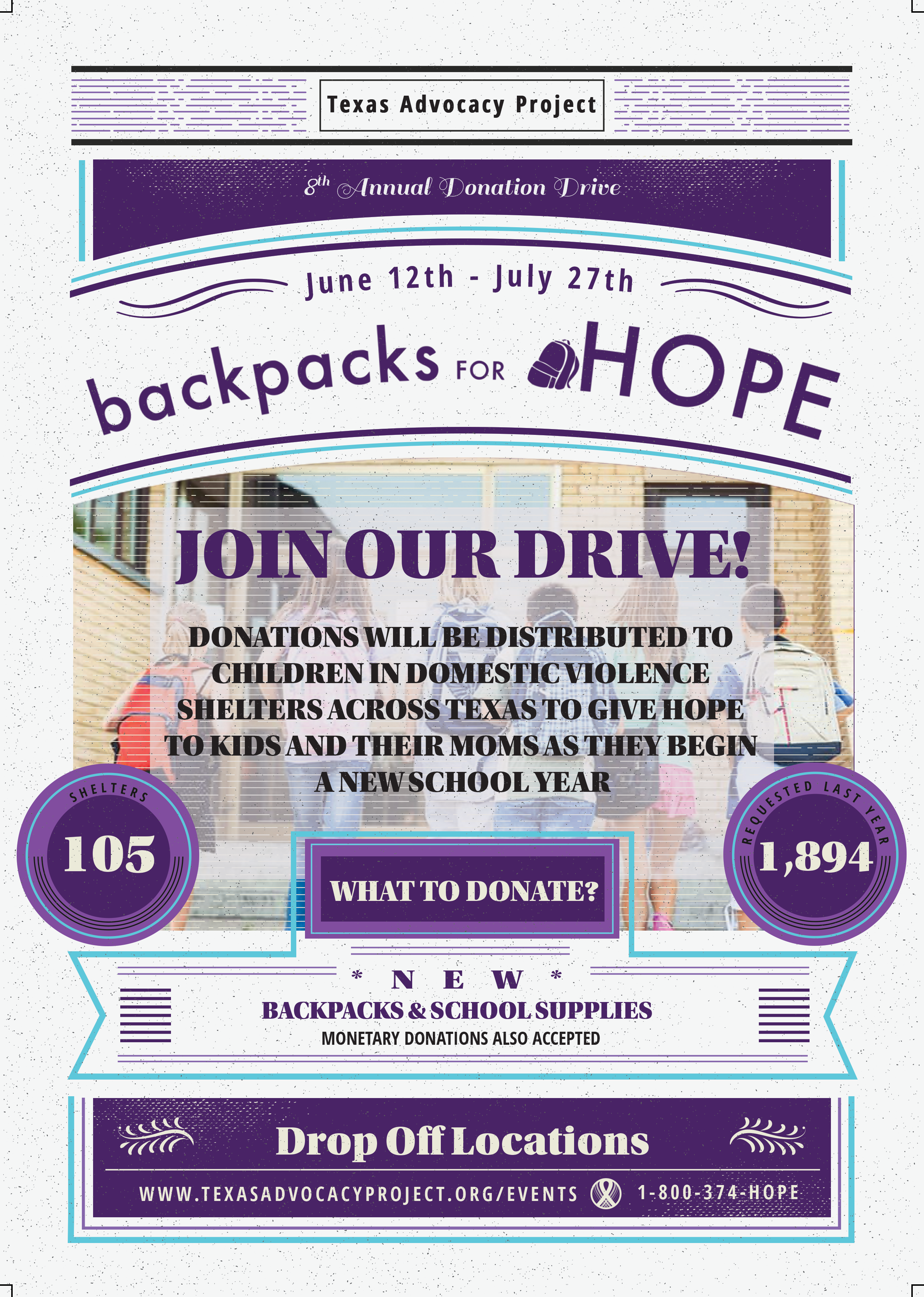 ---
Teen Ambassadors of Hope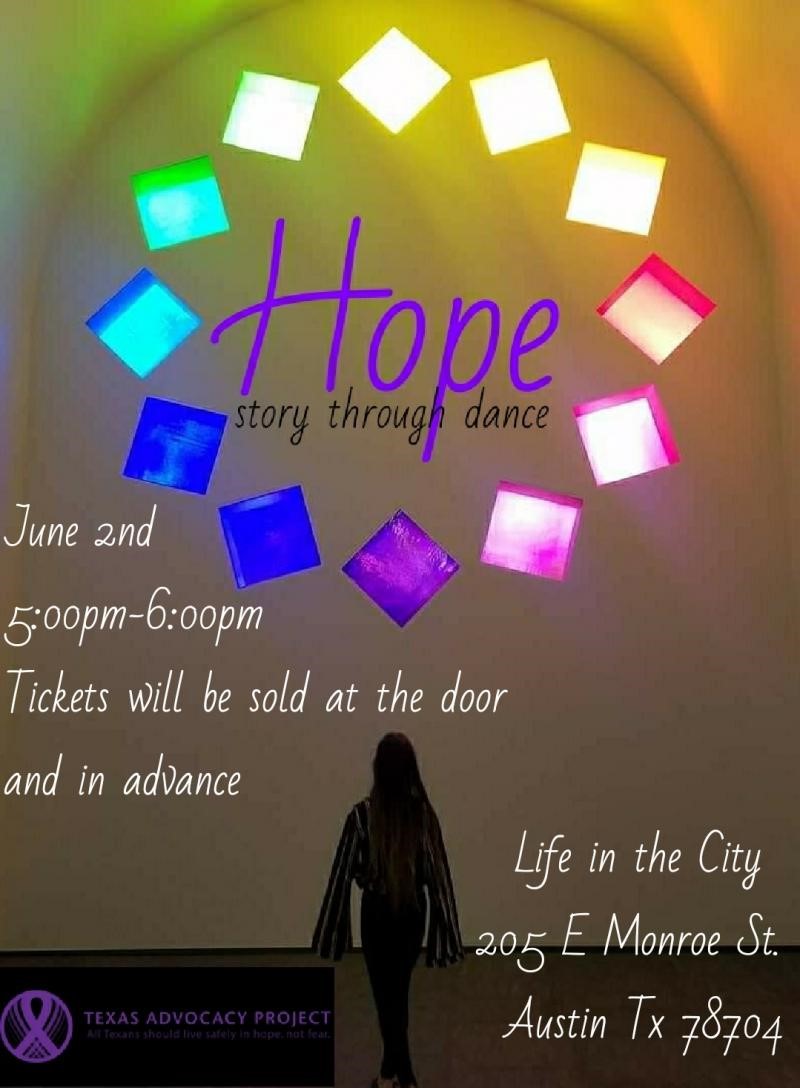 This year, right out of the gates, our Teen Ambassadors are off to an impressive start, raising nearly $4,000 before school is even out!  The Teen Ambassadors of Hope campaign, which runs through June 29th empowers the teens to innovate and have creative control over their unique fundraising and awareness campaigns.  One Teen Ambassador, Kara, has recruited fellow dancers and planned an upcoming dance performance, "HOPE - Story through Dance".
In Kara's words, "I am learning about healthy relationships and how to raise awareness on issues affecting teens such as dating abuse.  Another aspect of the program is to share the legal line number so every Texan has access to free legal services if they ever find themselves in a violent relationship.  This show will help raise money and awareness for this amazing charity."
If you would like to see her show and support Kara's campaign, the performance is June 2nd from 5- 6 pm at "Life in City".  To purchase tickets in advance for Kara's show or to contribute to any of the Teen campaigns, visit: https://bit.ly/2IAzs3j
#TeenAmbassadorsofHope
---
Training & Outreach Spotlight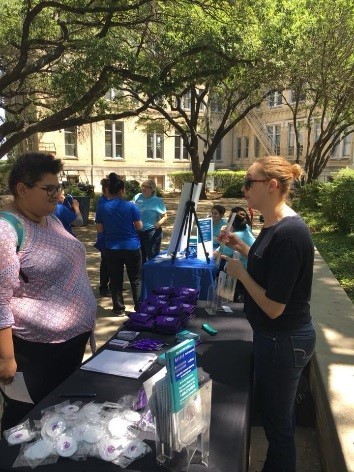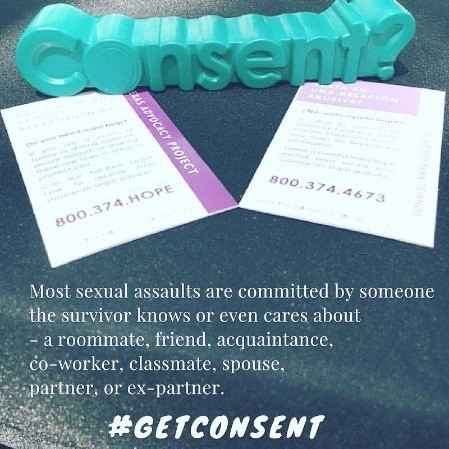 Each April, students from across the country hold events, demonstrations, and campaigns to raise awareness during Sexual Assault Awareness Month.  When a college or university calls upon The Project to share our expertise, we are there!  A staggering statistic that highlights how extensive sexual assault is across Texas:  6.3 million, or 33 percent, of adult Texans have experienced some form of sexual assault in their lifetime.[1]  In 2017, Texas Advocacy Project provided 15 training sessions in Texas universities to prevent campus sexual assault and our sights for 2018 are even higher!
---
---
Sponsor Spotlight - Frost

2018 marked the 11 year anniversary of Handbags for Hope and the 150 year anniversary of Frost Bank.   On Wednesday, May 2nd, Frost employees teamed up to process over 900 purses for our Handbags for Hope program.  Their enthusiasm for the #Frost150 challenge (150 acts of service for their 150 year anniversary) and their desire to help survivors get the purses in time for Mother's Day made for an awesome event, showcasing the impact of a strong philanthropic partnership.  We are grateful for the support and teamwork from Frost Bank, which began in 2015 as a Black & White Ball sponsorship and has continued to grow through the years, and that is why they are our Sponsor Spotlight this month.  
Q & A with Frost employee, Arianne Sclerandi
1.    With so many deserving causes to support, why does Frost choose to support The Project? 
Frost values the non-profits doing good work in the community and we pride ourselves on customer service.   So working with our customer, Texas Advocacy Project, on an event that would directly help local Austin women was a no-brainer.  I feel fortunate to be able to volunteer with others at my company to help our customer accomplish their important goal.  We are all humans at the end of the day and need to take care of one another.
2.    What or who initially connected Frost with The Project? 
A former Frost employee who was on the Board made the introduction between Development Director Jeremy Rathke and myself.  Jeremy kept in touch with me and then reached out about this opportunity. I thought this would be a great event to partner on. 
3.    What initiative, campaign or event of The Project do the Frost employees most enjoy? 
We enjoyed working through the 900 purses. Cleaning them, lining them and learning about the mission of Texas Advocacy Project.  Also many of us don't get to just sit together around a table working on one project for a few hours very often.  So this was a unique way to all get to know each other better!
---
David Yurman Shopping Event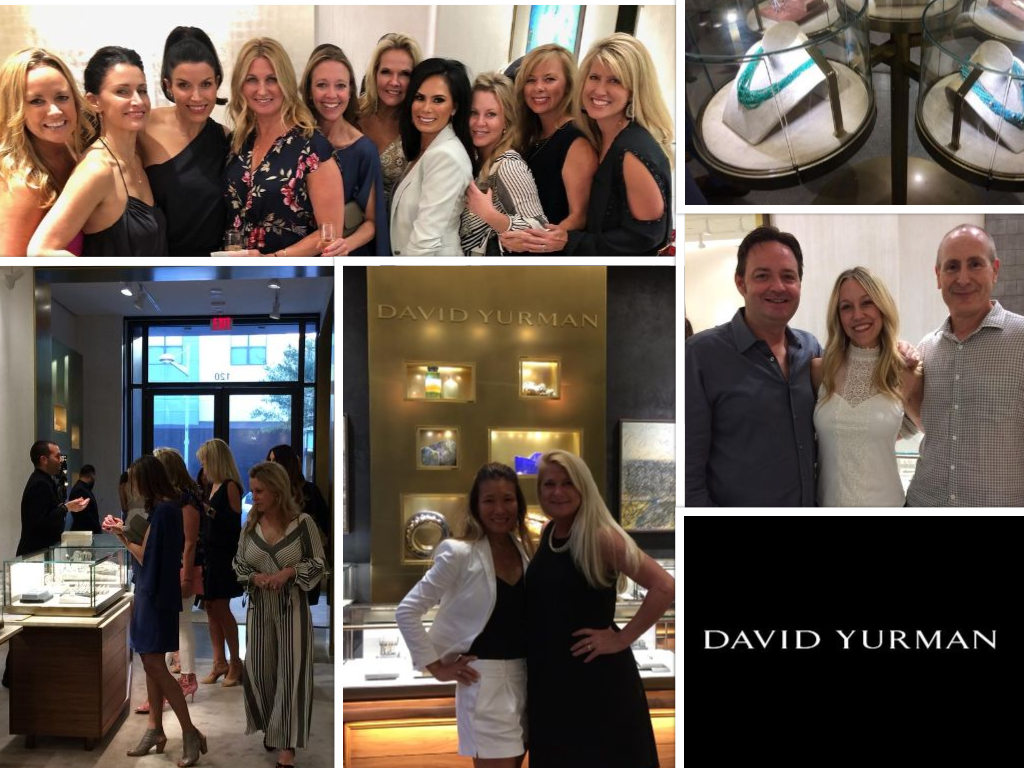 On Tuesday, May 7th, America Strader, the 2018 Black & White Ball Co-Chair hosted an exclusive shopping event and reception at David Yurman at The Domain, with the proceeds benefiting The Project.  The dazzling event, showcased the latest David Yurman jewelry collections as well as champagne and mingling.  But with all the diamonds in the room, the most beautiful part of the evening was when Executive Director Heather Bellino introduced the 2018 Black & White Ball's Courage Award Recipient, Tina, who utilized our legal services to get her son and herself to safety.   Her story, which will be shared at the Black & White Ball on September 29th, epitomizes the mission and heart of our work.  The jewelry, champagne and shopping, as enjoyable and exciting as they were, never for a moment overshadowed the dedication and commitment that everyone in the room felt for raising critical funds to help more people, like Tina, receive life-saving legal services.  
---