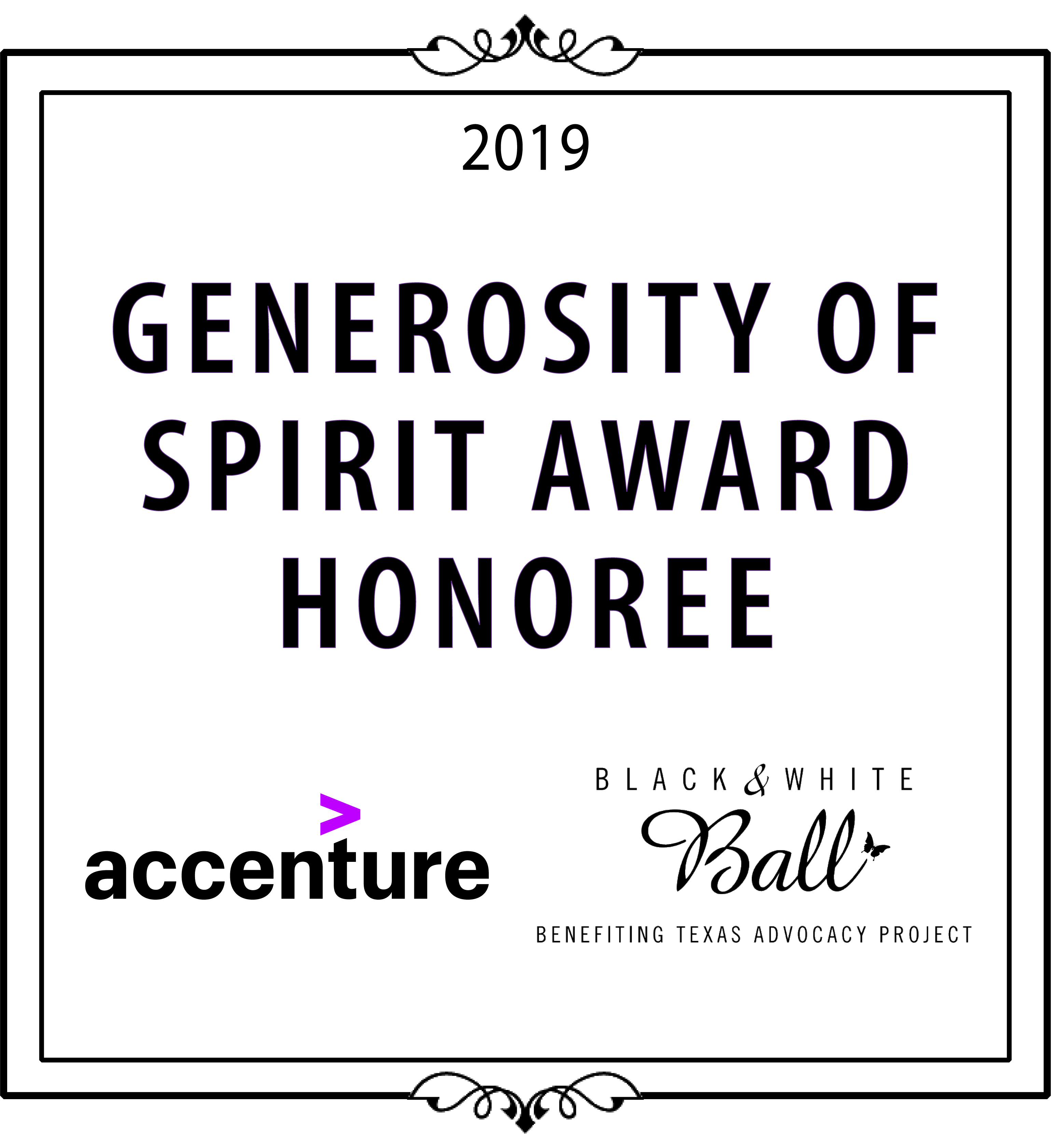 We are privileged to announce that the 2019 Generosity of Spirit Award Honoree at our signature event, the Black & White Ball, is also its long time Title Sponsor, Accenture. A leading global professional services company with an office of more than 3,000 people in Austin, Accenture's vision is to improve the way the world works and lives, and they live this vision by making a difference in their communities each day.
For more than a decade, the team at Accenture has been deeply involved in our work at Texas Advocacy Project (TAP). When Accenture first joined forces with us in 2006, they provided not only critical financial support, but they provided a team of volunteers to prep for and staff the Ball. That year, they also worked with us to hold one of the very first 'Handbags For Hope' drives. This quickly blossomed into one of the company's key volunteer commitments in the State.
As the years progressed, Accenture adopted another one of our signature initiatives: 'Backpacks For Hope'. The company was one of the first to jump on board, based on the success rate of engaging their employees in endeavors with us. Eventually, our 'Teen Ambassadors of Hope' was born. Again, Accenture chose to champion this effort and has since nominated many participants - and helped with planning!
Accenture's involvement and passion with our organization doesn't stop there. Over that 13-year span, a number of their senior leaders have dedicated their own time, talent and treasure by joining our Board of Directors. Further, since 2007, on International Women's Day, Accenture's Austin office invited a member of TAP to speak about our work.
All told, the impact that Accenture has had on our organization and mission is immeasurable. The team has helped us grow and have given us the bandwidth and resources to reach more Texans.
You're invited! Join these enthusiastic community leaders for an evening of live music, auctions, and awards celebrating 37 years of service. The Ball is slated for Saturday, October 26th at the JW Marriott Austin at 7pm.
#HopeNotFear.