Our 2021 Teen Ambassadors of Hope Nominations are now open!
Deadline extended to March 12th. 
---
WHAT IS TEEN AMBASSADORS OF HOPE?
Texas Advocacy Project provides training on healthy relationships, teen dating violence, online safety, and leadership skills through Teen Ambassadors of Hope. Teen Ambassadors earn service hours for volunteer endeavors and can highlight their efforts on college and scholarship applications, allowing them to stand out among their peers. Teen Ambassadors make an impact in their communities by promoting safe and healthy relationships while raising funds to support the free legal services provided by the Texas Advocacy Project to survivors of domestic abuse and sexual assault.
Goals for each Teen Ambassador of Hope: 
• Champion the Mission and Services of Texas Advocacy Project
• Promote Awareness of Dating Violence and Healthy Relationships 
• Raise a Minimum of $500 for Texas Advocacy Project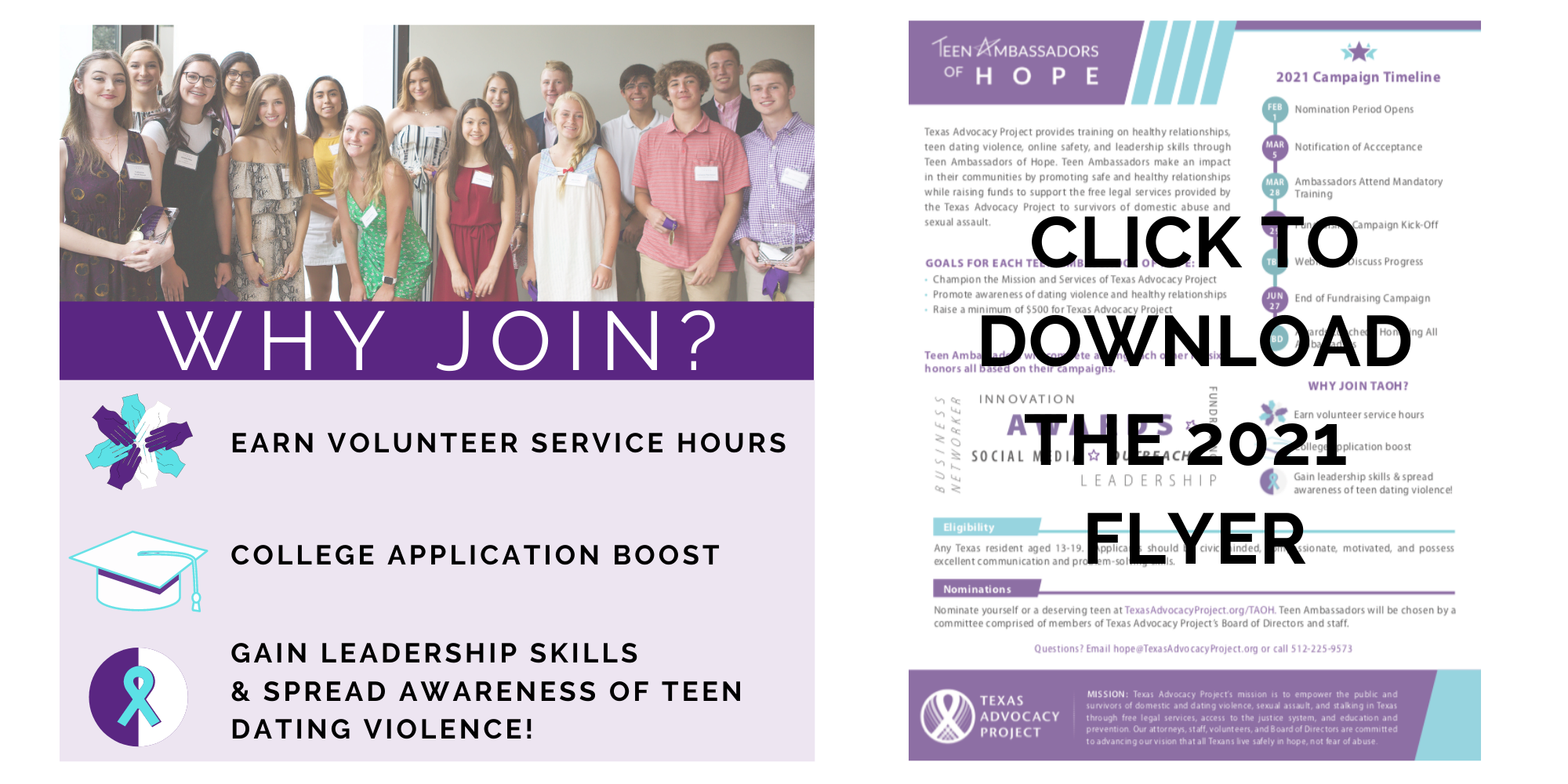 ---

2020 was yet another record breaking Teen Ambassadors of Hope campaign year – raising just over $32,500!
Congratulations to our 2020 Award Winners!
Corporate Partnership - Bronwyn Bates
Fundraising - Mason Watters
Innovation - Melina Ruelas
Leadership - Amyia Lynch
Outreach - Jadan Lee Williams
Social Media - Finnley Willms
Watch the 2020 Teen Hope Awards Show! 
---
A LOOK BACK... 2019 TEEN AMBASSADORS OF HOPE

Questions?  Email hope@TexasAdvocacyProject.org
---