Hope for the Holidays
CUSP
Impact Austin
Staff Spotlight
Upcoming Events
---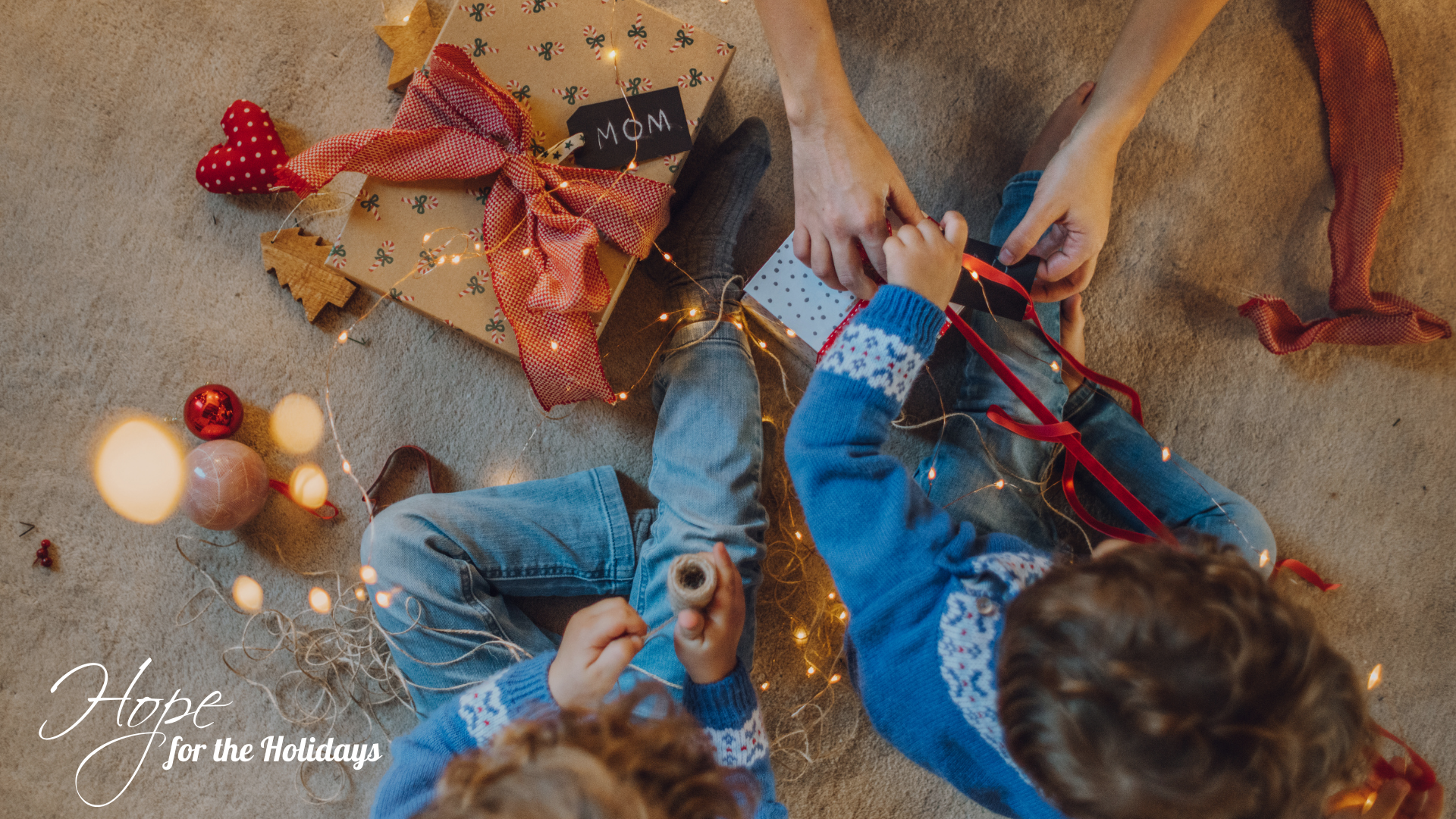 Texas Advocacy Project's annual holiday gift drive is well under way and ends December 3rd! Support 10 survivors and their children transition from a home of violence to one of safety.
We still have unfulfilled items on several families' wish lists. Shop directly from their list or email us to donate in a bigger way! Although an item may have a price, the joy this program brings to these survivors and their kids is priceless. Help us give them a holiday they won't forget. 
 ADOPT an entire family or individual. Email us with the name of your selected family or individual.
 SHOP directly from a family's wish list.
 DONATE any amount you wish and we will do the shopping for you.
Financial gifts help us cover the costs of:

Shipping all the gifts to the families' homes in time for the holidays.

Purchasing any unfulfilled gifts off of their wish lists.

Providing each family with a warm holiday meal.
 VOLUNTEER your time by wrapping gifts and getting them ready for delivery!
---

Texas Advocacy Project is honored to have been asked to consult on the Showtime® premiere of Cusp. This documentary film follows three teenage friends growing up in a Texas town, and tackles some of the most prevalent topics in a teen's world today: power-based abuse, sexual assault, consent, mental health, alcohol and drug use, and gender norms. The film's raw vérité approach creates a sensitive, multifaceted portrait of adolescent girlhood that all young girls, in some form or fashion, will intersect with. As the girls open up about their pasts and explore their definitions of freedom and consent, Cusp illustrates how they rebel against or assimilate to societal expectations and toxic masculinity as a survival tactic.
During our time spent with the film's subjects and makers, we have been able to share in important conversations around the teen experience. We've collaborated with organizations across the country to offer guidance and support to anyone viewing the film. It has also brought up topics of how systems can collaborate to better serve survivors using holistic and trauma-informed approaches.
Texas Advocacy Project believes that prevention is fundamental to our vision that all Texans live free from abuse, and we are hopeful that the conversations this film begins will spread much-needed awareness and education around preventing power-based abuse.
Go to Cusp's website to find more information and view the trailer. Cusp is set to premiere on Showtime on November 26th at 8pm CT.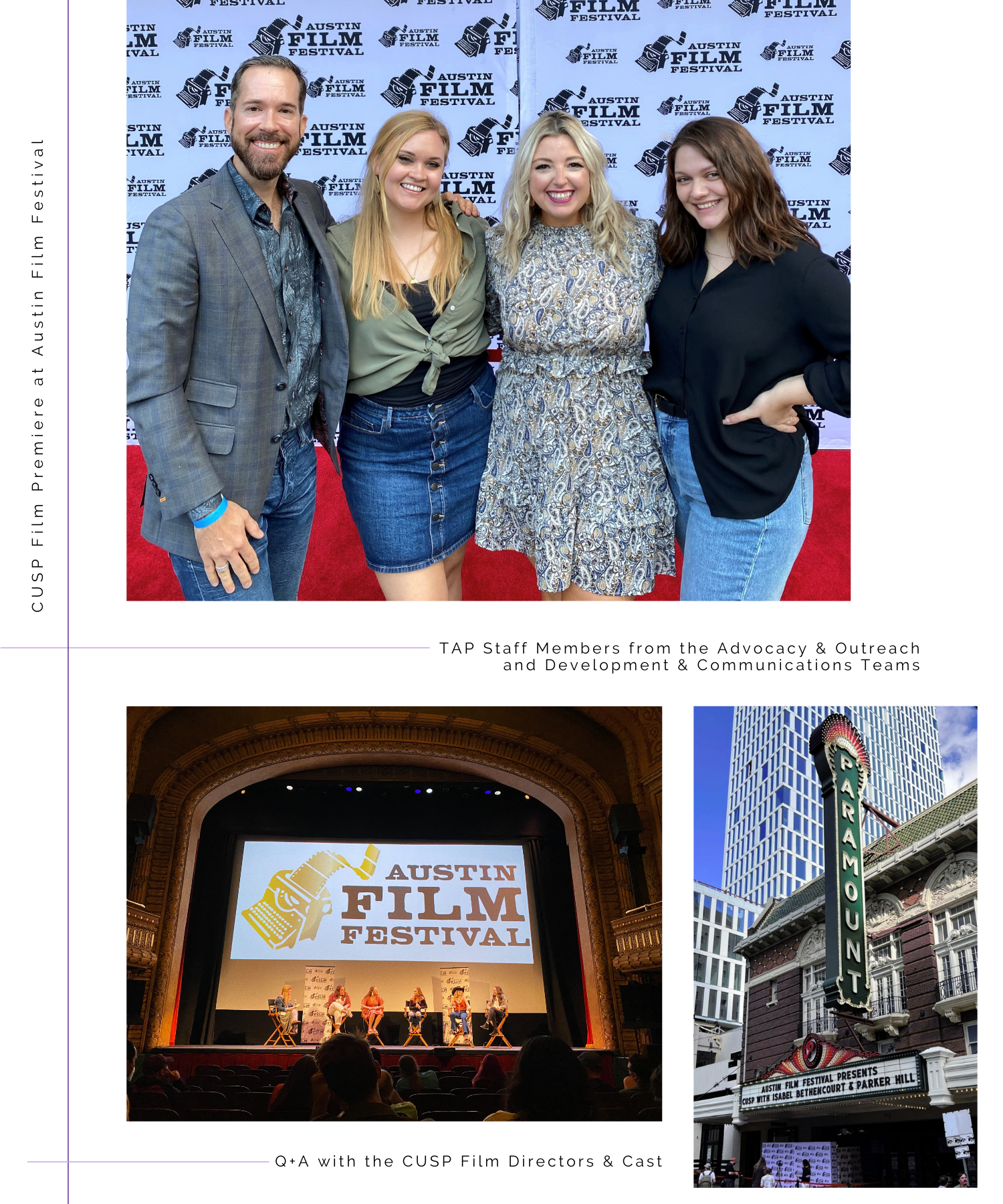 ---

We are thrilled to announce that TAP is the recipient of Impact Austin's 2021 Health & Well-Being Grant! With generous funding of $90,500 from Impact Austin, TAP will strengthen its new social work program, further wrapping survivors in the therapeutic support services they need to be self-sufficient.
We know that legal remedies, like protective orders, get a survivor safe physically; but we need to also help them get safe mentally and emotionally. This funding will support the mental health of survivors by providing case management, crisis intervention, and referral services, alongside the legal services needed to get survivors long-term safety.
Impact Austin is an Austin-based women's collective giving organization, funding Central Texas nonprofits that provide services in Bastrop, Hays, Travis, and Williamson counties. In November 2021, Impact Austin awarded a total of $226,200 in grants across two focus areas: Equity and Health & Well-Being. The purpose of Impact Austin's Health & Well-Being grant is to strengthen and enhance the lives of children and families, or positively impact the mental or physical health and wellness of people.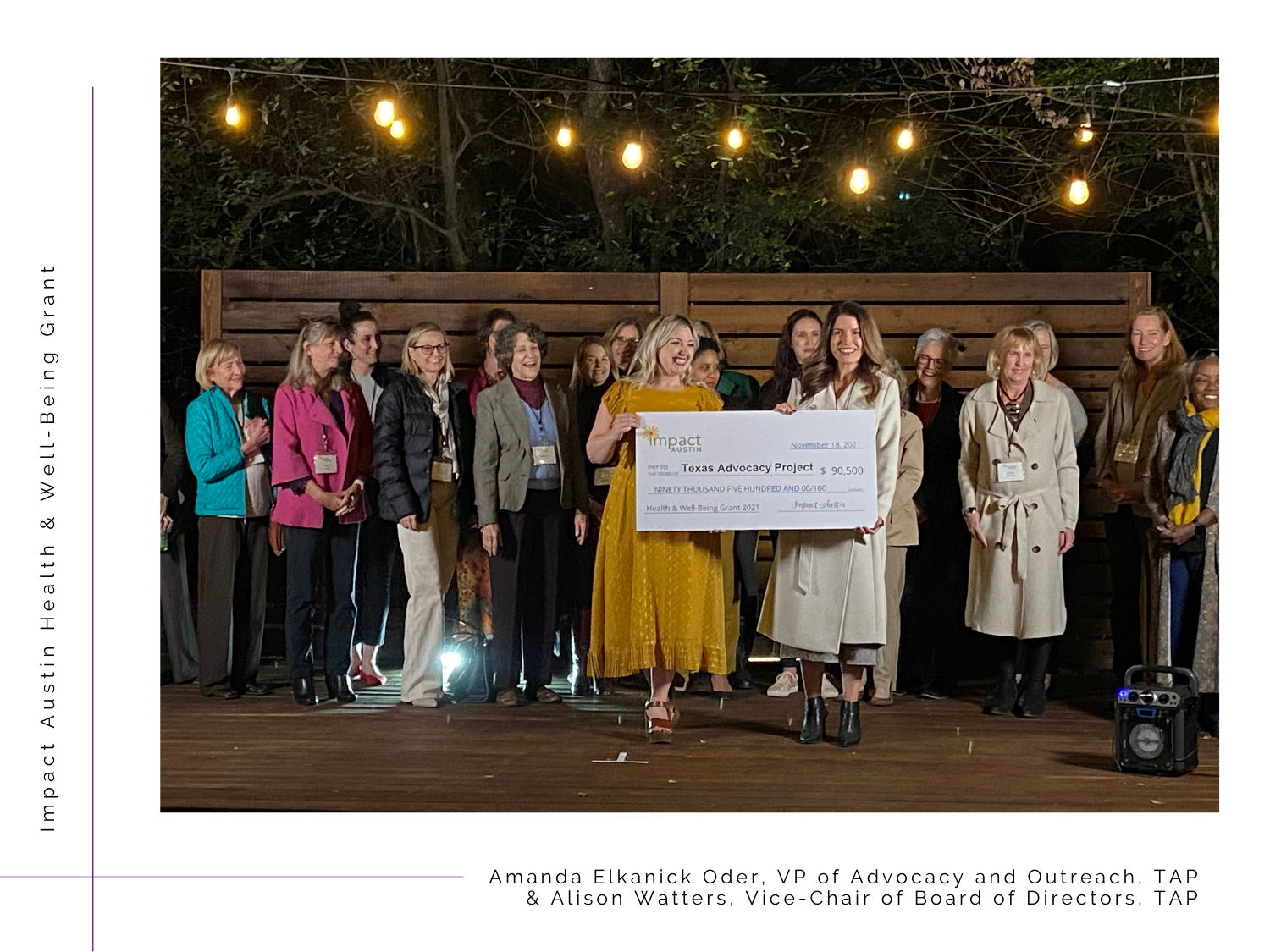 ---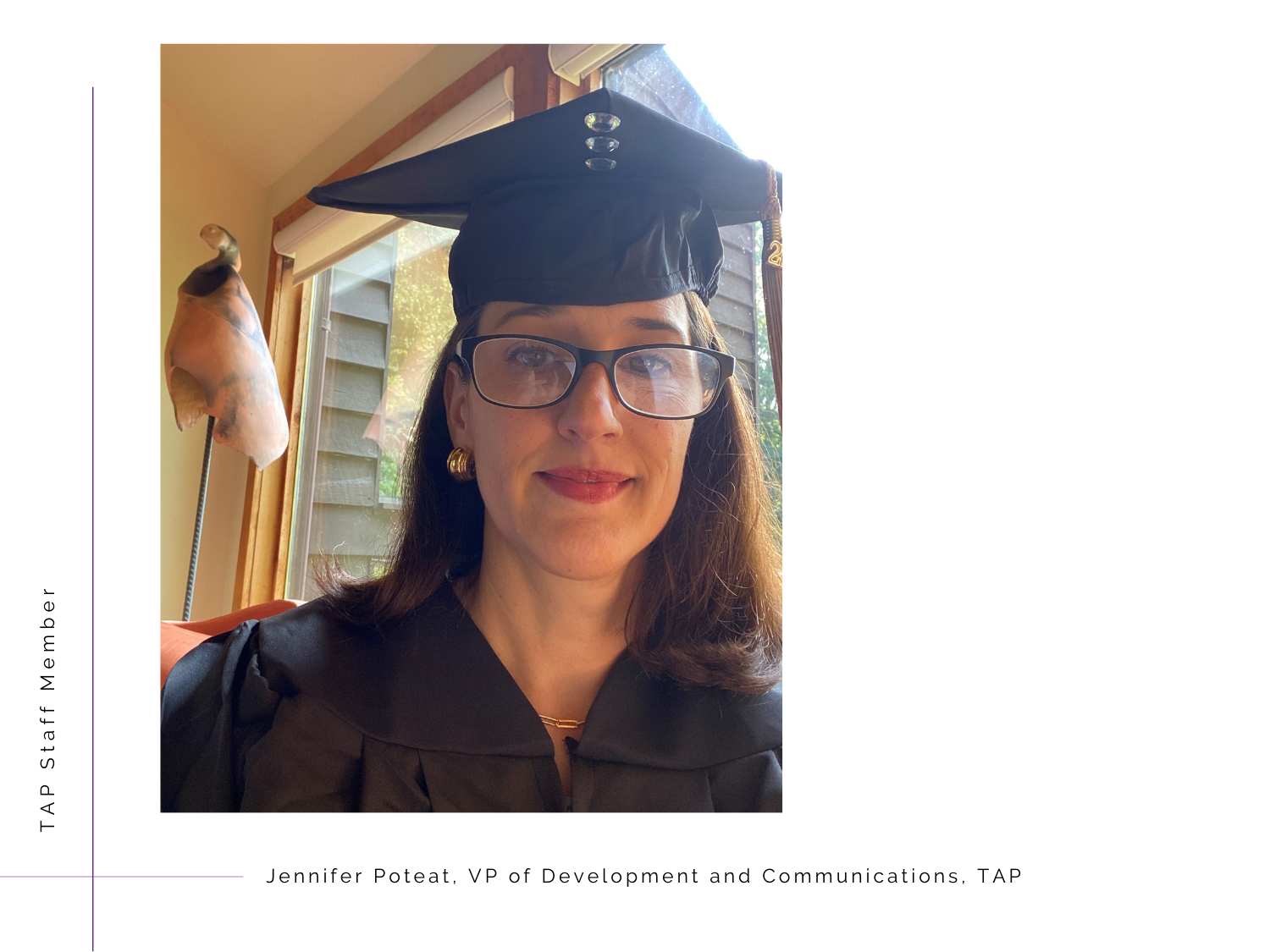 Tell us a bit about your career background and what brought you to Texas Advocacy Project?
I have previously served in non-profit leadership roles to advance access to higher education and quality health care. Recent graduate-level academic pursuits have expanded my capabilities, contributing to my new role as VP of Development and Communications. In 2016, I earned an Executive Masters of Public Leadership from the LBJ School. There, I met Heather Bellino, who was serving as a mentor for the program. I was immediately impressed with the organization's mission and the CEO, of course! In 2021, I earned a Masters of Health Care Transformation conferred by Dell Medical and McCombs Schools of Business. Like most celebrations this past year, graduation was virtual, thus the informal photo of me during the ceremony!
What's one thing you have learned about TAP that has stuck with you since joining the team?
The breadth of services TAP provides as the organization continues to expand beyond the civil legal remedies that impact our client base. One example is the implementation of critical upstream solutions to model positive relationships. The Teen Ambassadors of Hope program helps build a culture of respect at a young age. Also, recognizing the supports such as a social worker to address the complex needs of our clients, to meet them where they are can further wrap survivors in services.
What are you most looking forward to in your new VP of Development and Communications position?
Bringing my skillset to support TAP's continued success as we embark on celebrating the organization's 40th year of providing services to Texans, plus increasing awareness of the mission throughout the state!
What's your favorite thing about working at TAP so far?
People, for sure. From the leadership to the dedicated legal staff, board members, and community allies, they all bring great energy; collaboration is evident. Everyone thrives as they uniquely contribute to the mission.
What is the best career lesson you've learned?
My LBJ School mentor is originally from New Orleans. His advice is to look differently at the systems surrounding the issues you face. Sometimes observing a situation when performing in a Second Line is vastly different from the vantage point of the balcony; a higher perspective often provides new information. So remember to dance, but change your point of view if you aren't quite feeling the rhythm…
What do you most like to do to unwind or on the weekends?
Stroll through Zilker Botanical Garden, hike the greenbelt, or escape to the Hill Country.
Tell us something unique about yourself!
I am an artist (when I have time)! I love to print letterpress cards and posters; I also enjoy making handmade paper and binding books by hand.
---

Hope for the Holidays | Ends December 3rd
Giving Tuesday | November 30th | Donate today!