IN THIS ISSUE - March 2018
Black & White Ball
Alternative Spring Break Law Clerks
Training Spotlight
Teen Ambassadors Update
Hope Brunch
 

---
Black & White Ball, Presented by Accenture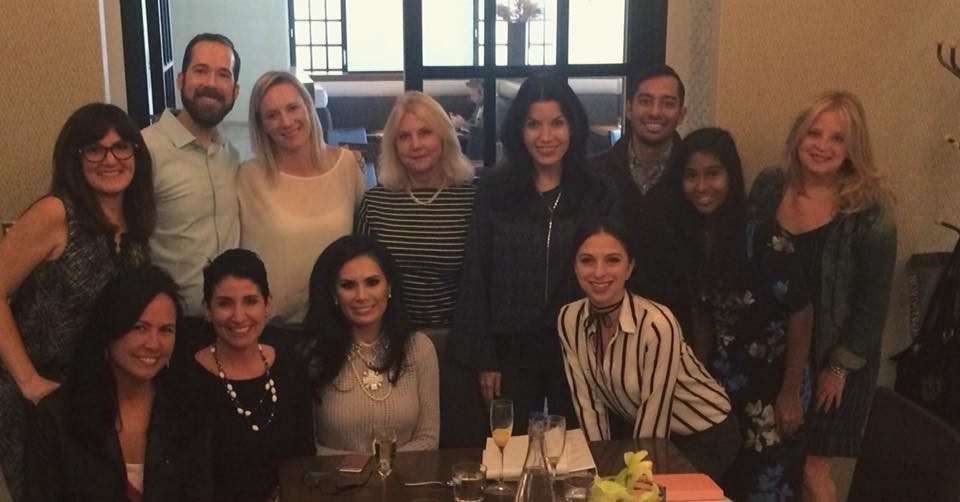 The Black & White Ball, may not be until September 29th, but the committee has already hit the ground running!  On Tuesday, March 6th, the Black & White Ball Committee reconnected and welcomed new faces to the team, which last year, raised over $500,000 for The Project.  We are grateful to our outgoing Co-Chairs, Suzanne Pierson and Alison Waters, for all the years of dedication they have shown to this cause.  This year, Suzanne and Alison passed the purple baton to America Strader, who is taking on the role of 2018 Black & White Ball Co-Chair along with her husband Dr. James Strader.
America described her approach to fundraising for this event as "aggressive not abrasive" and boldly posed the challenge of doubling our goal for the Ball.  America understands the importance of our services and the impact this fundraiser can have on serving more survivors.
Executive Director, Heather Bellino announced the recipient of the Generosity of Spirit Award – The Covalent Foundation.   The Covalent Foundation has been a long-time supporter of The Project.  Their mission is to support projects that serve women and youth in need.   
This year's Black & White Ball theme, "Together we Rise" for the first time in the Ball's history will portray a man alongside a woman.  This feeling of cooperation and partnership that we hope to showcase at the Ball was evident in the room of the Committee kick-off meeting, where women and men, gathered together, to begin the process of raising critical funds for survivors.
 
#BWBall2018
---
Pro Bono Law Clerks for Alternative Spring Break
While Austin was enjoying SXSW, The Project was hosting nine law school students for a program called "Alternative Spring Break," where students give up their spring break to be of service.  The students filled our office with energy and enthusiasm, as they traded their much needed vacations in order to help victims gain access to justice.
Five of the students drove down from Columbia Law School to Austin in what they call a "Pro Bono Caravan."  Four other students drove in from Texas A&M School of Law, South Texas College of Law Houston, Texas Tech School of Law, and Southern Methodist University Dedman School of Law.
Working on a special, week-long project organized by the State Bar of Texas - Access to Justice Commission, the students surveyed each of the 254 counties in Texas.  Referred to as "Best Practices of Protective Orders" they called each of the prosecutors' offices to find out how they help victims with protective orders in their county.
Normally the students rotate to organizations all over the country, but we are grateful that this is the second year they chose to return to The Project. 
---
Training Spotlight

Texas Advocacy Project exhibited and presented at the Cultivating Safe College Campuses (CSCC): Interdisciplinary Approaches to Campus Sexual Assault Prevention and Response Conference at Southern Methodist University earlier this month. The CSCC consortium was formed to improve campus sexual assault response in participating Texas institutions of higher education.
The Project was joined by Texas Association Against Sexual Assault, Stop Abuse for Everyone, Dallas Area Rape Crisis Center, and others in leading discussions centered around campus prevention of sexual assault and appropriate responses to student allegations of such incidences.
Our Legal Director, Bronwyn Blake, presented "Legal Rights of Sexual Assault Survivors" to explore civil legal remedies available to survivors on campus and how trauma affects survivors and impacts sexual assault reporting.
If you or your agency have training needs or events you'd like us to be involved in, please email training@texasadvocacyproject.org. 
---
Teen Ambassadors Update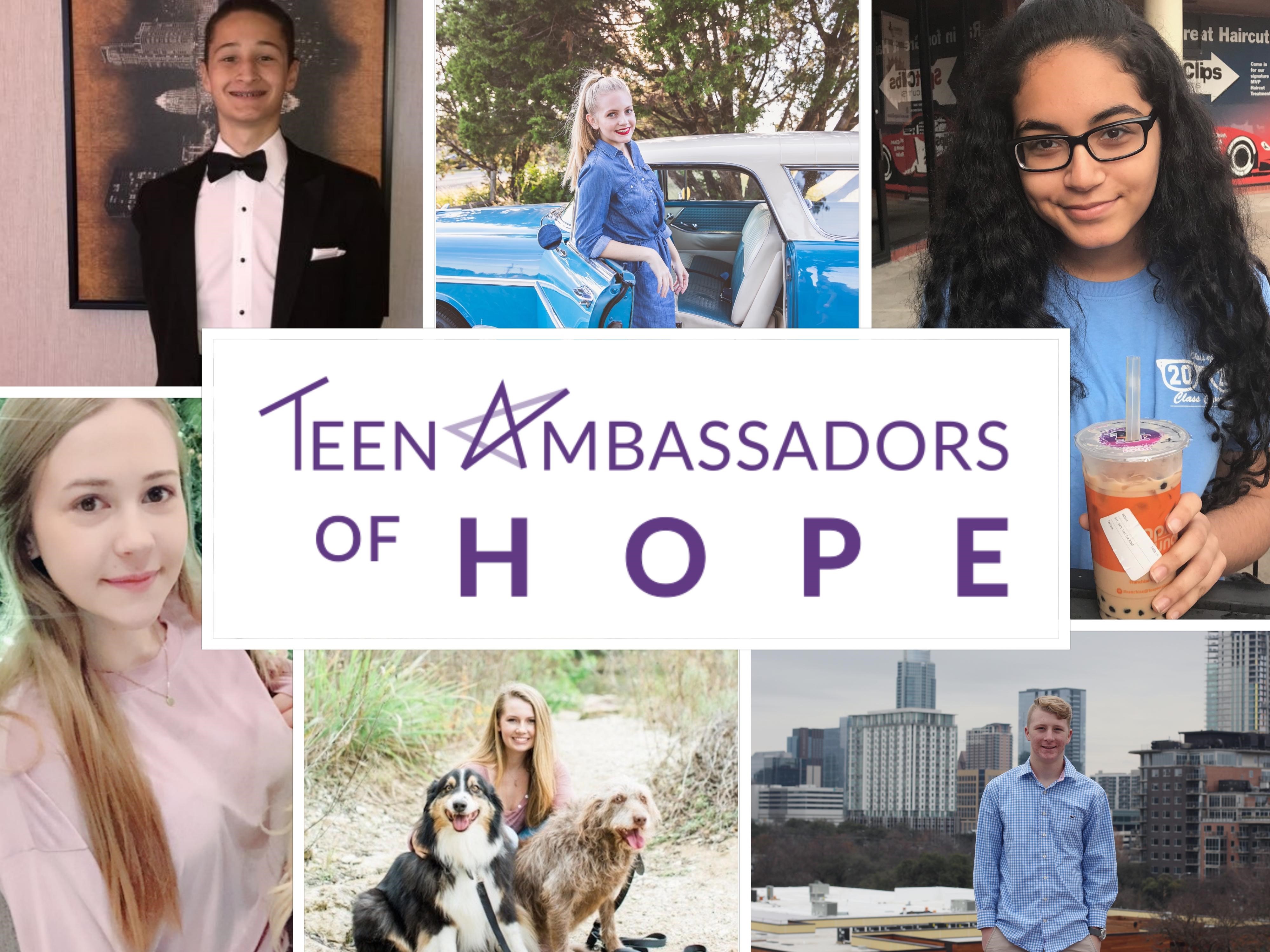 We are excited to announce that we have received 35 nominations for Teen Ambassadors of Hope, our campaign to give teens an opportunity to make an impact in their community through philanthropy and outreach, all while gaining leadership skills.  The teens nominated include both new and legacy (returning) teens for this important program.  Next up for the Ambassadors is the four hour training on April 15 presented by the Facebook Online Safety Team and Dr. Barry Bales, Assistant Dean of the LBJ School of Public Affairs at UT Austin.  The training will teach valuable skills on healthy relationships, teen dating violence and positive social media presence. Email hope@texasadvocacyproject.org with any TAOH questions.
---
Hope Brunch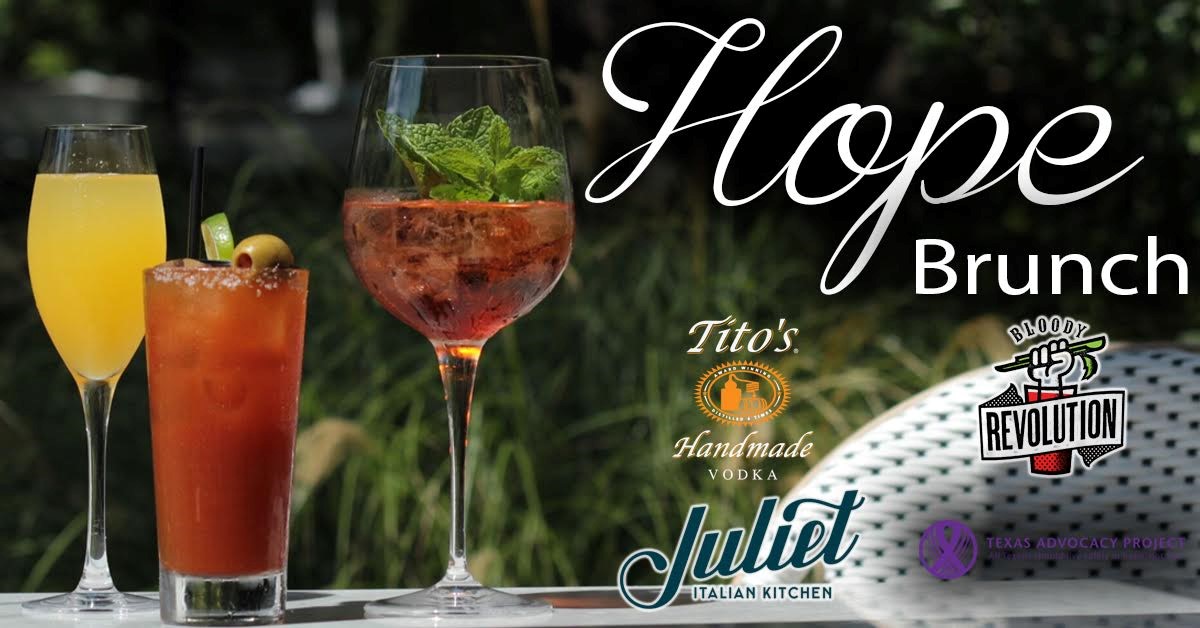 Coming up this Saturday, March 24th from 11 am-2:00 pm, is the 2nd Annual Hope Brunch, generously hosted by Juliet Italian Kitchen. 
Tickets are still available for this event on their lush patio with delicious food and drink and the opportunity to drop off your Handbags for Hope donations.  The event will feature a raffle, drink specials, live jazz music by Jeff Lofton Trio and special sponsors Tito's Handmade Vodka and Bloody Revolution!
Tickets available at:
http://www.texasadvocacyproject.org/hope-brunch
$35.00 (entree plus two complimentary alcoholic beverages)
$25.00 (entree only)
---