IN THIS ISSUE - June 2020
---

Texas Advocacy Project Attorney Becky Walker shares her experience and expertise on advocating for and representing LGBTQ+ survivors. Ms. Walker is the inaugural recipient of the Mike A. Myers Fellowship in Public Interest Law with a focus on combating domestic violence and sexual assault in the LGBTQ+ community.
 
June is Pride Month, which means it is a great time to bring to light the unique obstacles that LGBTQ+ survivors face. Studies have shown that members of the LGBTQ+ community experience intimate partner violence in rates equal to or higher than their cisgender or heterosexual counterparts. The U.S. Supreme Court has made landmark decisions in favor of LGBTQ+ families that Texas courts and statutes do not necessarily reflect. In Texas, even if both parents are listed on the birth certificate of a child, a court may still nonetheless find that only one of them has a parent-child relationship. An LGBTQ+ survivor could go to court to divorce their abusive spouse, and end up with no rights whatsoever to their children.
 
In my experience providing legal services to LGBTQ+ survivors at TAP, I have seen parties try to use these laws to their advantage. During mediation, an abuser might offer to drop the argument that the survivor is not a parent of the couple's children in exchange for the survivor dropping their protective order application. A parent should not have to make a choice between their safety and their parental rights. Attorneys at TAP recognize that there is not a one size fits all solution to advocating for survivors, and we strive to ensure that our clients' intersectional needs and concerns are met with understanding and insight.
---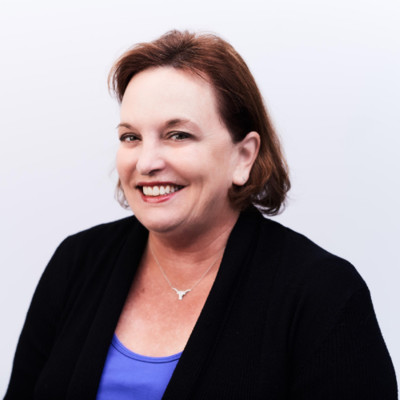 What initially brought you to Texas Advocacy Project?
I became friends with Todd and Heather Bellino at Balcones Country Club. While speaking with Heather about work, I gained an appreciation for the passion she has for her job and the cause itself. So, I started my research and became a member of the Black and White Ball Committee.
 
Why is the Project's mission important to share with others?
Domestic violence is often the buried secret. Victims are sometimes embarrassed and afraid to change their situation and the violence comes in many forms beyond physical abuse. The economic abuse is just as frightening as the physical abuse. We are grateful that places like Texas Advocacy Project are available to help those in need. 
 
What is your occupation and how would you describe what you do day to day?
I am the CEO of Connect Worldwide, which is the user group for Hewlett Packard Enterprise. We plan and manage technology events for customers. We have over 50,000 members globally, so I travel for business. When I am not traveling, I along with our Chief Canine Officer, Holly Peno, office from home. Since we are a small company I wear many hats and do many things including event planning, accounting, strategic planning, and communicate with our members.
 
Also serving as a member on our Black & White Ball committee, what do you hope to contribute to this year's (never been done!) virtual platform?
My company has been impacted by the pandemic too. We have rescheduled many of our meetings and had to quickly develop a virtual event platform for our membership. It is important to keep the community alive when you can't gather face-to-face. I hope I can lend some of my experience to the event. It will be a very different event and it is important to remember the reason we love this event. We are saving lives and healing people and families. Every single day.
 
What are your personal goals in serving as a board member?
Personally, I am fulfilled if I can contribute my knowledge and business expertise. If my contributions can make a difference in any client's family situation, then we are winning the battle. 
 
How has serving as a board member made a difference in your life?
Being a board member has made me more aware of the many forms of abuse. It makes me a better parent to my two daughters. It makes me more aware of how I spend my paycheck. I make better choices- that $100 lunch can do a lot for people in need of services.
 
What initiative, campaign or event do you enjoy most from the Project?
My husband, Jorge, and I have been attending the Black and White Ball for the past three years. We really enjoy that one evening of supporting the cause, dressing in our formal attire, and dancing the night away. It is fun to spend money on yourself and know that the proceeds are going to create goodness in the world. 
 
How long have you lived in your current city?
I love this question. I was born in St. David's hospital in Austin, Texas. I moved to Dallas for a few months after I graduated from the University of Texas and quickly returned. Hook'em! My father was also born in Austin, so I consider myself a second-generation Austinite. My parents were very active volunteers in our community, so I had some incredible role models. I dream of living somewhere else, so I hope to have another home on a Caribbean island someday, but I won't ever give up my Austin home. 
 
What is your favorite pastime? Where can we typically find you on a Saturday evening?
My husband and I play golf, so you can usually find me at the country club. I enjoy visiting with my friends and we quite frequently think we are solving all the problems in the world.  We usually stay close to home on the weekends because we enjoy our neighbors and fellow club members. However, we do love to travel so you can frequently find us somewhere on the road.
 
What is your favorite dish or restaurant?
My favorite restaurant is Fonda San Miguel. Since I am old Austin, I have seen many great restaurants come and go, but my special go-to place is Fonda San Miguel. I just love their decor, the residential parrot, and the traditional Mexican cuisine. Oh, and the margaritas are marvelous.
---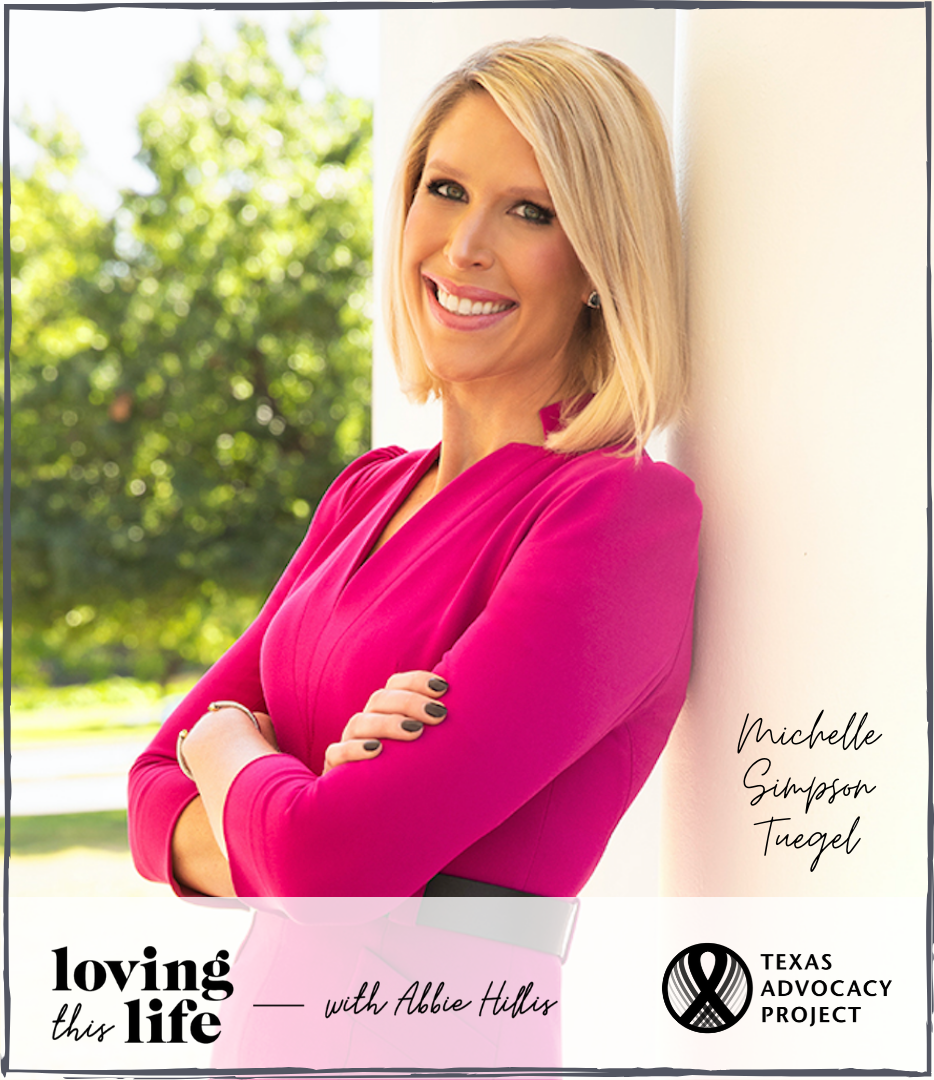 Excerpt from the podcast, Loving this Life - Advocating for Athletes Series, Episode 27:
The most important part of the civil option or the right to a civil lawsuit is filing it in time and the statute of limitations. The statute of limitations is how much time does a survivor have to file their lawsuit or their civil claim. That differs in every jurisdiction… For an adult who is sexually assaulted in the state of Texas, that survivor has 5 years from the date of the assault to file a civil lawsuit… For child sexual abuse in the state of Texas that law has changed now 4 times… Back before 2007, in the state of Texas, you had 2 years- the clock starts for child sexual abuse once you turn 18… then the state of Texas changed it to 5 years, then they extended it to 15 years, and just on September 2019, the law changed to 30 years from age 18. And I was involved in that lobbying and legislation with some of my clients… They [Texas Advocacy Project] aren't lobbyists, but when we went to the legislature last year they were behind us, and they were there to support us. And their Executive Director Heather was just right behind us holding us up, supporting us, talking to legislators who she knew. And it was just, for me who had never been in any context on the Hill in Texas and had no real interest before in doing anything like that, but then saw something that needed to be changed, and a law that was actually going to be changed for the worse not the better, and so we jumped in and the Texas Advocacy Project was just right there behind us. And so I have a lot of respect and love for them because they were there for that, and I want to be there for them and for the survivors that they serve.
---

School is out and temps are rising – here are some tips on how to prepare teens for more indoor time online.
---

Many of TAP's favorite conferences have been canceled or moved to virtual-only formats this year. Along with this move online, conferences have been forced to drastically scale down their content and tracks. Because we have already been offering virtual trainings statewide, this online-only conference format has been a smooth transition for us. We are honored to have been asked to share our expertise through interactive and engaging sessions for these newly-condensed, virtual conferences.
 

 Attorneys Keri Ward and Cheremma Lee will be presenting, "Surviving R. Kelly: Vilifying the Victims & Protecting the Perpetrator," at TAASA's "Lift Every Voice" Conference. Additionally, Attorney Allison Kolb will be offering her training on "Navigating Relief After a School Sexual Assault: A Guide to Coordinating and Customizing Survivor Relief in Title IX and Protective Order Cases."
 

 Vice President of Advocacy & Outreach Amanda Elkanick Oder will be leading a training for the 83rd Annual National Council of Juvenile and Family Court Judges' Virtual Conference. She will speak on coercion and consent, specifically the legal implications of #MeToo, Dirty John, and Suicide-by-Text.
 

 Amanda, joined by Chief Legal Officer Bronwyn Blake, will speak on coercion and consent for the Conference on Crimes Against Women Web Series.
 
Our Training & Advocacy team has a busy summer ahead of them!
---

The 2020 Teen Ambassadors of Hope program might be nearing its end on June 26th, but these teens are still full steam ahead! With only 9 days left to reach their goal, the Teen Ambassadors have raised over $28,000 for survivors across Texas. Once their campaigns are over, the teens will meet up again on July 26th for the Teen Hope Awards show. This virtual event is free to the public but will have a suggested donation for entry unless the attendee has previously supported a teen's campaign. Save the date and join us in celebrating our Teen Ambassadors' hard work and dedication to ending teen dating violence.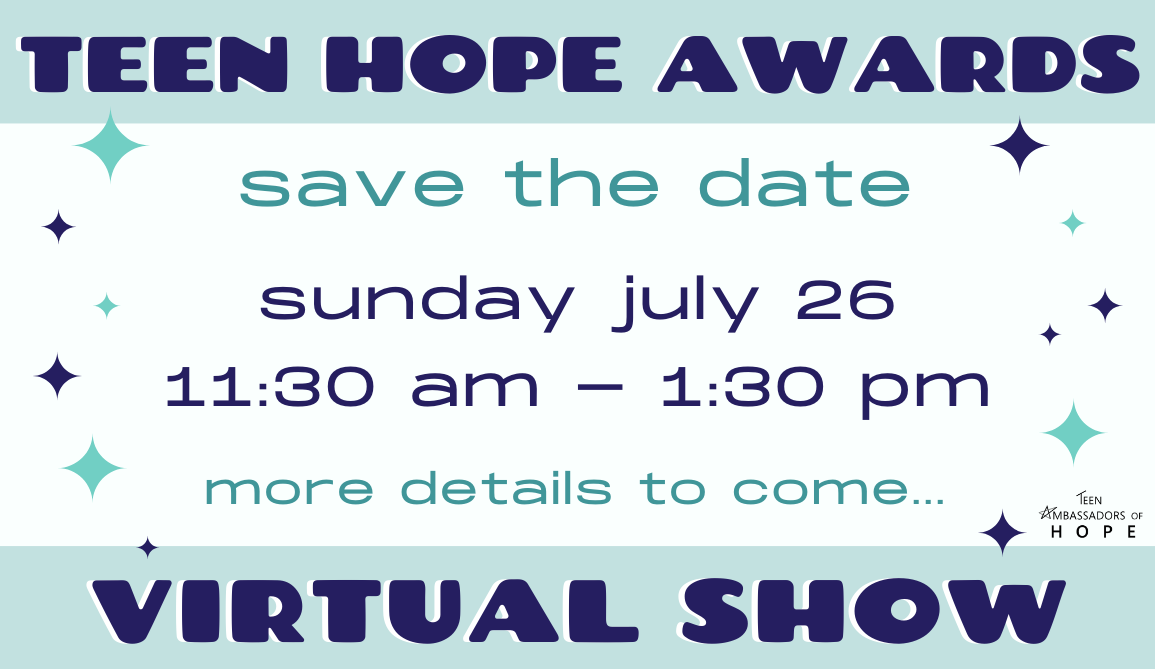 CAMPAIGN CORNER
Listed below are several campaigns that are still in progress. Click on the teen's name to learn more! 
BRONWYN - Hosting a pet contest on Facebook and Instagram. The winning pet will be chosen at random and will win a gift basket full of pet goods.
FINN - Selling custom Vandegrift High School face masks. Masks are made of grey jersey fabric with loops and the school logo.
KARA - Offering private dance lessons for all ages. All lessons will be via Zoom and will last 30-40 minutes. 
MELINA - Selling blank greeting cards designed by Melina herslef. Free shipping or local Austin delivery included.
---
Teen Hope Awards Virtual Show  |  July 26th @ 11:30 AM
Black & White Ball - A Virtual Speakeasy Supporting Survivors |  Sat, Sept 26th