IN THIS ISSUE - June 2018
Teen Ambassadors of Hope Update
Teen Ambassadors Spotlight - Michael Hoffa
Backpacks for Hope Update
Training & Outreach Spotlight
 
---
Teen Ambassadors - 8 Days Left

On Friday, June 29th at 11:59 pm, the fundraising portion of our Teen Ambassadors of Hope Campaign officially comes to an end.  Our impressive teens have raised over $7,000 so far and they still have 8 more days left to fund-raise.  If you haven't had a chance to get to one of these wonderful events or donate to their campaigns, a link to the team page is HERE.  The teen with who raises the most will win a coveted Teen Ambassador of the Year Award!
 
Upcoming Teen Ambassador Events benefitting Texas Advocacy Project:
 
Saturday, June 23rd at 2:00 pm - Catherine's Fitness Class:  Catherine has organized a fun charity workout class featuring national Kickboxing instructor, Mark Brown. There will be a brief presentation on positive teen social media and relationships and then the workout begins! Location: Body Business Fitness, 2700 West Anderson Lane, Austin, TX  78757.
 
 Monday, June 25th from 6-9 pm - Colin's Movie Screening Event:  Screening of Jurassic Park (Right after the release of Jurassic World) at Moviehouse & Eatery (The Trails at 620, 8300 N FM 620, Bldg B, Austin, TX 78726).  There will also be a raffle held before the movie with donations from local businesses.   Tickets are limited to the first 105 moviegoers! Claim your free ticket HERE.  However, please go to Colin's CrowdRise to donate the suggested $20 per ticket.
 
 Friday, June 29th – Sunday, July 1st - Tennis Tournament:  Teen Ambassador, Michael will be hosting "The Berry Creek Open Benefiting Texas Advocacy Project" on 6/29-7/1 at the Berry Creek Tennis Club in Georgetown.  If you would like to play in the tournament you can register on the USTA site HERE
---
Teen Ambassadors Spotlight
Q&A with Michael Hoffa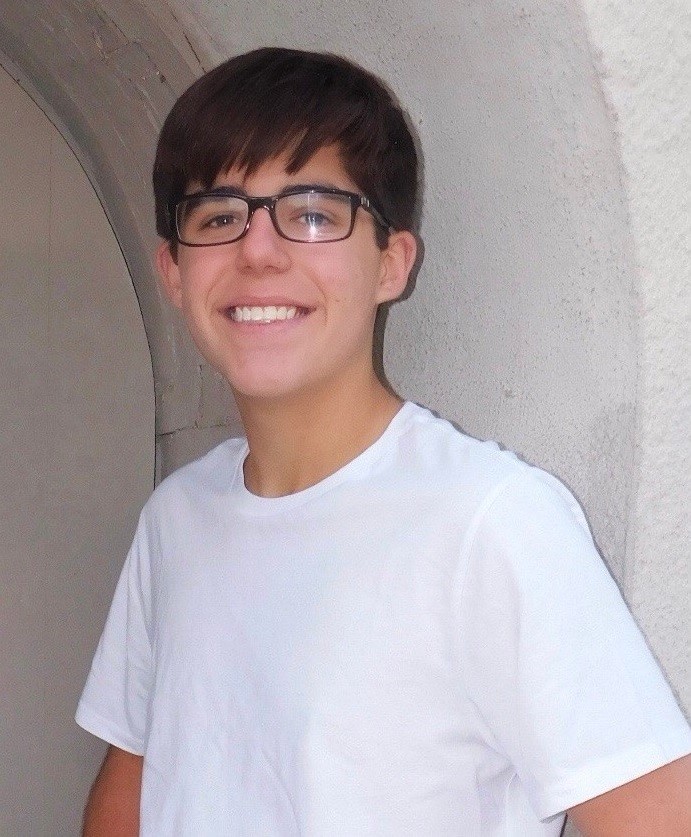 Describe your awareness/fundraising campaign? 
I am working with the Berry Creek Tennis Club to help plan a USTA Tennis Tournament.   The Berry Creek Open Benefitting Texas Advocacy Project is scheduled for the last weekend in June at The Berry Creek Tennis Club in Georgetown.
How or what inspired you with this idea? 
My friends and I spend a lot of our free time playing tennis and my original idea was to do a mixed doubles tournament with my friends which would also give me the opportunity to tell them about The Project, Teen Ambassadors of Hope, share what I learned from our trainings, and raise money for The Project.  As I was meeting with one of my coaches to talk through my idea.  He offered me the opportunity to work with him on a USTA tournament that he already had scheduled. I would be able to raise funds by getting sponsorships and donations for the tournament and would also be able to display information about the Texas Advocacy Project throughout the tournament. I am planning on having an information table at the tournament where I will share information and where people can make personal donations.  
What made you decide to get involved as a Teen Ambassador of Hope? 
I learned about the program from my Mom and when I found out how much The Project does for people, it inspired me to want to be a part of making a difference. 
What skills are you hoping to gain through this program? 
I am learning about leadership, teamwork and effective communication which are all important skills, but the one thing that I think is most important is helping others.  Just one small act of kindness can change someone's life. 
Is there anything else you would like people to know about your campaign?
The Berry Creek Open Benefitting Texas Advocacy Project is scheduled for 6/29-7/1 at the Berry Creek Tennis Club in Georgetown.
 
If you would like to play in the tournament you can register on the USTA site.  The Tournament ID is 800008218.  Divisions include singles and doubles for adults and juniors.  For sponsorship opportunities, contact, Michael.T.Hoffa@gmail.com.
#TeenAmbassadorsofHope
---
Backpacks for Hope Update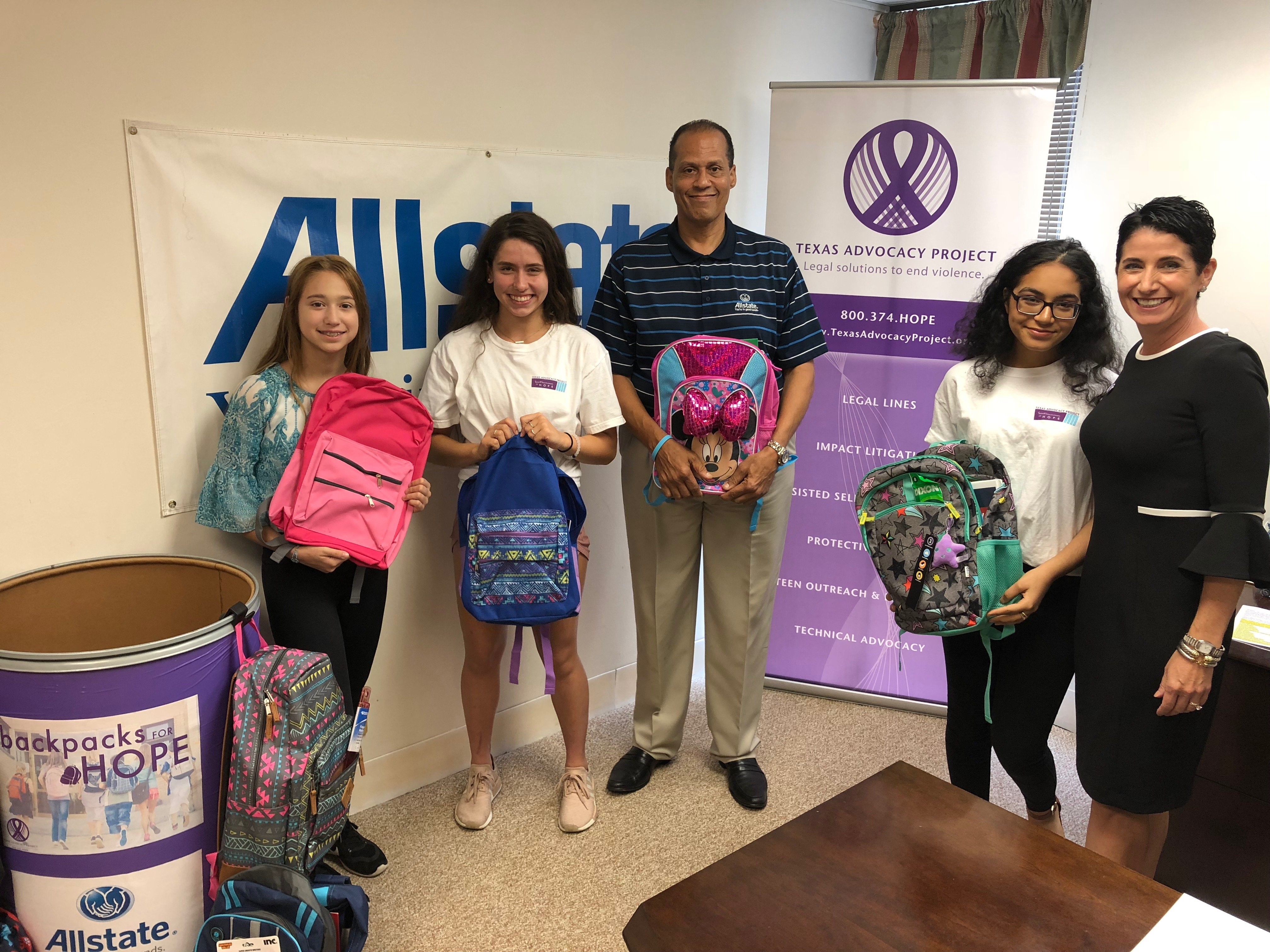 L to R:  Kara Moy, Teen Ambassador of Hope, Bella Stavrou, Teen Ambassador of Hope, Michael Walker, Allstate Insurance Co & Texas Advocacy Project Board of Directors, Alina Ahmed, Teen Ambassador of Hope, Heather Bellino, Texas Advocacy Project Executive Director 
On June 12, 2018 we launched our 8th Annual Backpacks for Hope campaign.  Throughout the summer, we will be collecting donated backpacks from the community that we fill with school supplies.  Our goal is to give every kid in a domestic violence shelter, a backpack and school supplies they need to start school.  We need at least 2,000 backpacks to meet this need.  Our campaign runs through July 27th and here is how we could really use your help:
Host a drop-off location
Volunteer to help stuff backpacks (groups or individuals welcome)
Build a Backpack:  You can purchase a backpack and fill it with all the necessary school supplies. See our Shopping List.
Donate $25 and we will build a backpack for you. 
 
Map of backpack drop-off locations and more HERE
---
Watch Executive Director Heather Bellino and Mike Walker, Allstate Insurance Company, build a Backpack for Hope for the media!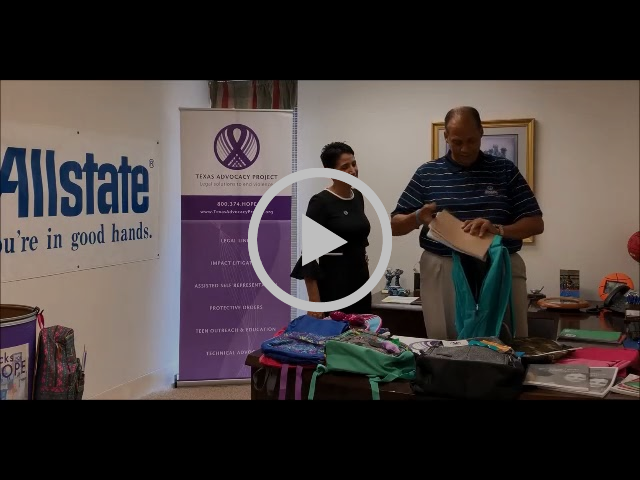 ---
Training & Outreach Spotlight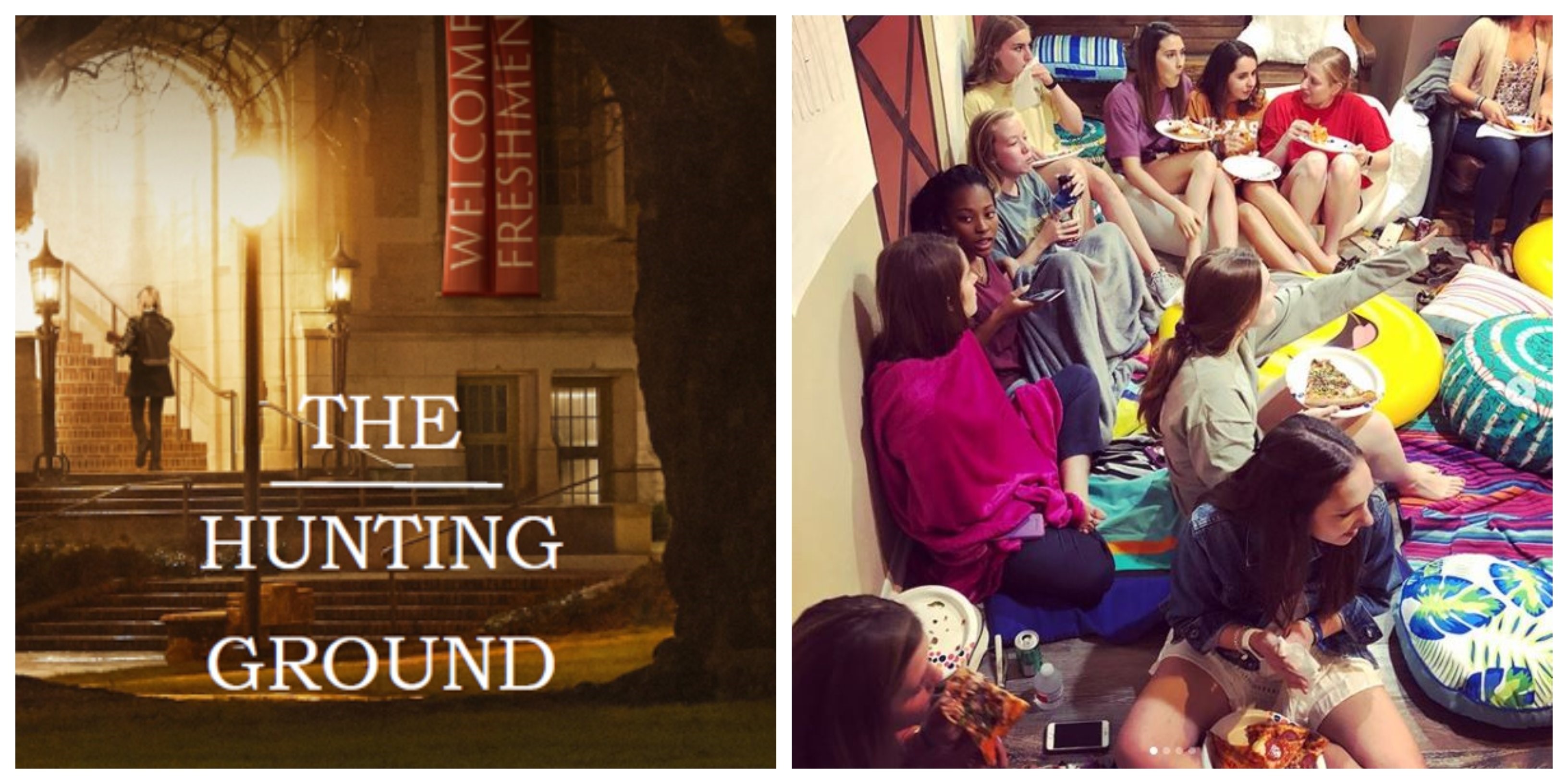 Last month, our Survivor Services and Training Director led a robust conversation about safety planning with high school seniors. These incoming college freshman discussed safety measures, bystander intervention, and resources after viewing the film The Hunting Ground. This 2015 documentary highlights institutional barriers to justice for campus sexual assault survivors, while addressing the need for access to services on campuses nationwide. The Project offers trainings designed for teen education and discussion in and out of educational settings. Training topics include sexting, cyberbullying, legal rights of teen survivors, healthy relationships, and digital abuse.
---