IN THIS ISSUE - January 2020
---
Human Trafficking Awareness Month
January is both Stalking Awareness Month and Human Trafficking Awareness Month. While many are aware of Texas Advocacy Project's mission to provide free legal services for victims of stalking, our work with trafficking survivors is on the rise due to its prevalence in Texas. Human trafficking is happening across the state, even in affluent neighborhoods that most would not expect.
 
According to ChilrensRights.org, sex trafficking is one of the world's fastest growing criminal industries. Children are particularly vulnerable to exploitation, especially runaways and children in foster care who are targeted by traffickers because of their increased vulnerability due to a lack of family support. It is critical to point out that human trafficking affects boys and men as well as girls and women.
 
One Texas organization, Allies Against Slavery and Trafficking (AST) is working to shed light on the problem of human trafficking. Managing Attorney Sneha Patel represents Texas Advocacy Project at AST meetings that bring together agencies such as the Office of the Texas Attorney General and the Travis County District Attorney's Office and other non-profit organizations.
Source: Human Trafficking by the Numbers 2016, Allies Against Slavery and Trafficking (AST)
AST seeks to create a comprehensive approach to helping victims that includes emergency shelters, an assessment center, graduated housing (independent living) and restoration care (long term). One major hurdle they face is that the victims of this violence often remain "invisible." Data from a statewide study conducted in collaboration with University of Texas at Austin suggests as few as 2% of victims are ever identified and 88% of victims report interacting with someone during their trafficking experience who could have helped them. Their goal is to increase identification of victims so that they can get access to resources, such as legal solutions, to help them get help and out of their situation.
 
Recently TAP's executive team lead by CEO Heather Bellino met with Krista Leeburg Melton, the deputy criminal chief in the Texas Attorneys General's Office. Ms. Leeburg Melton explained that the primary civil legal needs of trafficking victims include assistance with: obtaining visas, Child Protective Services cases, housing/eviction issues, identity theft, obtaining IDs, accessing public benefits, and problems with credit issues/coerced debt. Fortunately, TAP can provide assistance with all of these issues and also help with protective orders and immigration issues. One shelter with which we work estimates that 25% of their victims are labor and sex trafficking victims. Many shelters do not have enough resources to have in house attorneys, which is why they call upon our services. With over 37 years of experience providing free legal services to victims of intimate partner abuse we are well equipped to help these people with the array of civil legal solutions they need for long term safety. These partnerships go both ways- sometimes they refer victims to us, and other times when survivors call our HOPE lines directly, we refer to them. We rely on each other to be a network of care for survivors.
When it comes to solving this issue, Dr. Laurie Cook Heffron, School of Behavior & Social Sciences, St. Edward's University said it best:
"It's important to remember that while investigators and prosecutors and social workers and counselors are doing great work against human trafficking, they can't do it alone...They can't be the eyes and ears on the streets, in the neighborhoods...to recognize when things are not right."
If we are going to make a difference in human trafficking in Texas, everyone needs to do their part and report suspicious activities when they see them.
 
Resources:
---
Staff Spotlight
Karolina Arocho Gonzalez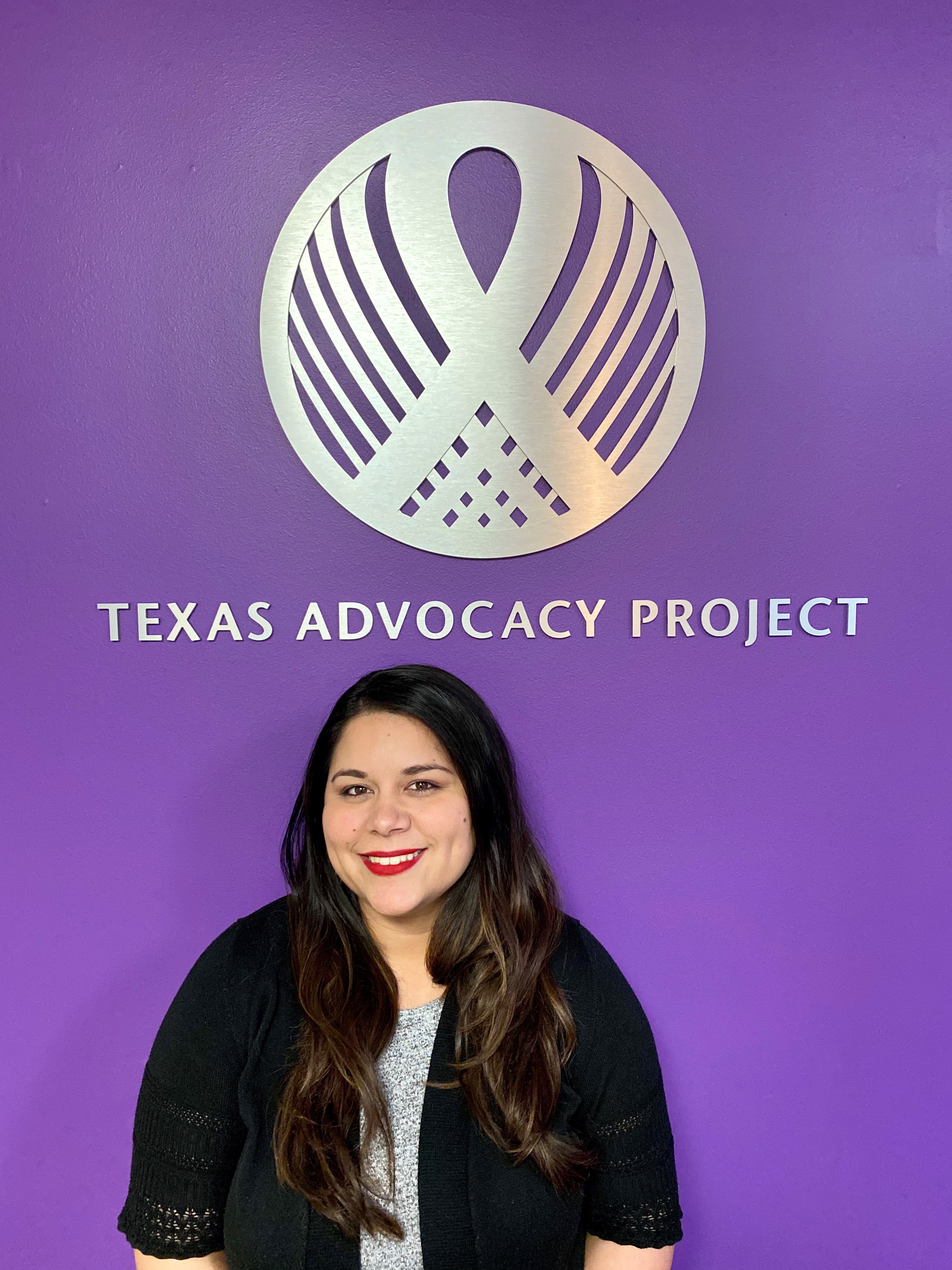 What initially brought you to Texas Advocacy Project?
I learned about TAP's mission and the amazing work that staff does with survivors and I just had to be part of the team. I wanted to make sure I used my experience and language skills to directly impact survivors. The work TAP does changes lives and I wanted to contribute to the mission and excellent work that the organization has been doing.
Why are you passionate about working at Texas Advocacy Project?
I have been close to survivors throughout my life and professional career.  I've seen how survivors of sexual assault and domestic violence experience a lack of support from institutions and even their families. There is not a black and white answer to get out of the cycle of abuse, and sometimes there is no one to lead them to a path of safety. In a previous position working as an interpreter for sex offenders, I realized that my personal mission was to make sure that survivors have access to the services they need, provide a voice to those who feel they do not have one, and make sure every person I come across knows there is a community that will support them and not judge them. Being at TAP, I have seen every single staff member serve clients with warmth, empathy, and professionalism. I couldn't have asked for a better place to continue to carry my personal mission and grow professionally.  
 
What is your favorite thing about working at Texas Advocacy Project?
Aside from being able to help survivors, I love the staff! Everyone that works here is amazing in their own way. The morale and atmosphere in the office is great. I think that the key for us to be able to serve our clients successfully is to take care of ourselves and the people around us. TAP's leadership is well aware of that. We are taken care of and it reflects in our work and wonderful things the clients have to say about TAP.
What's something you have learned about Texas Advocacy Project that you didn't know before joining the team?
I didn't know that the Assisted Pro Se Program was so amazing! Both the attorneys and paralegals work very hard making sure that clients have everything that they need to represent themselves. The attorneys are so available to respond to client's questions and they are leading clients to a very successful path. I can surely say, clients have responses to their legal questions and have well drafted documents and instructions to attend their legal needs.
What do you most like to do to unwind?
I like to dance. I dance to everything, even commercials! I sometimes perform as a dancer with Tambores Del Pueblo, an Afro Puerto Rican community ensemble. I also love spending time with my 5 year old. She's amazing. She also likes to dance and that's a win win! When we are not dancing, we like to go to the park, practice mixed martial arts, play make up or dress up, and eat at local spots.
What is your favorite dish or restaurant?
I love all kinds of food, but my favorite is my grandma's traditional Puerto Rican recipes. Other than traditional Puerto Rican food, here are a few spots that I enjoy eating at: Four Brothers, Valentina's Tex Mex BBQ, and District Kitchen.
---
January is National Stalking Awareness Month and Texas Advocacy Project is bringing awareness to the connection between stalking and escalation to physical and emotional violence. If you have watched the hit Netflix show "You," then you've witnessed some very realistic elements of stalking at work."You" is a psychological thriller that follows the show's main character, Joe, as he stalks women he believes he loves. He becomes obsessed with these women and finds every excuse to engineer perfect meet-ups that seem serendipitous, meals that have these women saying, "how did you know pancakes were my favorite breakfast food?" and so on. Eventually, the stalking escalates, as is often the case in stalking scenarios, and Joe holds his victims captive. Most of these victims do not survive.
 
In other shows and movies, Hollywood has often portrayed stalking as a harmless (although slightly creepy) form of showing one's love and devotion. In reality, the likelihood of physical, emotional or mental harm is incredibly high. Research suggests that over half of stalkers will eventually assault their victims. If there isn't actual physical harm, there are often threats or damage of property and personal items.
 
Each year, over 7 million people experience some form of stalking in the United States, occurring most often by someone the victim knows. Victims often report specific behavior patterns by their stalkers, such as leaving unwanted phone calls and messages, showing up where he/she knows the victim is, and spreading rumors about his/her involvement with the victim. These behaviors may seem small and inconsequential, but this is not a petty crime. Stalkers do not simply get bored and move on with their lives. We need to take stalking very seriously, and try our best to stop it at the earliest signs, before escalation can occur.
 
Here at Texas Advocacy Project, we recognize the danger in stalking and offer trainings spanning the state to bring awareness to the issue. These trainings include answers to your biggest questions on stalking, statistics on stalking and types of offenders, how digital devices are used in surprising ways, and legal protections and resources for survivors.
 
If you or someone you know is being stalked, please contact Texas Advocacy Project at 1-800-374-HOPE or online at www.texasadvocacyproject.org.
contact the training teamupcoming trainings & webinars
---
The Big Game - Football Squares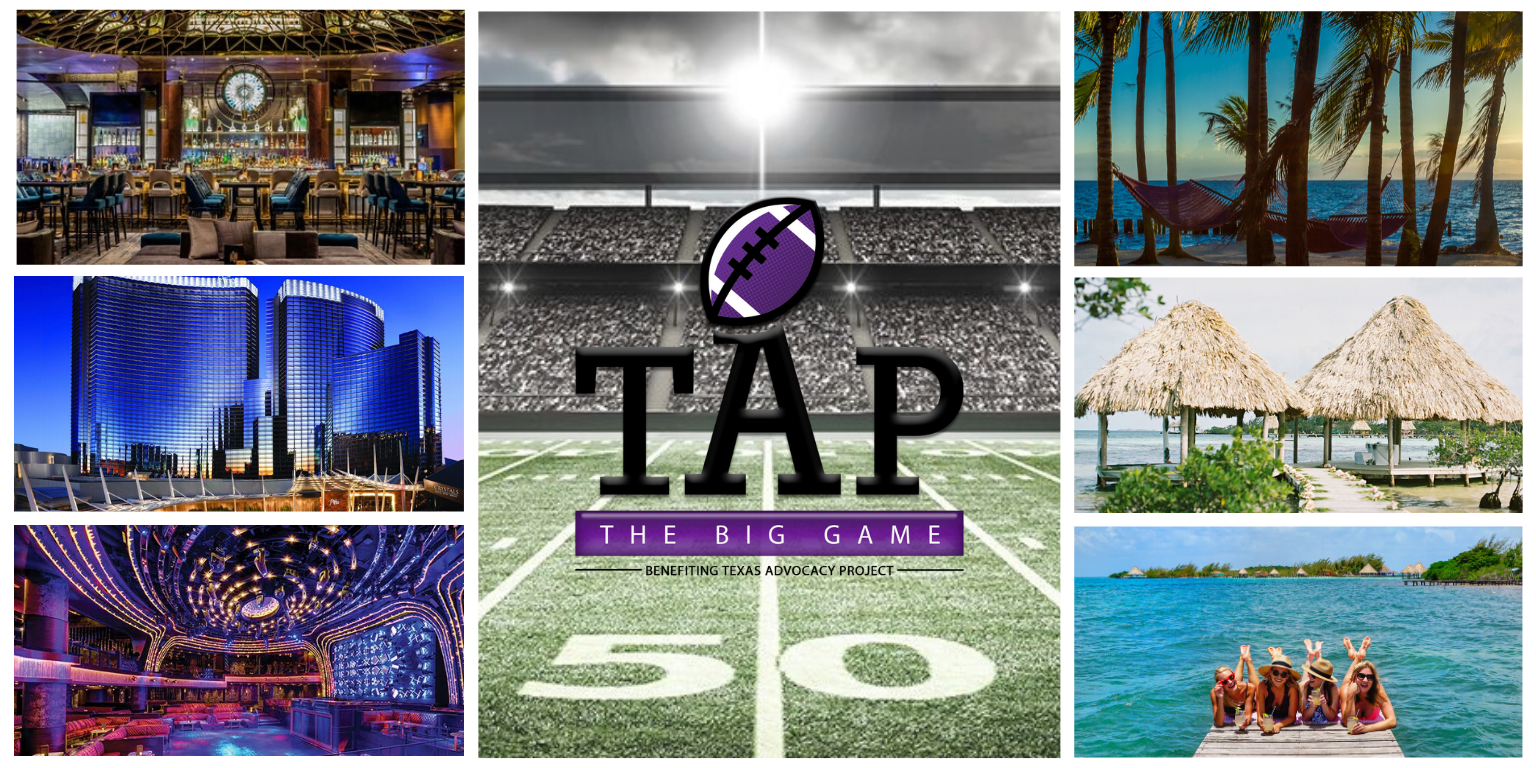 Football Squares for The Big Game is SELLING FAST!
This year we have 2 Grand Prizes and 2 football squares grids to choose from! Play either Grand Prize Las Vegas or Grand Prize Belize!
Prizes will be awarded at the end of 1st, 2nd, and 3rd quarters and the GRAND PRIZE at the end of the game (on Feb. 2, 2020, the day of the Big Game) - all based on the score
 
There's still time to purchase 5 squares and automatically gain a complimentary entry into our Ultimate Dinner Party (value $1,000)*. 
For complete details & a list of all prizes visit: www.TexasAdvocacyProject.org/TheBigGame
*offer good until day of the event January 27, 2020
---
Project Beauty: A Self Care Soiree
---
Teen Ambassadors of Hope Nominations Opens  |  Feb 1st 
The Big Game - Football Squares  |  Feb 2nd  |  BUY SQUARES
Project Beauty: A Self Care Soiree  |  Feb 6th  |  TICKETS
Handbags for Hope Launches  |  March 10th 
Kentucky Derby Watch Party  |  May 2nd 
Berry Creek Open at Berry Creek Tennis Club  |  Fri, July 31st - Sun, Aug 2nd 
Black & White Ball at the brand new Austin Marriott Downtown  |  Sat Sept 26th