IN THIS ISSUE - January 2018
Stalking Awareness Month
Teen Ambassadors of Hope
Training Spotlight
Board Spotlight
---
Stalking Awareness Month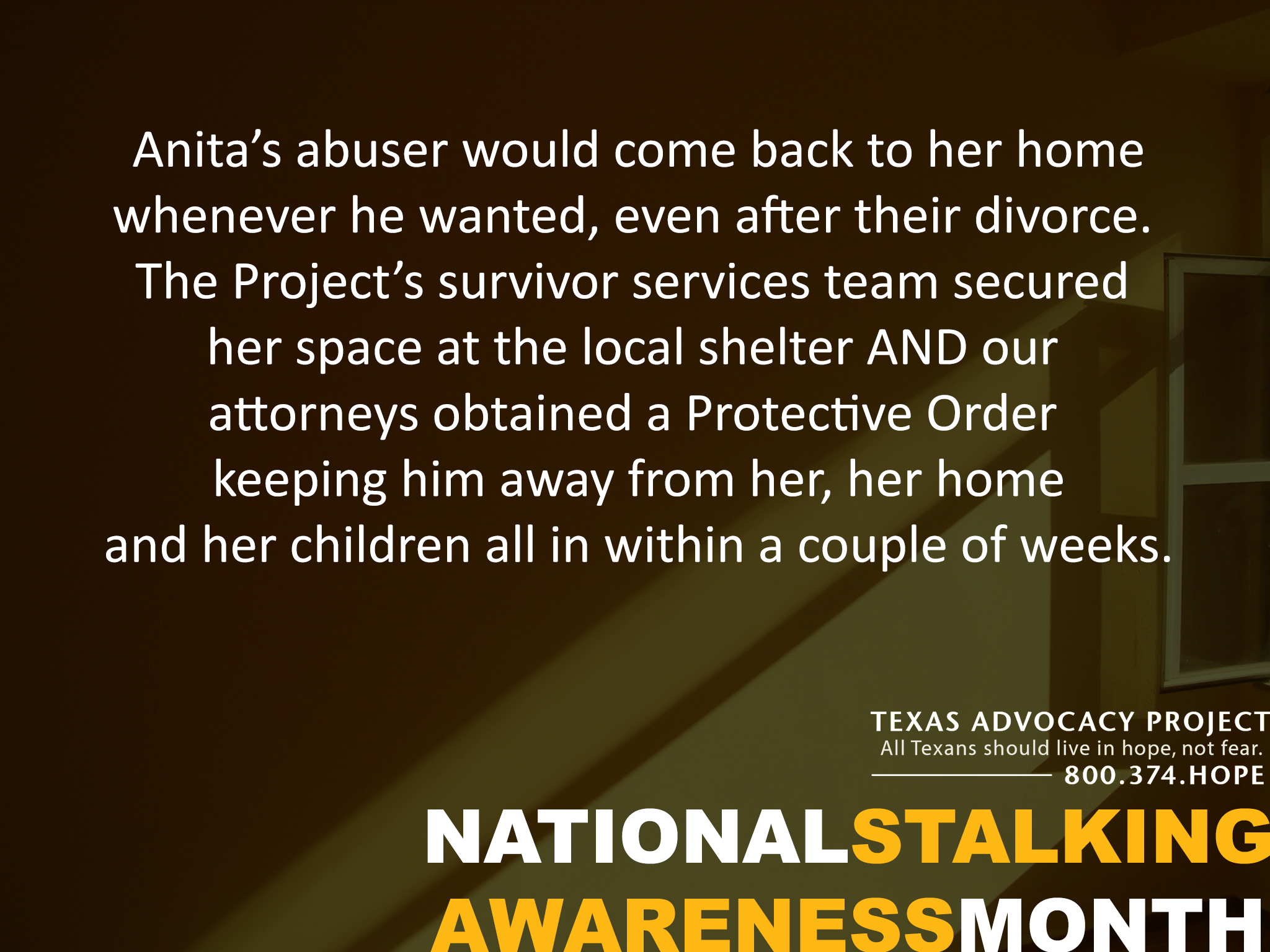 January is National Stalking Awareness Month and Texas Advocacy Project is bringing awareness to the increased rate of stalking incidences occurring nationally.  Every year in the United States alone over 7 million people experience some form of stalking, mostly by someone the victim knows.
 
The increased use of technology in our daily lives has only exacerbated the problem.  According to the White House statement on National Stalking Awareness Month issued on January 2, 2018, "In recent decades, perpetrators have developed new methods to stalk their victims by misusing technology.  Social media and cell phones have given stalkers new ways to monitor and manipulate their victims' lives, hacking confidential information, and abusing technologies that track whereabouts." Read the entire statement HERE.
 
Texas Advocacy Project highlights issues with social media and power-based abuses in our Teen Ambassadors of Hope campaign and our Stalking & Intimate Partner Violence in Texas webinar taking place on January 29th.  Sign up HERE.
 
According to the Stalking Resource Center, 46% of stalking victims experience at least one unwanted contact per week.  This was the case for Anita*, a past client, whose ex-husband continued to harass her and trespass on her property even after her divorce.  She was living in constant uncertainty and fear until a Project attorney was assigned her case.
 
(*All names have been changed to protect the privacy of the client)
---
Teen Ambassadors of Hope
On February 1st the Project will open nominations for the 4th annual Teen Ambassadors for Hope (TAOH) campaign.  Please nominate one or more talented teens and help us spread the word about this meaningful opportunity.  Nomination forms and a detailed flyer are available HERE.
 
Selected Ambassadors will receive training on healthy relationships, teen dating violence, and positive social media presence. In addition, a leadership skills session will be led by Dr. Barry Bales, Assistant Dean of the LBJ School of Public Affairs at UT Austin. Ambassadors will earn service hoursfor their volunteer endeavors and can highlight their efforts on college and scholarship applications, allowing them to stand out among their peers.
 
Teen Ambassadors for Hope was established with these goals:
Champion the Mission and Services of Texas Advocacy Project
Promote Awareness of Dating Violence and Healthy Relationships
Raise Funds for Texas Advocacy Project
 
Shonnery Pettit, Project board member and TAOH champion, said while discussing new programming, "With the MeToo and Time'sUp movements being so prominent this year, we want our teens to know they have a voice too.  Dating violence is the most common form of violence among adolescents, so it's important that they open up and talk about what it means to be in a healthy and respectful relationship.  TAOH provides these young leaders with the tools to make a difference among peers and throughout their community."
 
Nominations will be accepted through March 19.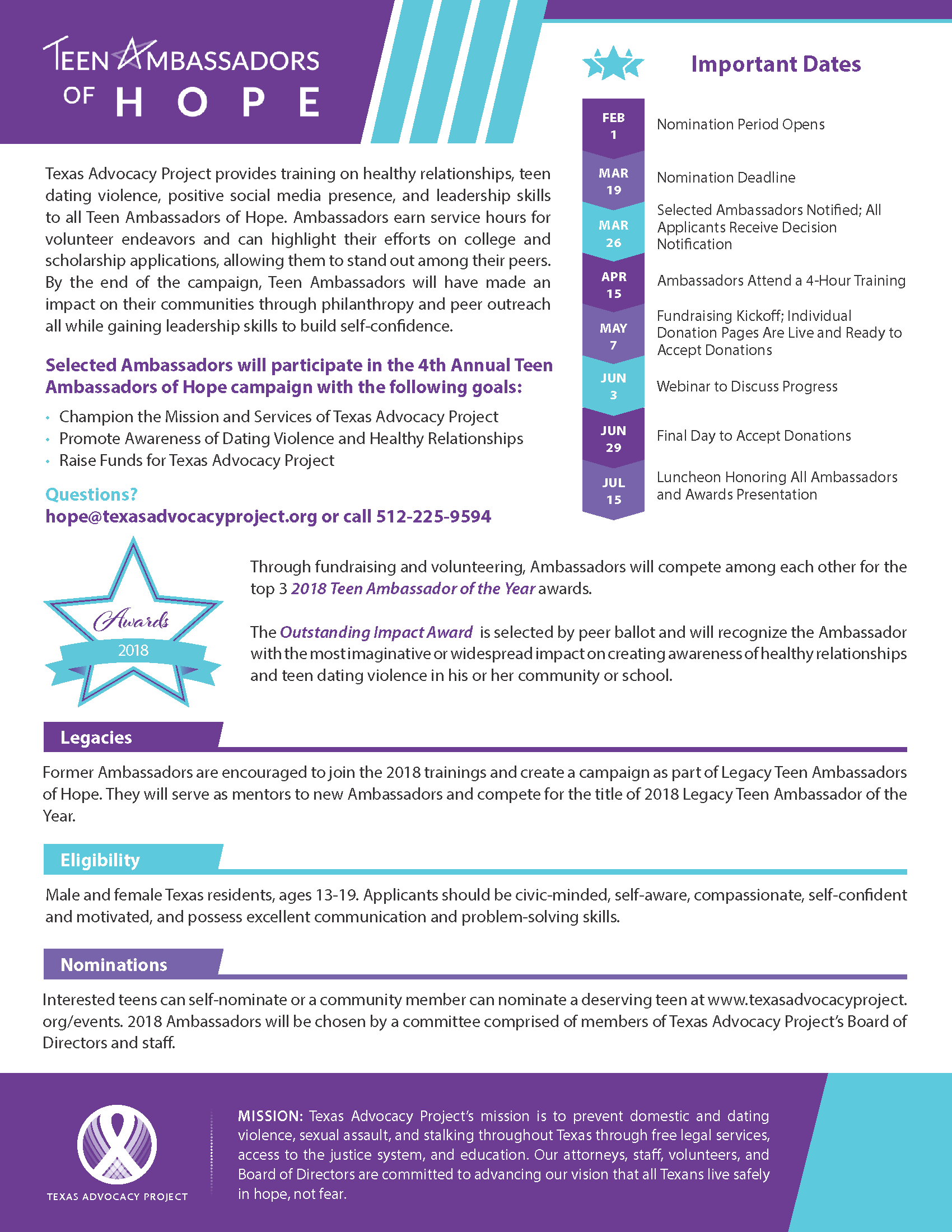 ---
Training Spotlight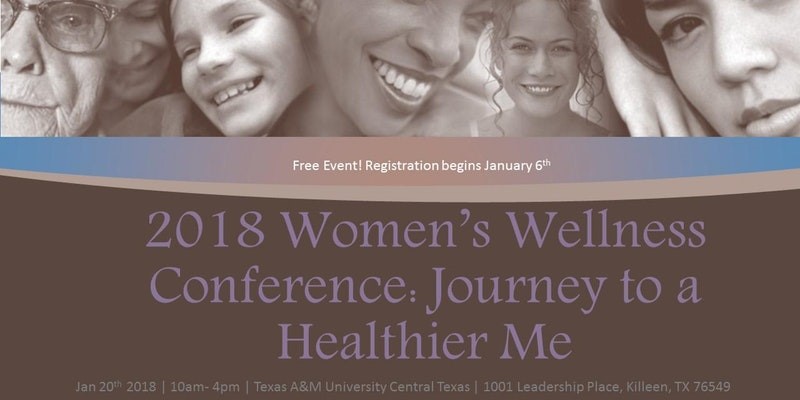 The Project was honored to have recently been invited to lead a break-out session at Texas A&M - Central Women's Wellness Conference: Journey to a Healthier Me. This training was based on identifying what empowerment-based models are and explaining how these models can be replicated and implemented into practice. Empowerment-based advocacy can help survivors identify their own strengths and re-frame their sense of self, therefore enhancing their capacity for self-determination.
We were excited to have representatives from Fort Hood, Teach Them to Love Outreach Ministries, and Families in Crisis.
If you have a training  need or event that you'd like us to be involved in, please email sbrown@texasadvocacyproject.org.
---
Board Spotlight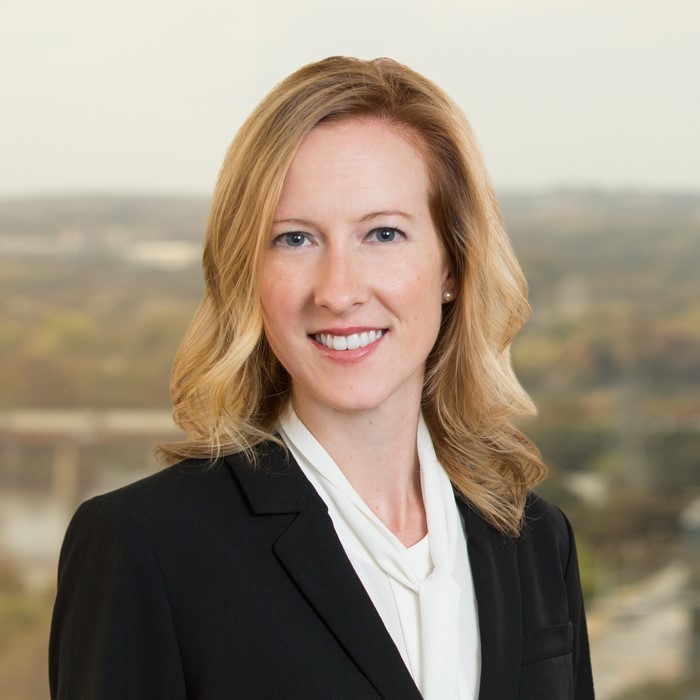 Get to know Kimberly Gdula, of Jackson Walker, LLP, a new Board of Directors member for 2018!
What initially brought you to Texas Advocacy Project?
A fellow board member first told me about TAP, and I was struck by how much it reminded me of the work I loved as part of UT's Voices Against Violence program. I had lunch with Heather Bellino, Executive Director, and Jeremy Rathke, Development and Communications Director, to learn more about TAP, and after that, deciding to apply for a board position was easy.
Why is the Project's mission important to share with others?
The number of women who have encountered or will encounter some form of domestic violence or abuse is staggering. Reaching out to those women so they know there are resources out there for them is important, but it is also important to educate others—the bystanders—about what is available if someone in their life is caught in an abusive or potentially abusive situation.
How has serving as a board member made a difference in your life?
As a brand-new board member, I am looking forward to doing my part to grow TAP so we can be a resource for even more survivors.
What have you learned that you didn't know before joining the board?
I am amazed by the workload carried by TAP's legal team.
What are your personal goals in serving as a board member?
I want to help increase TAP's footprint in Texas (which necessarily means helping to increase the resources coming into TAP). I would also like to help increase the number of universities and colleges TAP works with.
What initiative, campaign or event do you enjoy most from the Project?
As someone new to TAP, I am looking forward to my first Black & White Ball. I'm also looking forward to getting involved in the various Hope projects.
How long have you lived in Austin?
Going on ten years (not counting the four years I spent at UT getting my undergraduate degree).
What is your occupation and how would you describe what you do day to day?
I am a partner in the litigation section at Jackson Walker.One of the things I love about my job is that my days vary depending on what cases I have and what my clients need. I handle commercial litigation matters and healthcare-related issues for a variety of clients, and I love the variety.
What is your favorite pastime?  Where can we typically find you on a Saturday evening?
I love to read. I'm often reading two or three books at a time, changing it up based on the mood I'm in. Most Saturday evenings, my family grabs dinner then hangs out at home before the kids go to bed. Then, maybe, I'll stay awake long enough to watch a movie.
What is your favorite dish or restaurant?
My favorite restaurant is an Italian restaurant, Antonio's, near where I grew up outside of Cleveland, Ohio. Here in Austin, it's G'Raj Mahal on Rainey Street. I love spicy food!
---