Amplify Austin | Match Challenge
Teen Ambassadors of Hope
Black History Month
40th Anniversary Reunion Party
Kentucky Derby Watch Party
Meet our 2022 Board of Directors
Upcoming Events
---


We have an incredible opportunity to obtain $20,000 in matching funds – but we need your help!
TAP was awarded a $20,000 challenge grant from the Carl C. Anderson Sr. & Marie Jo Anderson Charitable Foundation to fund our critical work supporting domestic violence survivors.
Since its inception, the Carl C. Anderson Sr. & Marie Jo Anderson Charitable Foundation has invested more than $50 million in nonprofit organizations to assist them in serving the most vulnerable with a focus on children and youth, seniors and people with disabilities.
A challenge grant is a dollar for dollar match in which the $20,000 is awarded after TAP on its own raises $20,000 in donations. During Amplify Austin this year, we ask that you go to our Amplify Austin page and make donation. Every dollar you donate, up to $20,000, will be matched! 
---

Leaving is often the most dangerous time for victims in an unhealthy or abusive relationship, no matter the age. A safety plan is a set of actions that can help lower one's risk of being hurt by a partner or former partner (think: fire drill). It's always important to think through possible scenarios and strategies in staying safe through each potential situation, but it is crucial during a breakup. Our Teen Ambassadors of Hope VP of Engagement, Anna Palmer, provided this month's Safety Tip Tuesday as we observed Teen Dating Violence Awareness Month!
Safety planning through breakups and scenario-based "how to help a friend" activities are a couple of the training topics covered during the Teen Ambassadors of Hope (TAoH) program. The lessons learned and connections made in TAoH will last a lifetime for the Teen Ambassadors, and are fundamental to our mission of helping all Texans live free from abuse. Nominations for the 2022 TAoH campaign are still open and anyone can nominate a Texas teen.
LEARN MORE ABOUT TAoH & NOMINATE A TEEN
---

This month, as we celebrate Black History Month, we want to recognize and show gratitude to the Black women who led the earliest waves of activism against sexual violence and pioneered the anti-violence movement that we stand with today.
The rich history of anti-sexual violence movement began long before the feminist movement of the 1960s or the suffragists of the early 20th century. It began with women like Harriet Ann Jacobs. A woman born into slavery who faced years of sexual harassment and abuse from her white slave owner. After eventually fleeing to the free state of Pennsylvania, Jacobs obtained her freedom and joined the abolitionist movement. She later published a personal account of her former slave-owner's sexual power over her in Incidents in the Life of a Slave Girl, helping to bring the issues of sexual exploitation of enslaved women to anti-slavery conversations.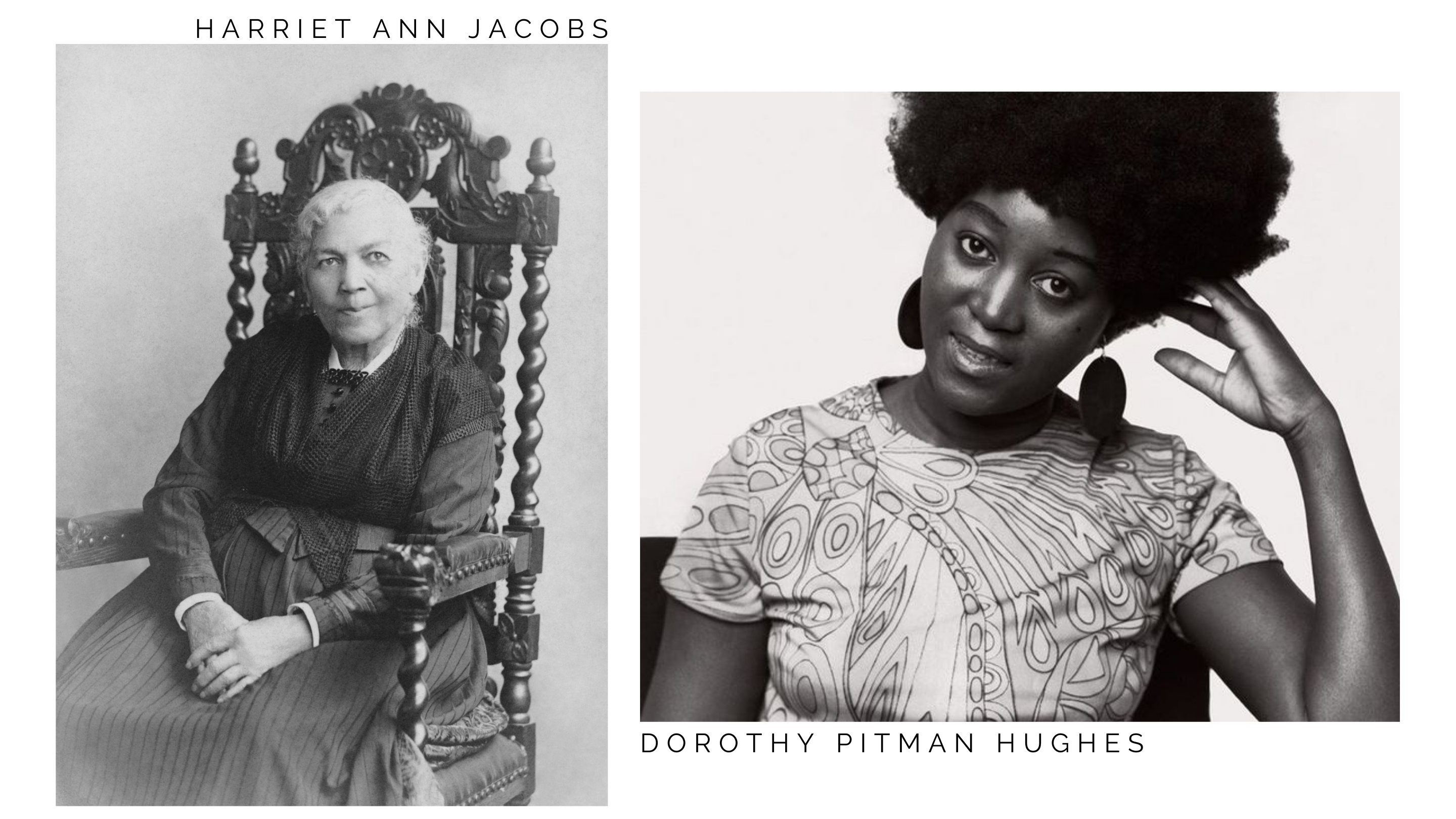 Many years later, circa 1960, Dorothy Pitman Hughes emerged as an inspiring figure in the feminist movement. We look back on Pitman Hughes' 40-year career with veneration and a deep sense of gratitude. Her work consisted of community organizing and entrepreneurship in New York City, ranging from her founding of a community-controlled child care center on the upper West side, to her cross-country speaking tours on women's liberation, to fighting racism in the Miss America pageant and working for the empowerment of Black business women in Harlem. Remarkably, Pitman Hughes also organized the first shelter for battered women in all of New York City. She has dedicated her life to making the lives of all women better by working to empower communities to meet their own needs. She frequently took to the stage to articulate the way in which white women's privilege oppressed Black women, often offering her friendship with Gloria Steinem as proof this obstacle could be overcome. Pitman Hughes continues to organize communities to this day—currently by fighting for healthy food through community gardens.
Women like Jacobs and Pitman Hughes fought not only against sexual violence, but also against racism. They and the many Black women that have fought for equality in a world that continues to devalue them are the reason the movement began and the reason it flourished. We recognize today that the anti-sexual violence movement has struggled with remaining inclusive of women from all backgrounds, becoming increasingly middle-class and white-led – moving away from its origins – and we commit ourselves to doing better.
Today we are honored to witness Black history continue to be made by organizations like Black Mamas ATX - a community collective of Black mothers working to ensure the safety and vitality of Black women before, during, and after childbirth. They strive to eliminate the alarming maternal mortality and morbidity rates among Black mothers in Central Texas. And Ujima, which inspires the community at large to respond to and end domestic, sexual, and community violence in the Black community. Through research, public awareness, community engagement, and resource development, Ujima serves as a resource to survivors of violence, advocates, and service providers. They strive to create a world where Black women and girls live free from violence. We encourage you to visit their websites today to learn more about their empowering work.  
---

On Thursday, February 24th, TAP supporters, partners, staff, and colleagues gathered at 3TEN ACL to recognize the important milestone of providing free legal and social services to survivors for the past four decades! The night featured a timeline of the organization's first 40 years, as the agency evolved within the women's rights and fight against domestic violence movements.
To begin the festivities, Austin Film Festival Co-Founder, Marsha Milam, introduced American country singer-songwriter Kelly Willis and bandmates to share an intimate performance. The evening's highlight was the designation of an inaugural Chair Emeritus. This award was bestowed on former Board Chair Andrew Weber, J.D. who became a financial supporter of TAP in the late 1990's and joined the board in 2005. Board Chair Michael Marcin detailed Mr. Weber's continued commitment to the mission via serving as Chair in 2015 and 2016 and joining the Advisory Board in 2019.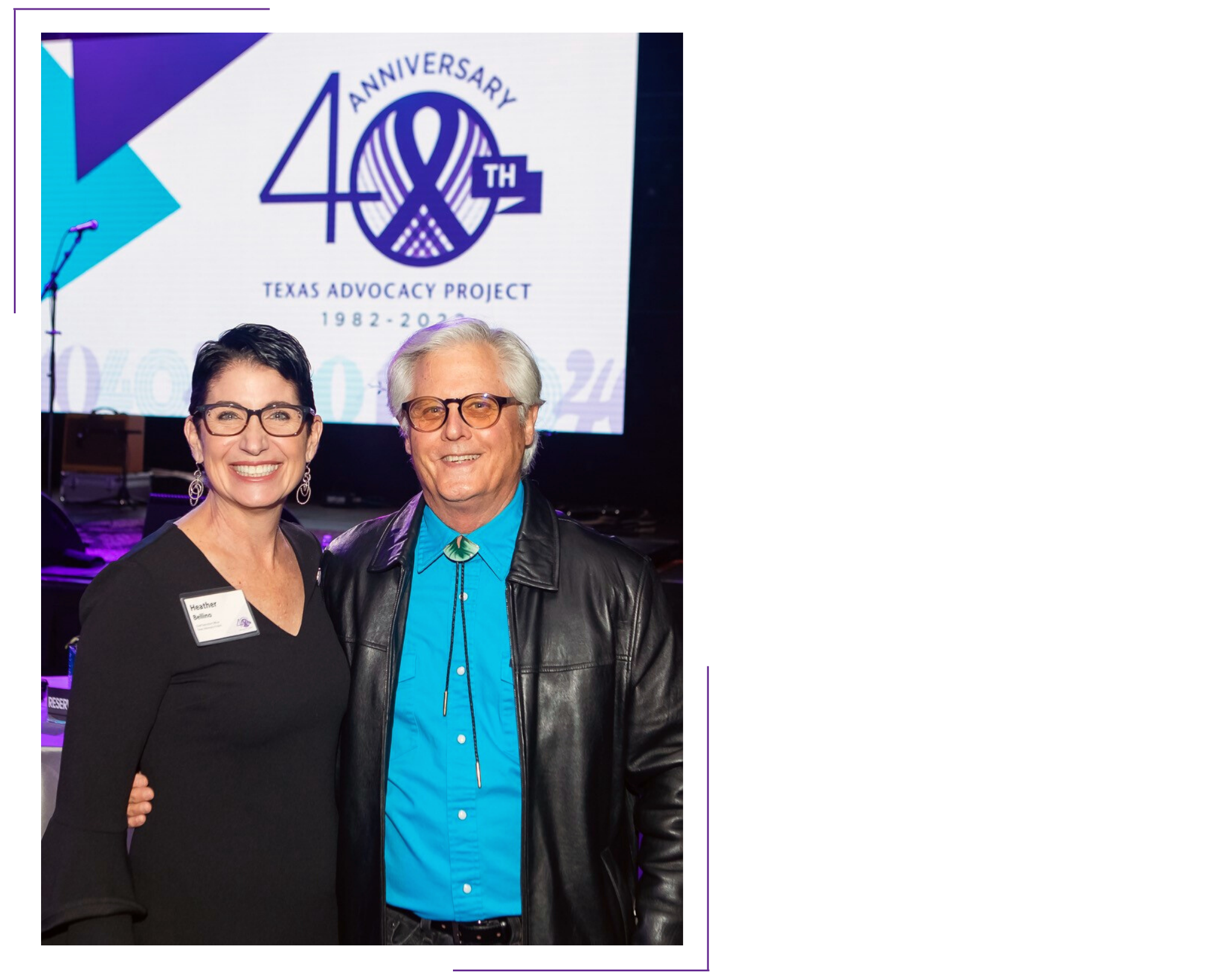 Andrew Weber has been a mentor and advisor to multiple TAP Executive Director's/CEO's, always providing the leadership and insight necessary to grow the programs of TAP. He stewarded TAP through some difficult transitions, helping to ensure the future viability of our services. Mr. Weber is pivotal to TAP's participation in conversations on legislative matters and has never shied away from lending an opinion better serving survivors. Amongst other legal accomplishments Mr. Weber is Partner In Charge of the Austin office of Fort Worth-based Kelly Hart & Hallman LLP. In addition to formerly serving as First Assistant Attorney General, Andrew served as Deputy Attorney General for Legal Counsel.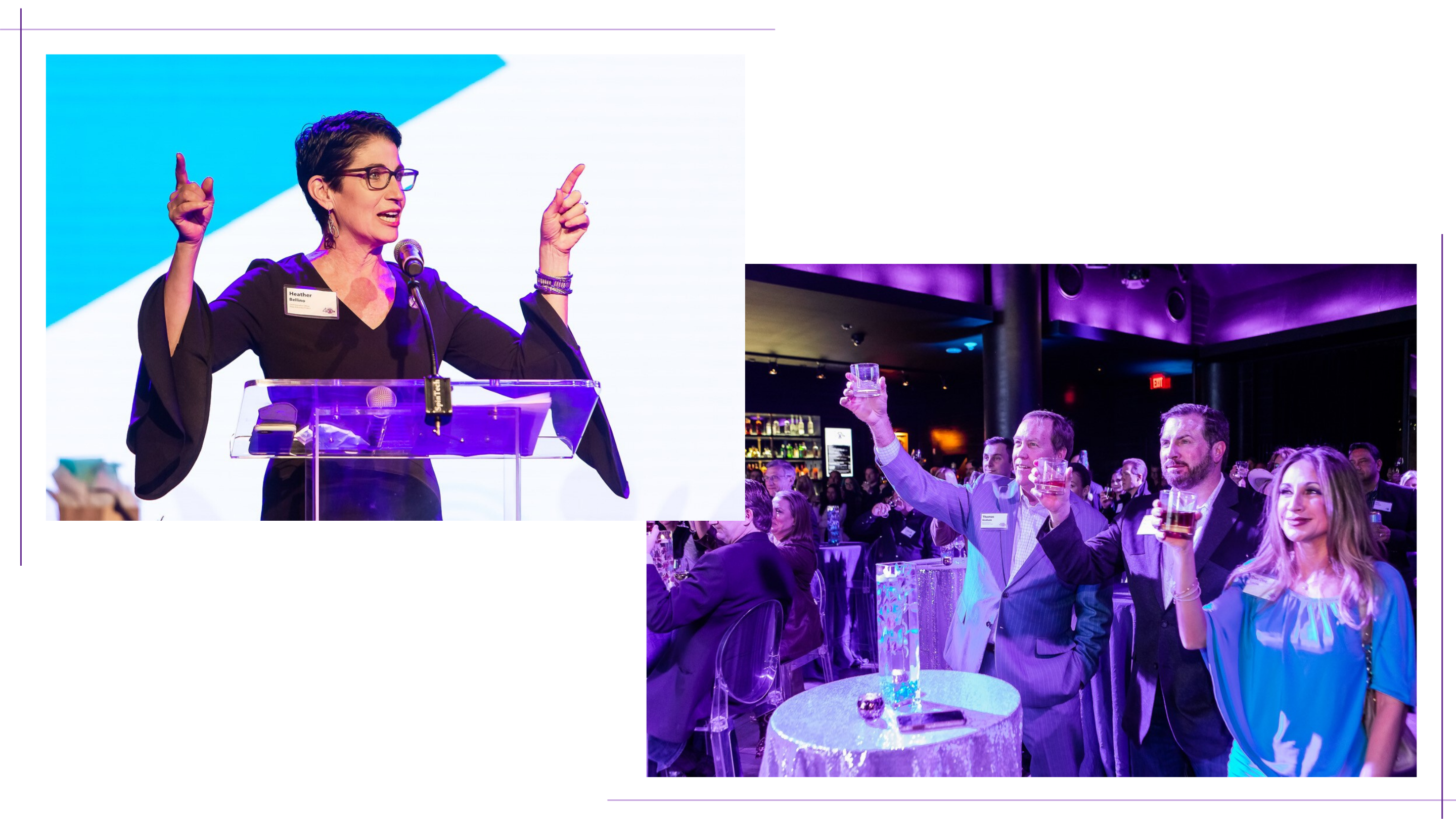 CEO Heather Bellino acknowledged the work of many in the room who have supported the growth of TAP from its foundation in 1982 with four dedicated lawyers, to a staff today of 42 people in numerous departments. TAP Board of Directors Vice Chair Alison Watters affirmed "that, unlike other legal aid organizations, TAP does not turn anyone away for any demographic factor including income, immigration status, or age. Thus, TAP can serve those most at risk, including our youth."
TAP's VP of Advocacy & Outreach and Chief Legal Officer shared the evolution of their respective departments to meet survivors with wraparound legal and social services. The VP of Development & Communication noted the increased engagement in TAP's mission with the aid of social media, website chat functions, and other models that ensure future survivors and supporters can easily access the organization's life-saving services. The celebration of the organization's tenure will continue throughout the year in upcoming events and campaigns in hopes of building more capacity to serve survivors throughout Texas.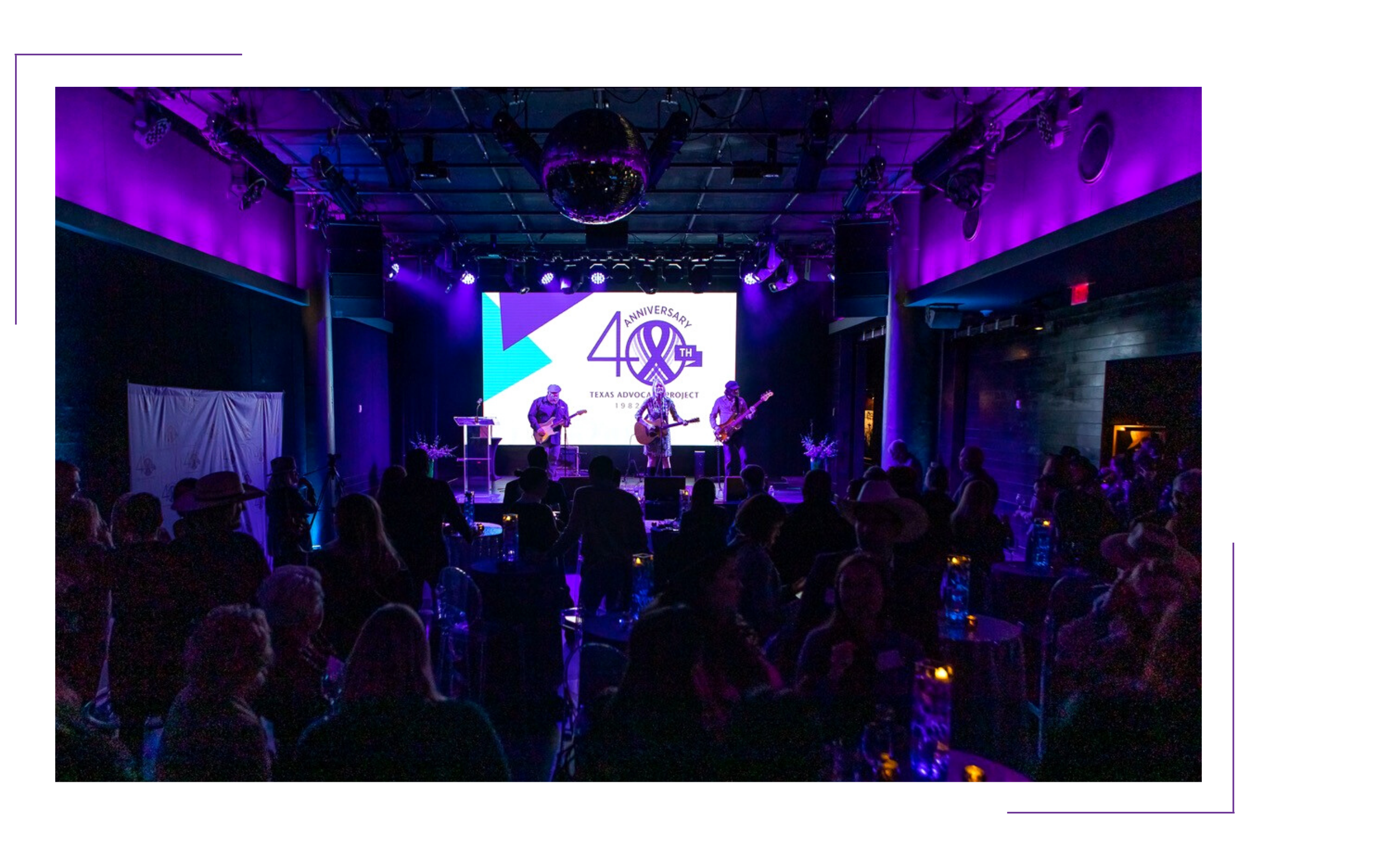 ---


Our Kentucky Derby Watch Party is slated for May 7th and we are seeking sponsors! If you're looking to place a sure bet on a winner, sponsoring TAP's watch party helps support survivors with an added benefit of gathering to watch the fastest two minutes in sports this Spring. We have several sponsorships available starting at $1,000 and have also added a Best Dressed Sponsorship which allows one designee to participate in the judging of the day's Best Dressed Contest. All sponsor levels receive recognition throughout the marketing of the event, additional game entries, and unlimited mimosas. A limited number of sponsorships are available so please reach out soon so you aren't left champing at the bit! 
---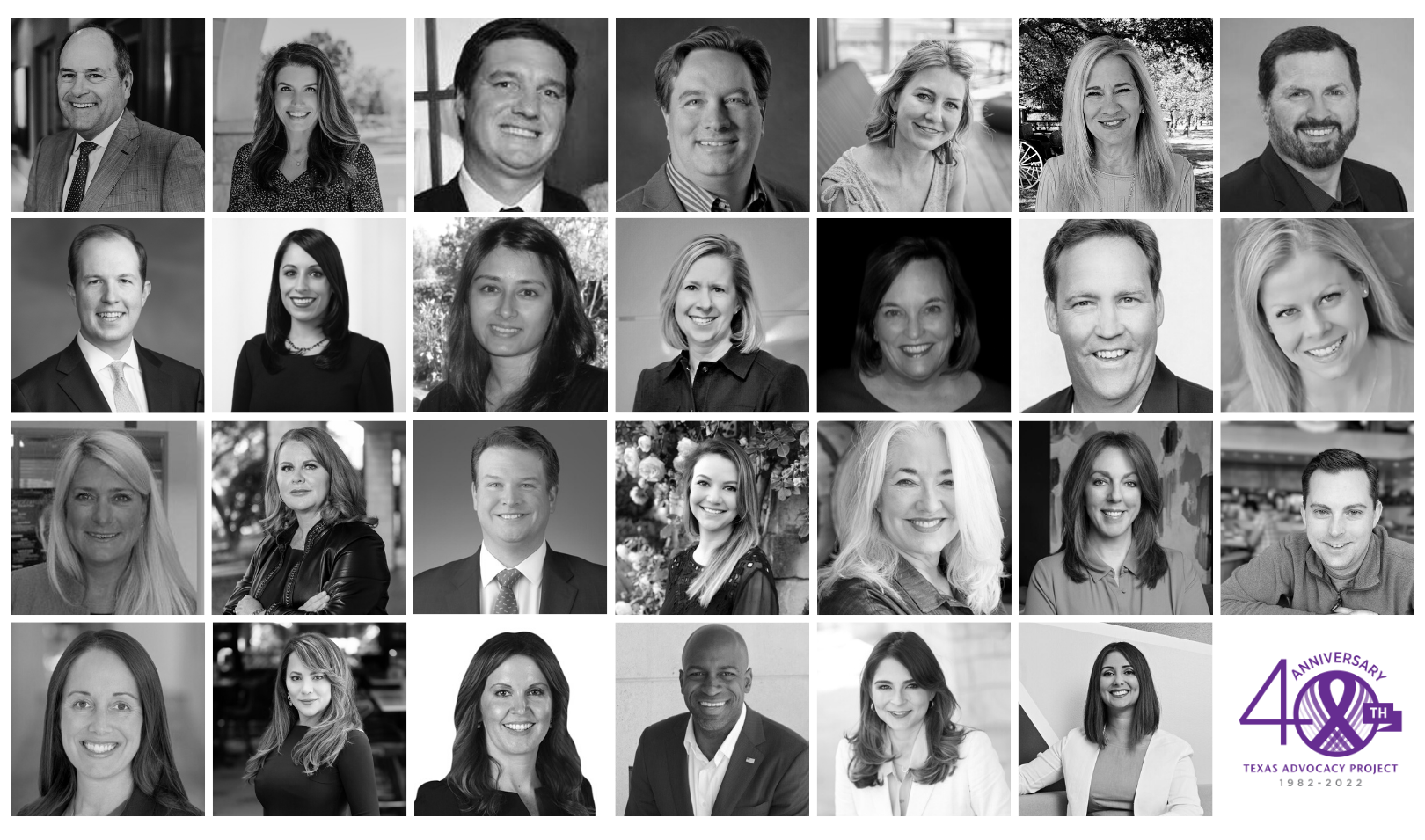 Texas Advocacy Project's Board of Directors enables the organization to carry out its mission, stop violence, and wrap clients with a holistic set of services to ensure a future free from abuse. TAP recently named eight new members to its Board of Directors: Hope Bartolotta, Hema Chugh, Reema Desai J.D., Sharon Dobbs J.D., Lisa M. Jukes, M.D., Julia McKenzie, Jessica Warren J.D., and Ashley Womack.
In addition to these new board members, Texas Advocacy Project has formally launched an Advisory Board! This group is made up of former board members who have chosen to continue their service and commitment to the organization, as well as other community members with skills and passion for the mission who offer invaluable resources to TAP. Members of the 2022 Advisory Board include: Jose M. Rangel, J.D., Chair, Peter Black, Marla Broaddus, J.D., Beryl Crowley, J.D., Denise Davis, J.D., Julie Graham, MJ Hegar, Erin Huddleston, Matt Matthews, J.D., Linda Phan, Leslie Rhode, Susan Salch, J.D., Alex Schoch, J.D., Kelly Thorstad, M.D., Michelle Simpson Tuegel, J.D., Julienne VanDerZiel, and Andrew Weber, J.D.
"We are excited to utilize the unique talents and dedication that each of the incoming board members brings to supporting survivors in Texas," said Board Chair Michael Marcin. "Throughout the pandemic, TAP has continued to seamlessly serve thousands of victims of domestic, dating and child abuse, sexual assault, stalking, and human trafficking.  As the organization celebrates the fortieth year of serving clients this year, it is imperative for the Board to continue to contribute a diverse set of business and professional leadership skills to guide and oversee this organization."
Along with demonstrating a commitment to TAP's vision that all Texans live free from abuse, these board members have made TAP a philanthropic priority, and have the skills and business acumen to lend professional expertise that will assist TAP in reaching its mission to provide quality, accessible services to its clients statewide.
---