IN THIS ISSUE - February 2018
Teen Ambassadors of Hope
Handbags for Hope
Training Spotlight
Client Story
Volunteer Spotlight
---
Teen Ambassadors of Hope
UPDATES:  The Facebook Online Safety Team has come on-board this year and will present at the training on April 15.
Dr. Barry Bales, Assistant Dean of the LBJ School of Public Affairs at UT Austin, will also return to present on Leadership Skills.
 
Nominations are open until March 19th.  Please nominate a teen today and give them the opportunity to build up their college and scholarship applications all while learning about healthy relationships, teen dating violence, leadership skills, and philanthropy.
 
Nominating is easy.  Submit a simple form online and we will contact the teen to notify them of the honor. Visit
www.texasadvocacyproject.org/teen-ambassadors-hope for details and nominations.
---
Handbags for Hope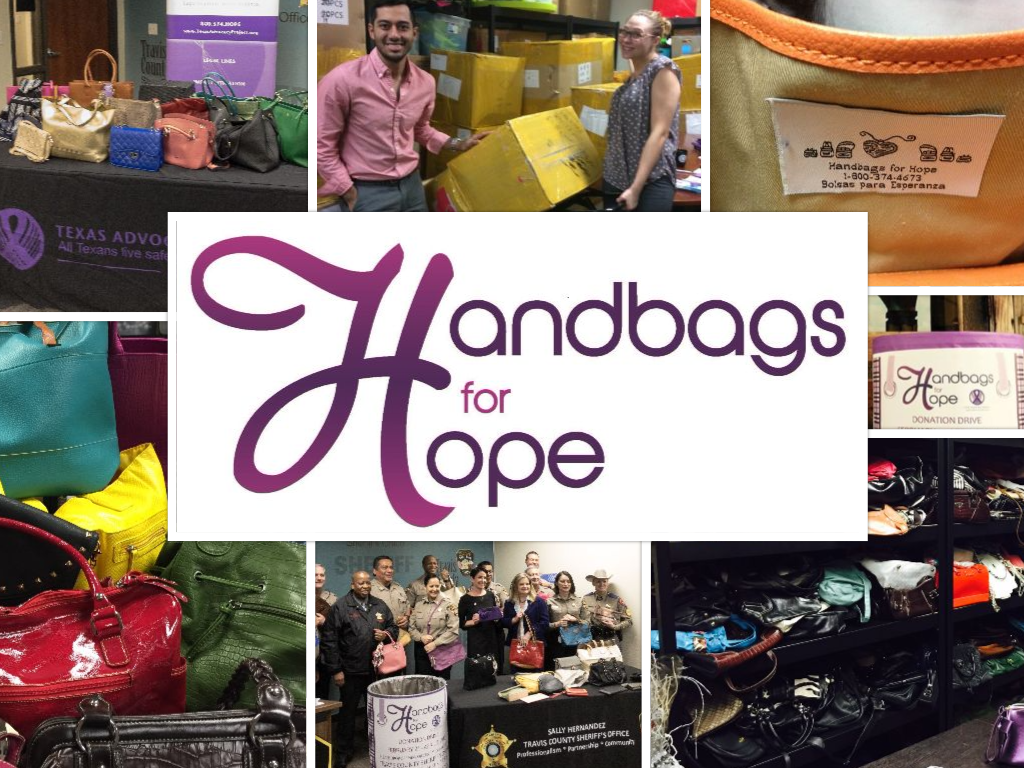 On February 21st, The Project launched Handbags for Hope 2018 at the Travis County Sherriff's Office.  We were joined by our new donor, Shop LC, as we kicked-off our collection of purses, in order to lead survivors of domestic violence to safety, free legal services, and new beginnings.
Since the campaign launched 11 years ago, The Project has distributed more than 39,000 handbags to 60 shelters across Texas.  The handbags will arrive at shelters in time for Mother's Day, so the children can select the perfect purse to give to their mom.  Each bag holds the opportunity for a violence-free life and is fitted with the following:
A discreet tag that lists The Project's toll-free legal line 1-800-374-HOPE.
A safety planning brochure with information on how to separate from a batterer and a checklist of what to take when you leave.
Allstate Foundation's Financial Empowerment Planning Guide – crucial, as 99% of all cases of domestic violence include financial abuse. [1]
Just today, we received a generous donation of nearly 3,000 purses from Shop LC.   If you would like to participate in this community event, here are three ways you can help:
---
Training Spotlight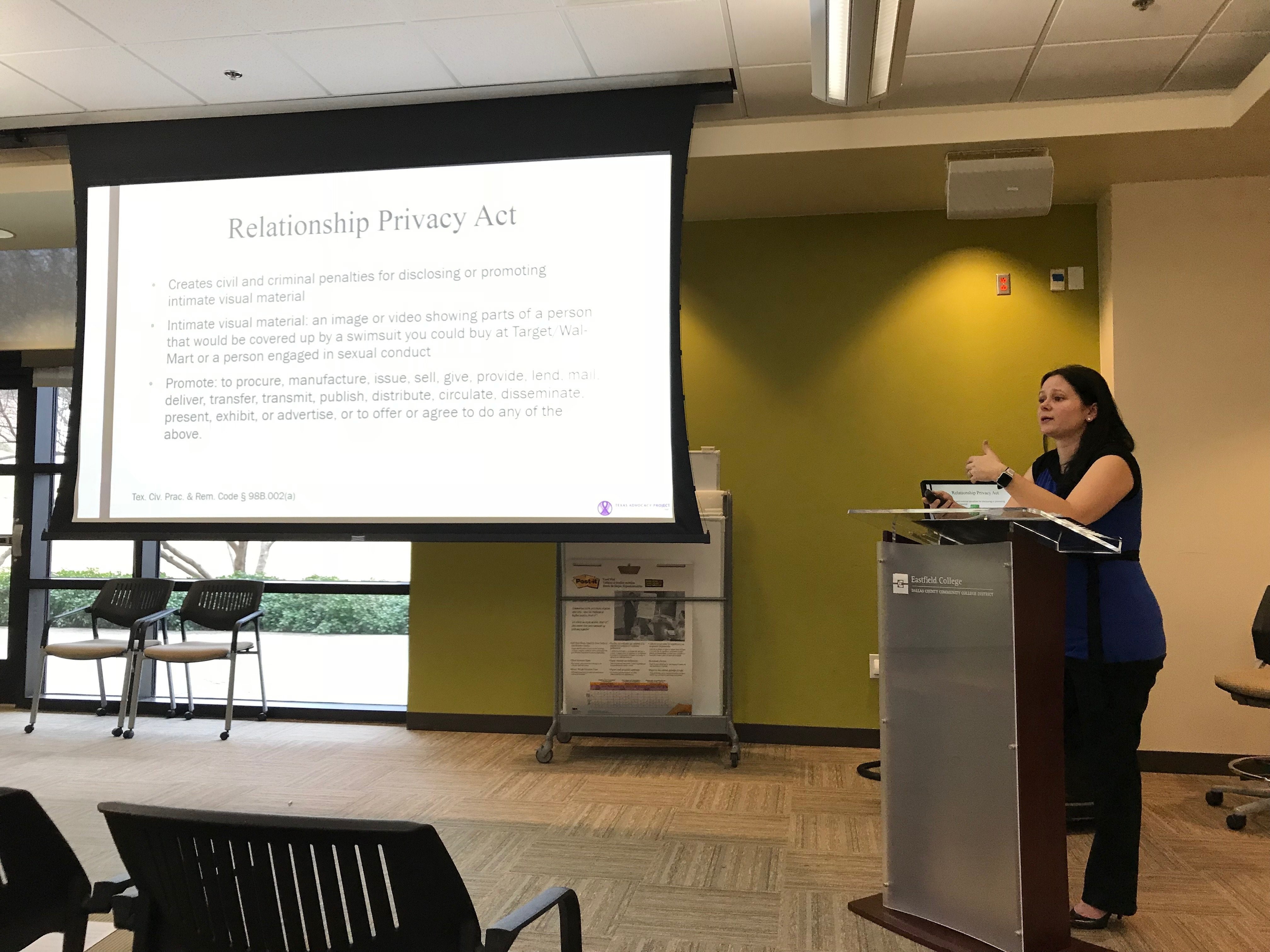 Eastfield Community College in Dallas invited The Project to speak on dating violence for a "Relationship Building Week" campus event.
We were asked to provide this training to raise awareness of dating violence on campus and to educate attendees on what healthy relationships look like. This training, "Dating Violence, Sexting, and Digital Abuse: Serving Survivors on Your Campus," was developed with the goal of exploring the civil and legal resources available on campus to dating violence survivors. Among the attendees were faculty, staff, and students currently studying counseling and advocacy.
Although February is Teen Dating Violence Awareness Month, The Project offers education and training on the topic year-round.
If you or your campus have a training need or event you'd like us to be involved in, please email sbrown@texasadvocacyproject.org. 
---
Client Story
Renee* called into our legal line.  Because she had a court date fast approaching, other legal aid organizations could not help her.  The physically abusive father of her autistic son had never paid child support nor served in any capacity as a caretaker.  Yet, he hired an attorney to try to win custody of the child with the intent to take him out of the country.  Renee needed to quickly learn how to represent herself in court.
With the help and advice she received from Project attorney, Melissa, she was able to successfully represent herself in court at a temporary orders hearing where she was granted Sole Managing Conservatorship with the Primary Residency Designation.  This means her son will remain living with her.  
She achieved all this by defending herself against opposing council, which was no easy feat.  We were humbled by Renee's note of gratitude, however, she is the one who deserves the applause for being strong and standing up for herself!
(*All names have been changed to protect the privacy of the client)
---
Volunteer Spotlight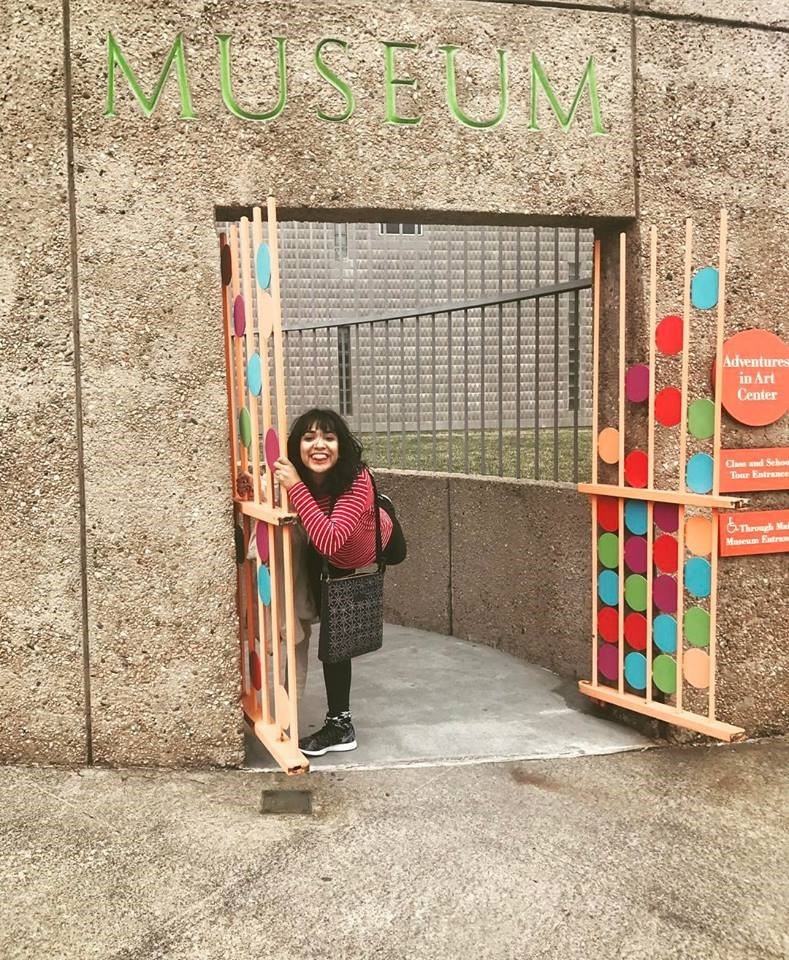 Get to know Kanika Varma! Senior at UT Austin, majoring in Government.
1. Tell us a bit about yourself! Favorite local locations? Where would you hang out during the weekend?
I'm a senior at UT Austin, majoring in Government. I moved to Austin 4 years ago from India and hate that Austin has almost no good Indian food places. I currently live in a coop and love meeting people from all over the world as a result of it. I am currently involved in a research internship with the Innovations of Peace and Development and also have my own independent research project. I enjoy art and dabble loosely in painting and drawing. My favorite local things to do are visiting the Blanton, hiking the Green Belt and listening to jazz in the Elephant Room.
 
3. Why are you passionate about The Project?
 
Growing up in India, I was especially sensitive to the uneven heteronormative society we live in and how that creates a space for intimate partner violence. The Project is a good outlet for me to realize and work against an issue that I've been especially passionate about since I was in middle school. The fact that the Project provides legal assistance is essential because in many kinds of intimate partner violence it is hard for women to leave even if they want to because of formal and financial constraints. The Project provides the women with a tool to become self-reliant when they need it the most. Their suppliance of personal protection plans is another amazing service that makes it an inspiring place to volunteer for.
 
4. How did you first become involved with The Project?
I first became involved with the project last August and have been frequently volunteering with the Development & Communications team ever since!
 
5. What aspect of volunteering do you enjoy most?
I love the idea of giving back to the world and using my position of privilege as a way to contributing, even if it is in a small way.
---