CEO's Year-End Letter
ALA Legacy Project
Hope for the Holidays Wrap
Milestone Year Ahead!
Upcoming Events
---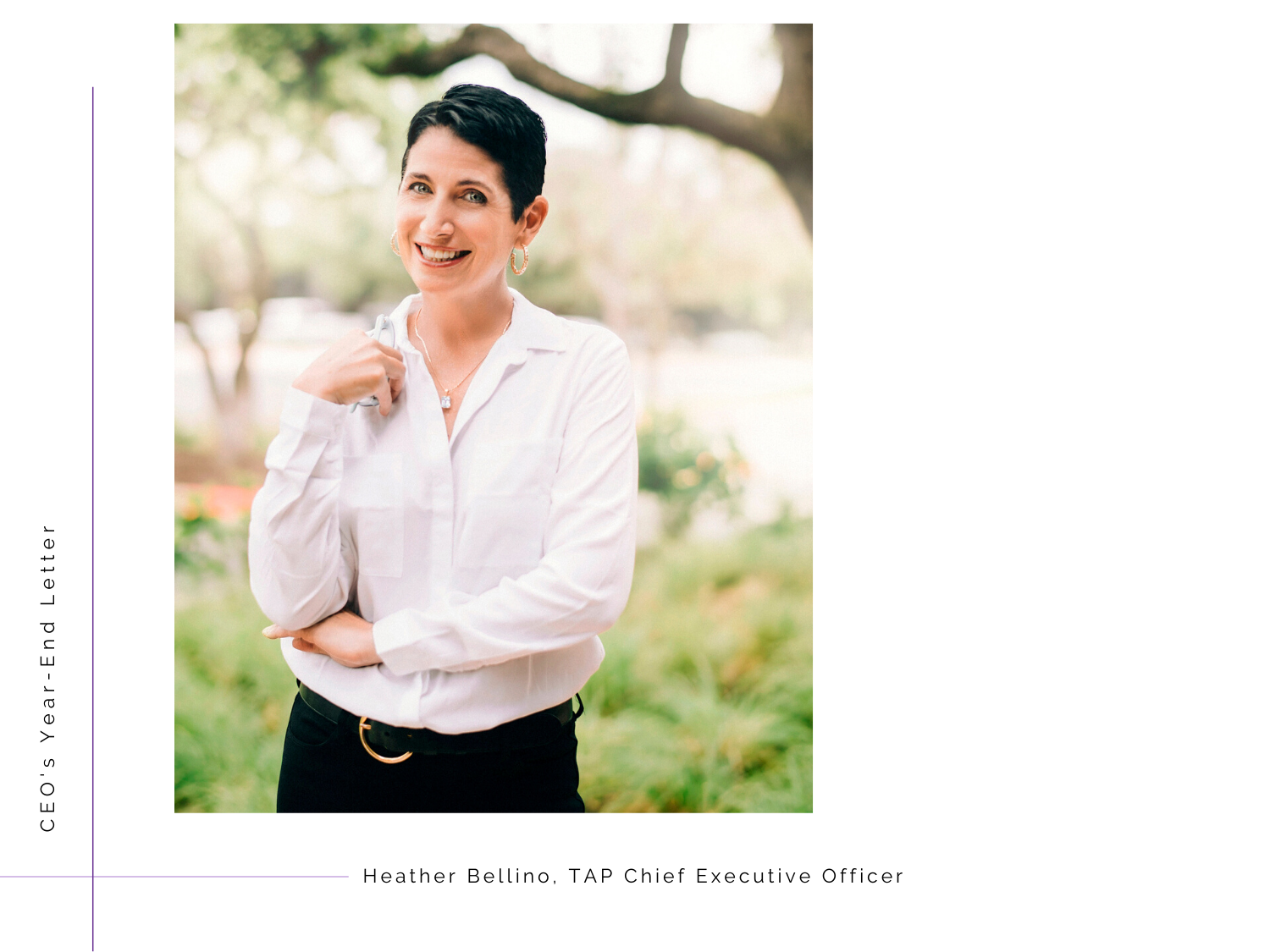 I cannot believe I am already writing another year-end message to all of you- where on earth has the time gone? It just seems unimaginable that we are at the end of 2021. And what a year it has been!
As the year comes to a close, I need to share how very proud I am of our team and how our services thrived in this unpredictable year. They have banded together while working remotely, supported each other, and continued to grow our programs. The team at Texas Advocacy Project are true JUSTICE WARRIORS and I am humbled for the opportunity to lead them into 2022. 
Many survivors that stayed with their abuser during 2020 began making their way to safety in 2021. According to the United Nations, "all types of violence against women and girls, particularly domestic violence, has intensified amid the pandemic." We now know that domestic violence increased 8.1% after pandemic-related lockdown orders, creating what some are calling a "double pandemic." Most disturbing, domestic violence-related homicides throughout Texas increased by 23% during the pandemic. TAP was faced with an increase in high-risk cases, all while navigating the ever-changing rules and processes of the court system regarding zoom and in-person hearings.
TAP was able to serve nearly 11,000 survivors in 5,000 cases and provided educational training sessions to over 5,500 individuals and 1,000 survivor services agencies. Some other notable accomplishments from our 39th year include:
We began a brand NEW social work program! This year proved the need to couple our legal services with social work services. We know that legal remedies, like protective orders, get a survivor safe physically, but we need to also help them get them safe mentally and emotionally. Thanks to funding from Impact Austin, TAP now has an on-staff social worker to address survivors' mental health and immediate needs, while our attorneys provide the legal solutions.
TAP was honored to have been asked to consult on the premiere of Showtime Documentary, CUSP. We are hopeful that the conversations this film begins will spread much-needed awareness and education around teen dating violence and consent.
The Covalent Foundation has funded local stakeholders, including TAP, to collaborate and create a coordinated community response to human trafficking in Austin. This ties in well to our work as an appointee on the Attorney General's Human Trafficking Prevention Task Force.
Texas Access to Justice Commission and its co-sponsor, the State Bar of Texas, awarded Managing Attorney Allison Neal with the prestigious James B. Sales Boots on the Ground. She is the third attorney at TAP to be honored with this award.
We provided a training seminar to social workers at Dell Seton Main on recognizing domestic violence and how to help survivors and posted flyers around the hospital in discreet locations where survivors may have privacy.
We educated more than 150 school resource officers on dating violence in a full-day workshop all about keeping K-12 campuses safe.
We transitioned all of our training modules over to Teachable, an online, on-demand portal, ensuring domestic violence advocates have the legal knowledge they need to help survivors.
We found joy being in person again, with the return of our Kentucky Derby Watch Party!
In our most successful Backpacks for Hope campaign yet, we were able to send 1,700 backpacks to children across Texas.
We educated more than 1,000 teens in schools across Texas on teen dating violence prevention.
Our Teen Ambassadors of Hope campaign recruited and educated 65 teen leaders from all across Texas, and raised $22,600! This was also our inaugural year having a Leadership Council.
Our Handbags for Hope campaign sent over 1,000 handbags, diaper bags, and hospital bags to agencies across Texas.
Finally, our Black & White Ball presented by Accenture returned as an in-person event, honoring the city of Houston and Mayor Sylvester Turner with our Vision Award for their coordinated community responses to providing resources for victims of intimate partner violence and human trafficking. In one glamorous evening, we raised over half a million dollars!
TAP has been providing civil legal remedies to survivors of domestic violence, dating violence, sexual assault, and stalking for 39 years. With all that we have accomplished, there is so much more to be done to end abuse and the social norms that accompany it. It is our goal to expand on what we have learned and incorporate innovative solutions to further wrap survivors in the support services they need. That's my hope, that's my dream, and that's my goal.
We hope to see you next year at one of our many events to celebrate the 40th anniversary of Texas Advocacy Project.
Cheers,

Heather Bellino, TAP Chief Executive Officer
---
"We were thrilled when Ascension Leadership Academy came to Texas Advocacy Project with their legacy community campaign,'' exclaimed TAP CEO Heather Bellino during an interview with local Austin news media. "These individuals are go-getters who raised a total of $87,359 in 32 days! We appreciate what they have created, especially the long-standing support for survivors and those we have yet to reach."
On a dreary Saturday after Thanksgiving, members of Ascension Leadership Academy and TAP CEO Heather Bellino gathered in front of a legacy in the making. Gallons of paint and a dozen open hearts were the primary elements contributing to this powerful narrative unveiled on a South Austin building façade. The mural, located in the St. Elmo warehouse district near S. Congress St., depicts the transformation of a survivor emerging from the darkness surrounding her as she escapes the trauma of domestic violence. The hands of justice, represented by legal support from TAP, are there to pull her up to safety. In the final panel, survivors frolic in a scene of serenity, joy, and of course, bluebonnets. 
The 3rd ALA cohort was introduced to TAP's mission through Kaeleen Weiser, who has previously served on TAP's Black & White Ball committee and has seen the empowerment TAP gives its survivors. The ALA team set an ambitious fundraising goal, all to benefit TAP's services and to support its mission. 
"When in service to others, we are really able to break through the barriers we have unconsciously created in order to stretch outside of ourselves to make the impossible possible," says community service co-captain Kaeleen Weiser, "Through our growth in understanding of our own emotional intellect, we have learned where true leadership lives."
Although the ALA team was extremely successful in raising more than $87,000 for their legacy fundraiser, they did not meet their initial goal, but hope you are able to contribute to help them realize it. This inspiring group of leaders have left a legacy of service through their leadership and artistic pursuits. We hope to see you at the mural in the future! As a tribute to their efforts, we encourage you to donate during TAP's end of year campaign directly to their cause. We'd love to help them achieve their goal, while continuing to support survivors. Either way you choose to support our Year-End Giving campaign, whether it's via their fundraiser or through our website, be assured our organization will receive 100% of the funds to help make Texas a place free from abuse.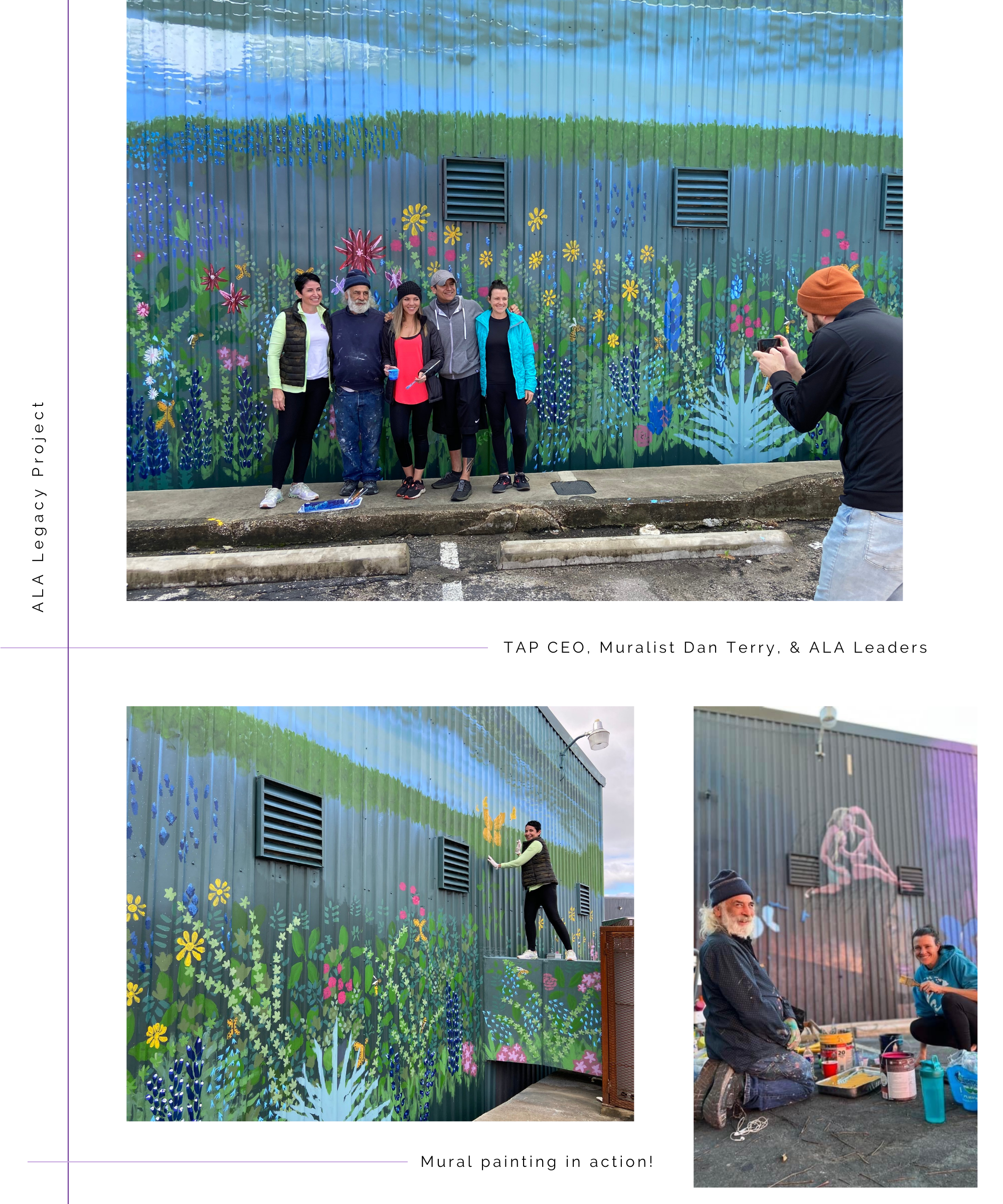 ---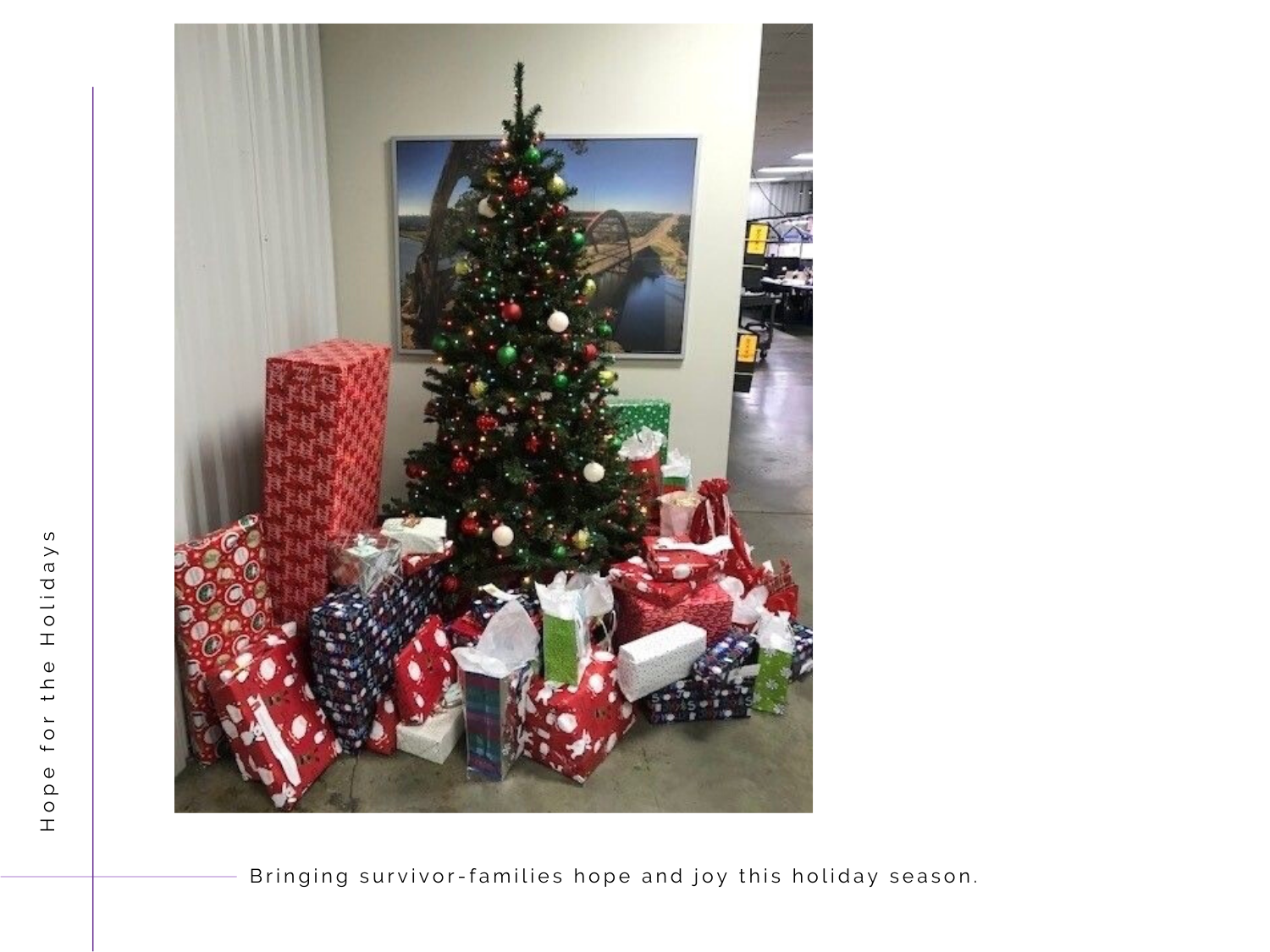 Santa and his elves delivered once again this year!  All ten of our adopted survivor-families will receive Hope for the Holidays through our annual gift drive. We send abundant appreciation to the generous supporters who adopted a family, wrapped gifts, or simply made financial gifts to ensure each family's holiday was extra special.
The success of this campaign, year after year, is due to the selfless giving of many people. First, we would like to thank everyone who donated a gift from a family's wish list. The joy these survivors and their children will experience when they see these gifts overflowing in their home, is priceless. Also, to our volunteers who assisted with the wrapping of more than 450 presents, we appreciate your time and passion for this campaign! Last, but certainly not least, we send special appreciation to the following supporters who generously gave their time and/or gifts to make this year's campaign happen.
 
Whole Foods Market
Pinnacle Clinical Research
Datum Commercial Contracting
The Piazza Center for Plastic Surgery and Advanced Skin Care
Networth Realty
Allergan Aesthetics
Shop LC
Moms Demand Action
Generation SERVE
Thank you all for helping to spread holiday cheer this season!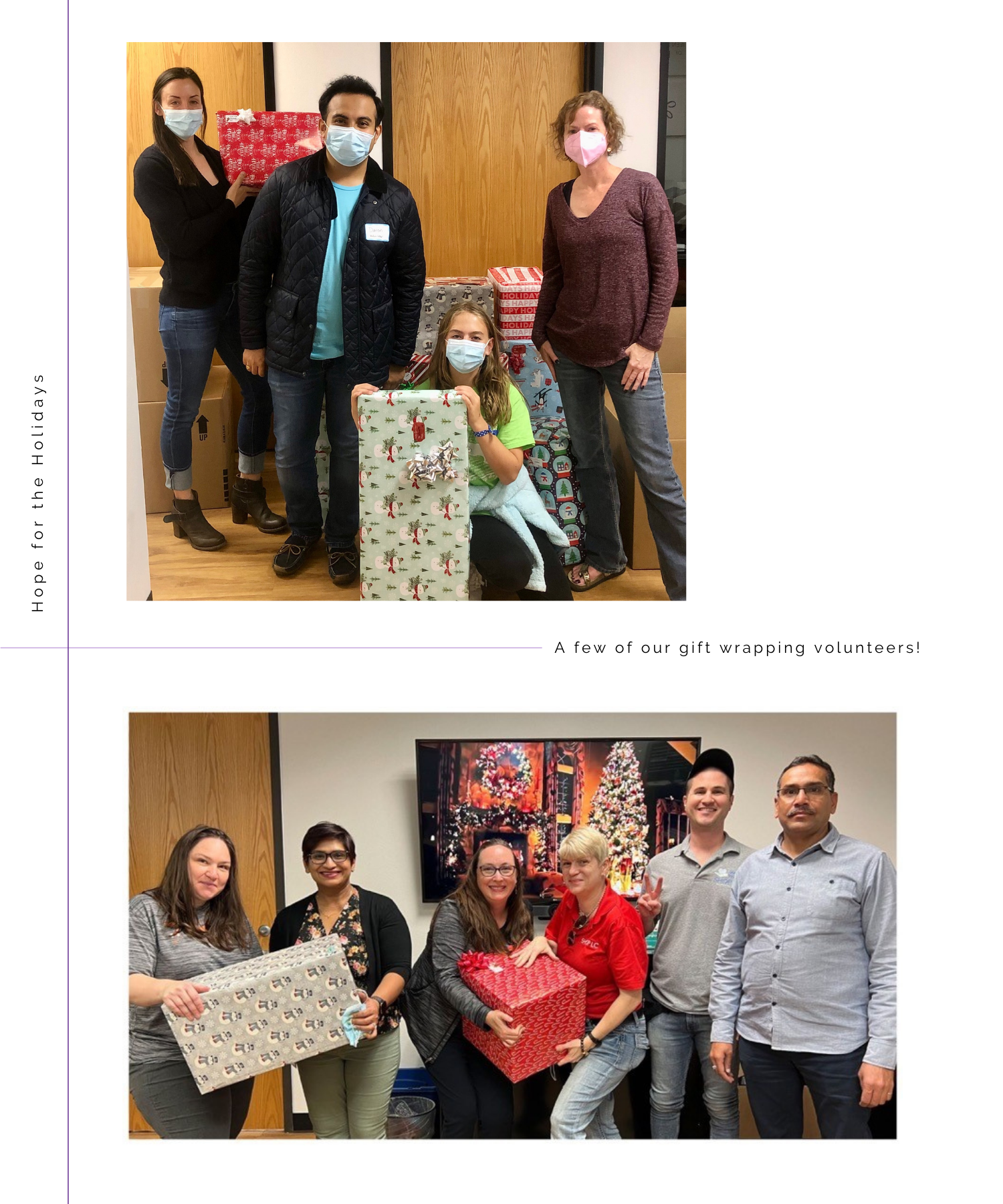 ---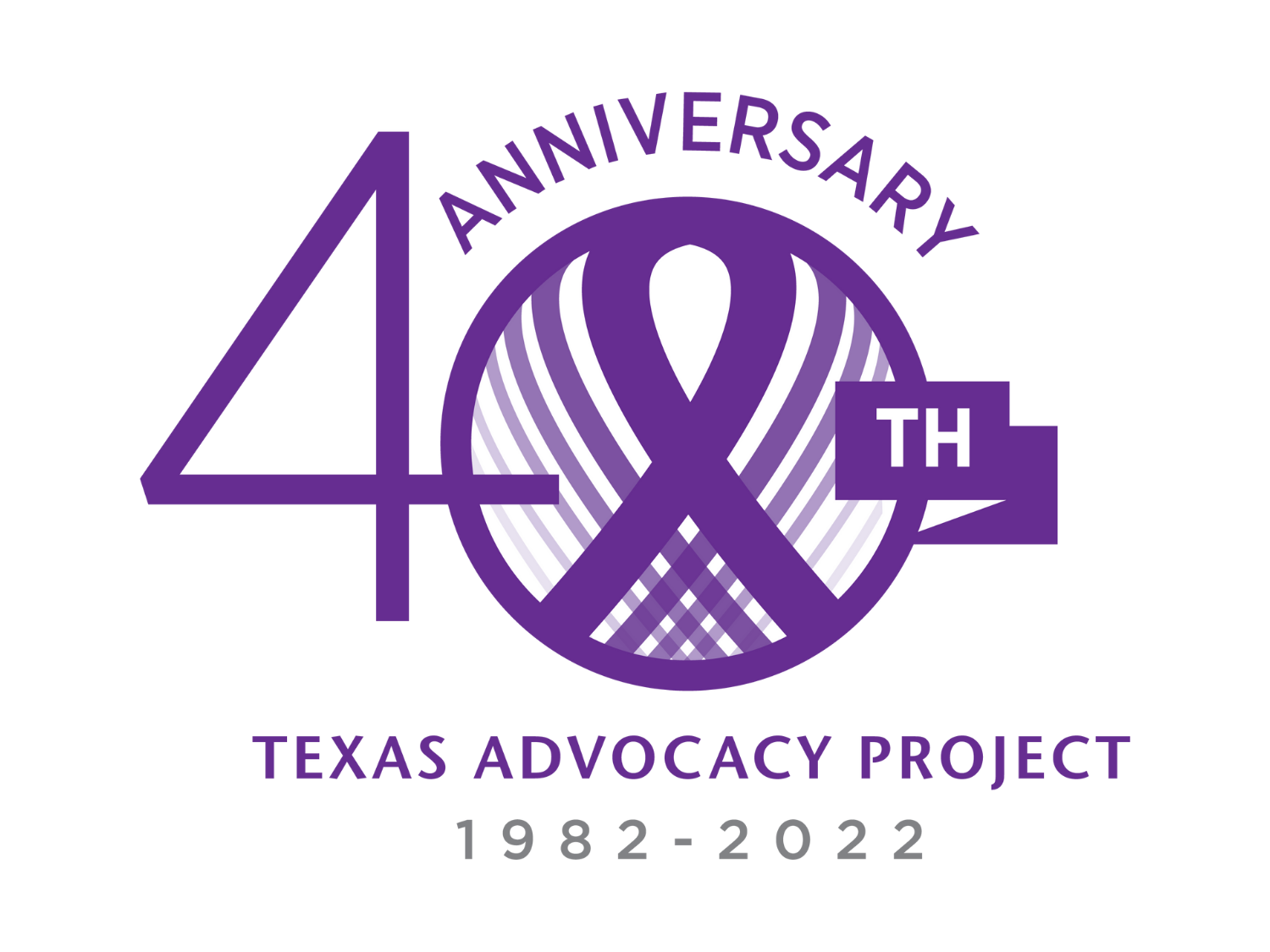 Stay tuned for more information on our important milestone of serving survivors for forty years! We are excited to highlight the success of the past four decades as we embark on the future.
---

TAP's 40th Anniversary - All year long!

The Big Game - Launching January 2022

Teen Ambassadors of Hope - Nominations Open February 1, 2022

Kentucky Derby Watch Party - May 7, 2022


 
---
Thank you being an avid reader of our Hope Herald this year. The goal of this newsletter is to keep you up to date with all things happening at TAP and also in the general topic surrounding power-based abuse- we hope to keep informing you in new and engaging ways in 2022. From all of us at TAP, have a safe and happy holidays!