IN THIS ISSUE - December 2018
Executive Director's Year in Review
Year-End Giving Campaign
Client Story
Staff Spotlight 
Hope for the Holidays 
GuideStar Platinum Ranking
Upcoming Events
---
Executive Director's Year in Review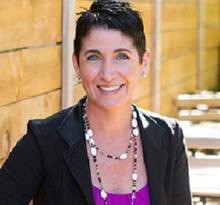 Happy Holidays!
As 2018 comes to a close, I'm excited to share some highlights from our 36th year! We are incredibly happy to know we were able to serve nearly 11,000 survivors in over 4,000 Texas cases. In addition:
-We had 42 Teen Ambassadors of Hope this year, more than doubling the number of teens that participated last year. 
-We took on the huge task of migrating to a new client tracking system, Legal Server, enabling us to serve clients more efficiently.
-We hosted Chinese delegates brought here by the U.S. Department of State to learn more about anti-domestic violence and women's empowerment in our country.
-Our team presented at St. David's North Austin Medical Center's March Grand Rounds, where healthcare professional received ethics credits for attending "When Your Gut Tells You Your Patients Are Not Safe At Home: Legal Solutions to Medical Problems."
-During spring break, we welcomed 9 pro-bono law clerks for "Alternative Spring Break" where students give up their spring break to be of service.   
-In June, our Legal Director Bronwyn Blake provided oral testimony to the Senate Select Committee hearing on School Violence and Security, regarding the intersection of mass shootings and domestic/dating violence.
-We had a phenomenal Backpacks for Hope campaign, collecting 750 more backpacks than last year!
-We had a record-breaking Black & White Ball, raising over $550,000 in one beautiful evening where we honored Tina with our Courage Award, The Covalent Foundation with our Generosity of Spirit Award, and Senator Huffman with our Vision Award.
-Most recently, we shed light on the life-saving benefits of medical-legal partnerships in our article, "Intimate Partner Violence" published in the latest edition of Texas Family Physician, co-authored by Board Member Kelly Thorstad, MD, along with Staff Attorney Cynthia Herrera, JD and myself.
-As a staff, we welcomed 5 babies into the TAP family.  Seeing their smiling faces brings us daily joy and inspiration!
 
We look forward to another great year of making a difference in the lives of survivors.  I know there are countless worthy causes and wonderful organizations to choose from and we are so grateful that you continue to support Texas Advocacy Project.
In gratitude, 


---
Year-End Giving Campaign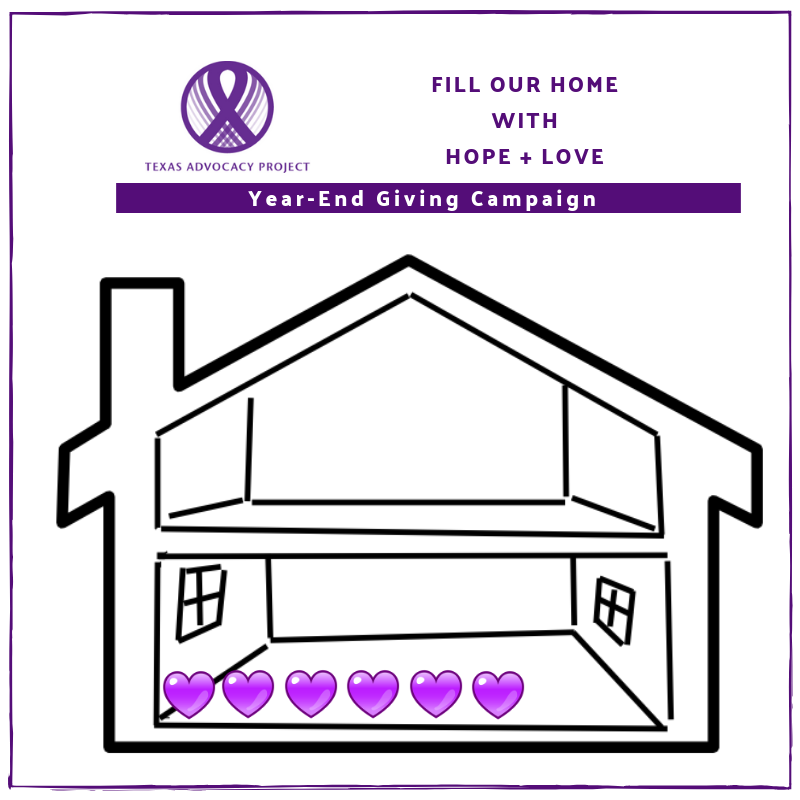 There is still time before the year ends, to Fill Our Home With Hope + Love and boost your 2018 tax deduction. 
Visit our website to donate and add more hearts to our home before we ring in the New Year! https://bit.ly/2Ar4aYJ
---
Client Story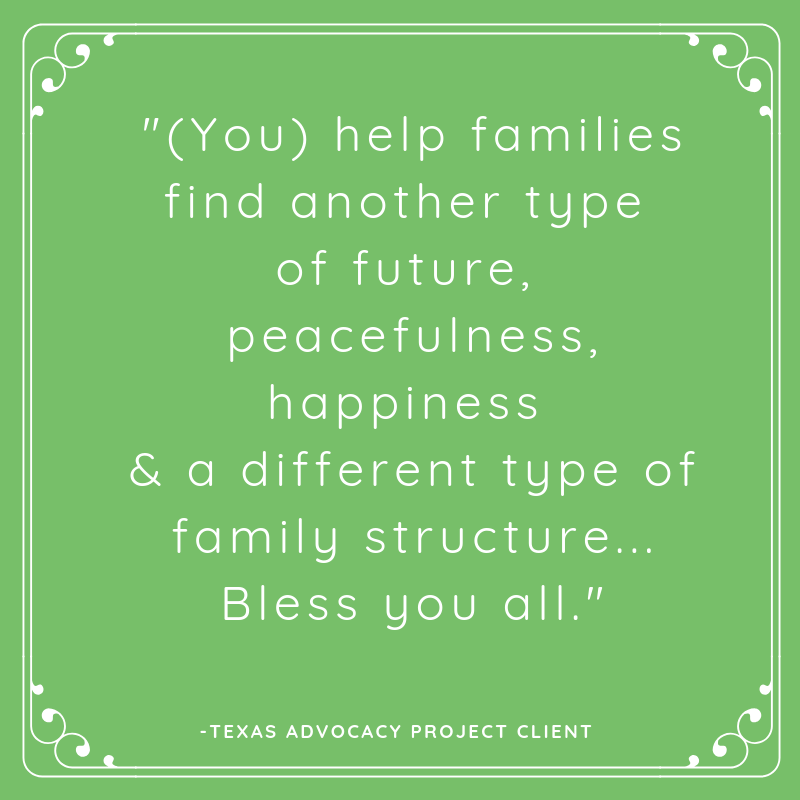 Liliana* came to Texas Advocacy Project to get help with getting divorced and finding protection for herself and her two daughters.  Liliana had suffered verbal, mental and deadly physical abuse by her husband.  He threatened to kill her by burning down their family home and strangled her to the point that she thought that she was going to die.  He also verbally and mentally abused their two children to the extent that the teenage daughter became suicidal. 
Liliana was still living with the abuser and in deep danger when she sought our services.  To get her safe immediately, her Project attorney provided direct representation in the protective orders hearing.  In the end, we were able to secure a 15-year protective order that gave Liliana possession of her children, her vehicle, and the family home.  Liliana wrote to us to express her gratitude!
(*Name has been changed to protect the survivor). 
---
Staff Spotlight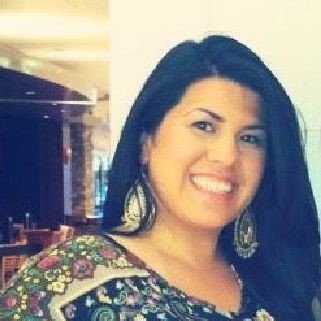 Interview with New Staff Member
Ambrosia Urias, Training & Outreach Coordinator
Why are you passionate about working at Texas Advocacy Project?
I believe in the mission of Texas Advocacy Project and the work that we do to assist our clients in taking back control of their lives. I come from a background of strong women who survived severe domestic violence, so I'm passionate about supporting others and being an advocate in my role as Training & Outreach Coordinator.
 
What is your favorite thing so far about working at The Project?
My favorite thing about working for Texas Advocacy Project is being able to leverage my skills and past experiences to serve the greater purpose of our organization in empowering survivors. I also enjoy working with a great group of highly talented and purpose-driven individuals.
 
What's something you have learned about our organization that you didn't know before joining the team?
Since joining TAP, I learned and have been extremely impressed by the fact that survivors, with TAP's assistance, can successfully represent themselves in court. It's a pleasure to work for an organization that makes this feat possible for women.
 
What do you most like to do to unwind?
When I want to unwind, I enjoy relaxing outdoor walks with my pup, Emma, followed by a glass of red wine.
 
What can we find you doing on the weekend? 
On the weekend I love finding the best brunch spots in town followed by hitting my favorite hiking trail with my roomie. I also enjoy catching a movie at the theater.
---
Hope for the Holidays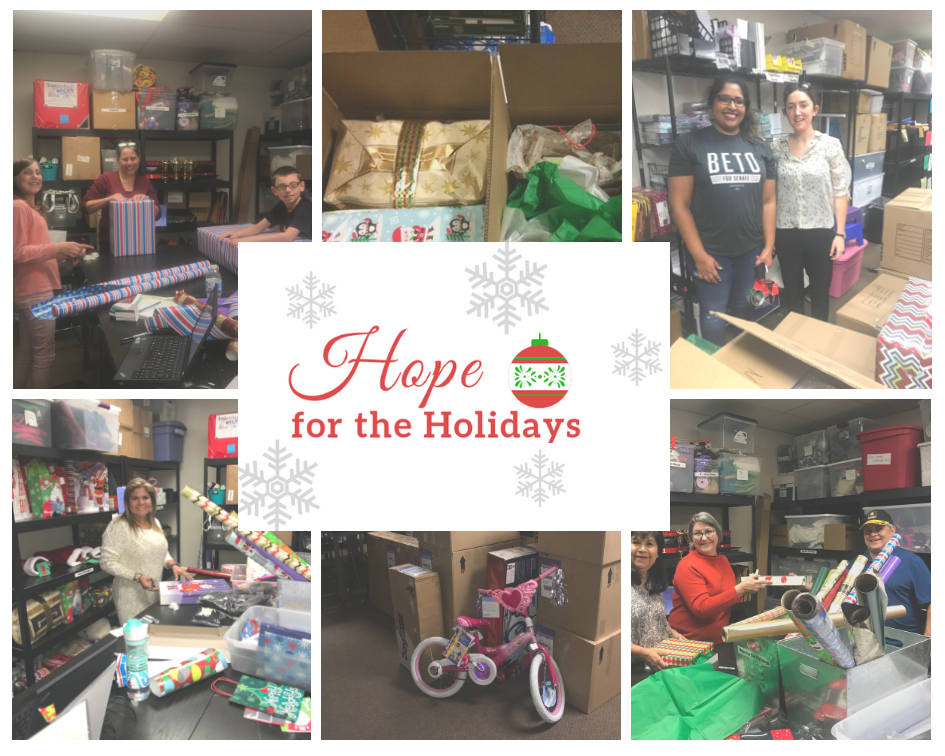 For the 8th year, we held our annual Hope for the Holidays campaign, where we partner with our supporters to provide gifts for families who have received our legal services in the past year.  This year, our attorneys nominated five deserving families and we are thrilled to announce that thanks to our wonderful supporters, all five families will be able to experience the joy of Christmas.  The success of this campaign is due to the selfless giving of many people.  First, we would like to thank everyone who donated a gift from the wish list of our families.  We are excited to imagine the look on all the children's faces when they see their gifts.  Also, to our volunteers who assisted with the wrapping of over 300 presents, we appreciate your time and passion for this campaign.  Last, but certainly not least, we would like to send special appreciation to the following sponsors who made significant monetary donations to support this year's campaign:
Brett Berry with the Rustic Tap Bar
Dirty Bill's Bar
Seth Bitney & Friends
The Rothell Charitable Foundation of Central Texas
 
Thank you all for helping to spread cheer this holiday season!
Happy Holidays,
The Training & Outreach Team
---
GuideStar Platinum Ranking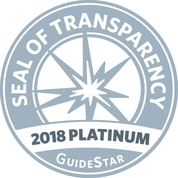 Texas Advocacy Project is proud to have reached Guidestar's highest ranking, Platinum Nonprofit Profile status!  We're committed to the highest level of transparency.  Check out our Nonprofit Profile on Guidestar. 
---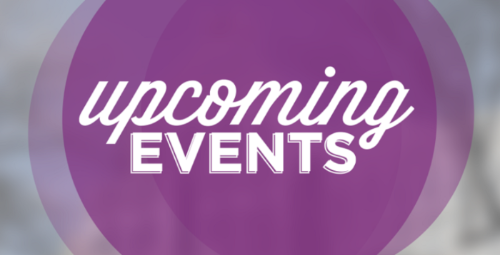 The Year in Review Comedy Show to benefit TAP (Adult Audiences Only) Tickets at  http://bit.ly/YiR2k18 - Thursday, Dec. 27, 2019, 8 pm
Teen Ambassadors of Hope Nominations Open - Friday, Jan. 4, 2019
Black & White Ball at the JW Marriott Austin - Saturday, Oct. 26, 2019​
---