IN THIS ISSUE - August 2020
---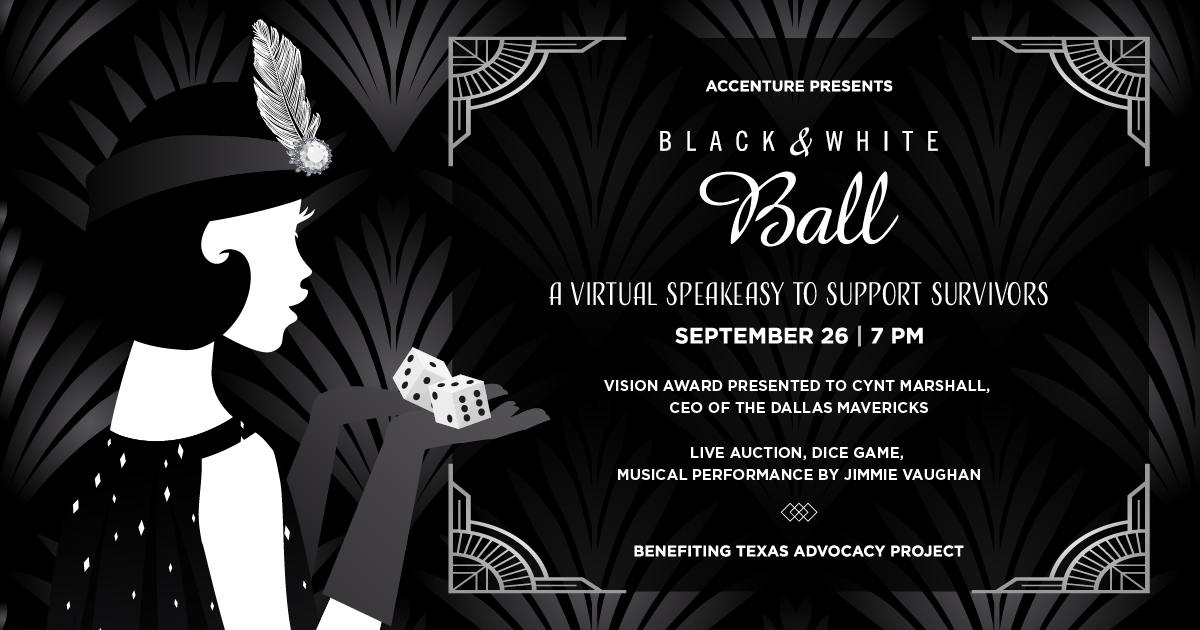 Gather all the Guys and Dolls to celebrate Texas Advocacy Project's 38 years of providing free legal solutions to end power-based abuse in Texas at the 14thannual Black & White Ball, presented by Accenture. A Virtual Speakeasy To Support Survivors Saturday, September 26, 2020 at 7pm.
 
Don your 1920's apparel, grab a cocktail, and have a Ball with us virtually! The hour-long presentation features…The launch of TAP's new PSA outreach videos, the Vision Award presentation, Raffles, & more. We are thrilled to announce our fabulous and luxurious Live Auction!
Skiing in Whistler, golfing in Scotland, margarita sipping in Mexico, touring music city Nashville- one of these adventures could be yours!

After the Live Auction, try your luck with a roll of our dice game and then settle in for a short concert,featuring local musical talent, Jimmie Vaughan!
The Project is proud to honor Cynt Marshall, CEO of the Dallas Mavericks, with the 2020 VISION Award, which is presented annually to a leader committed to ending personal violence in Texas. Be on the lookout for some Dallas Mavericks players to pop in as special guests!
Prohibition era costumes are encouraged. We will be sending out costume ideas, including where to shop, fashion tips, cocktail recipes, and how to host your own house party should you choose. 
---
The Department of Education recently released new Title IX regulations for universities and K-12 schools that limit how schools must respond when sexual harassment occurs. Some situations are no longer required to be investigated under these new regulations, so consequences are lowered for schools that fail to act on others. These new Title IX laws apply to public schools and private institutions that accept federal funding.
 
The TAP team has made a parent-friendly summary of some of the key Title IX changes that went into effect last week on August 14th. The summary includes information on the changes made to the definition of "sexual harassment", how the location of the incident matters, and how important it is to know who is required to act on a report of sexual misconduct. 
 
If you or your children have questions about an incident of sexual harassment or abuse at school or elsewhere, please call us at 800-374-HOPE to speak to a TAP attorney for free.
FOLLOW US ON SOCIAL MEDIA TO STAY UP TO DATE WITH EVERYTHIG HAPPENING AT TAP!
---
What initially brought you to Texas Advocacy Project?
In 2017, another Board member, Matt Matthews, invited me to the Black & White Ball. He was eager for me to learn more about the Project because he thought my experience in the legislature could be valuable. Fast forward to 2018: my husband and I had just moved into a new neighborhood and were attending a Christmas party down the street when I ran into an acquaintance and Board member, Leslie Rhode. What a small world! When she mentioned TAP, I told her I would love to be involved, and the rest is history! 
 
What are your personal goals in serving as a board member?
My goal is to offer any expertise, counsel, and training that I can based on my extensive legislative experience. I hope that my contributions will be valuable, and that I can facilitate connections, communication, and help spread awareness of TAP's mission.
 
What is your occupation and how would you describe what you do day to day?
After almost 20 years as a staffer in the Texas Legislature, in 2018 I embarked on a new career. My sister and I opened the flagship store for our cosmetics line, Elevé, and built a champagne bar inside. Needless to say, COVID-19 has certainly changed our day-to-day operations! Our store has been closed to the public since mid-March, but we currently offer online shopping and curbside pick-up, which means just the two of us are at the store most days. We have learned SO much since March! Each day is different - sometimes we are focused on marketing, others we focus on social media, photography, or product development. On the most interesting day in recent memory, I was a producer/director and she was an actress! It's amazing the skills you can learn when you have no other choice. 
 
Tell us a bit more about your legislative experience.
I had a great career which began in the Texas House of Representatives in 1998, as a House Sergeant, assisting legislative staff and delivering mail. Prior to the 1999 legislative session, I went to work for Speaker of the House Pete Laney, who is to this day a friend and mentor. In 2003, I was hired to be the Assistant Clerk of the Senate Finance Committee under Chairman Teel Bivins. I later moved to the Chairman's Capitol office to work as his scheduler, but only a few short months later, he was appointed Ambassador to Sweden by President George W. Bush. His successor, Senator Kel Seliger, took office in March 2004, and I worked for him until the day I left to start a business. From 2010 to 2018, I was honored to serve as his Chief of Staff. My time in Senator Seliger's office was the most challenging and rewarding of my career. I consider myself blessed to have had the opportunity to work for a true statesman for so many years.
 
What initiative, campaign or event do you enjoy most from the Project?
Having served on the board for only a few months, this year was my first experience watching the Teen Ambassadors of Hope receive their awards and accolades. What an incredible group of teens! I was impressed with their campaigns to raise funds, particularly during a pandemic, and I was equally impressed with TAP for putting together such a wonderful virtual program! Who could ask for more than balloons in boxes with trophies?! 
 
How has serving as a board member made a difference in your life?
I am now part of a mission to make a positive difference in people's lives, and I cannot imagine anything more rewarding. I am honored to be part of a team full of amazingly talented people who work hard and give freely of their time and diverse talents. 
 
How long have you lived in your current city?
I've lived in Austin since 1997, when I moved here to attend the University of Texas. I graduated in 2001 but, like so many others, never left!
 
What is your favorite pastime?  Where can we typically find you on a Saturday evening?
I love food and cooking! Pre-pandemic, you could typically find me out at a restaurant with my husband, or my sisters & mom for a girl's night. These days, I'm more likely to be at home, preparing something festive and maybe taking a dip in our backyard pool.
 
What is your favorite dish or restaurant?
This is a very, very hard question for me! I would say that the answer changes frequently, but Elizabeth Street Café is consistently in the top few. I love their grilled tofu bún. You can find me more often, though, at Maudie's, enjoying a Gill's margarita. Unless I'm in Las Vegas (hopefully in 2021!), and then Mesa Grill's brunch tops the chart!
---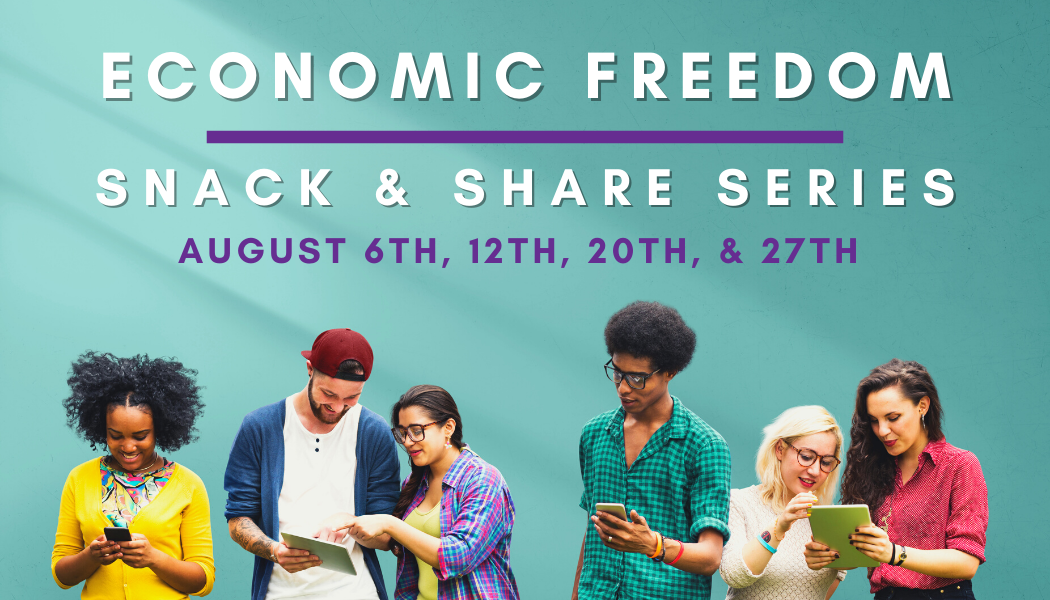 We are proud to announce our brand new four part Economic Freedom Snack & Share training series in partnership with the Allstate Foundation. These trainings are jam-packed with current information regarding economic advocacy for those working with survivors day in and day out.
 
These trainings include 25 minutes of economic advocacy, coerced debt, solutions, and more, plus 20 minutes of Q&A. TAP has already presented the first two, but don't worry if you missed them. You can watch anytime using the links on the titles below and register for the final two. They're just like your favorite Friends episodes—you can watch an episode on its own and won't miss a beat!
 
Part 1: Economic Abuse and Civil Legal Advocacy
We laid the foundation for economic advocacy and discussed financial barriers that survivors are currently facing due to COVID-19.
 
Part 2: Legal Barriers and Solutions for Survivors of Economic Abuse
We discussed creative legal solutions for survivors including protective orders, child support, housing, and the Crime Victims' Compensation Fund.
 
Part 3 tomorrow 8.20 at 12pm: Coercive Debt and Legal Protections Available for Survivors
A discussion of coerced debt, which is debt incurred by an abuser in the name of a victim of domestic violence, through threat, force, or fraud. We will show that by addressing this financial barrier, survivors will gain, maintain, and rebuild their financial safety and security. 
 
Part 4 on 8/27 at 12pm: Building Economic Legal Advocacy Practices for Your Program
The last training of the series will cover steps on how advocates can incorporate financial assessments and screenings into their tool-kits, and how to think creatively on community partnerships that assist survivors with financial freedom. 
 
If you're interested in bringing financial advocacy trainings to your program, please reach out to the Advocacy & Outreach team at training@texasadvocacyproject.org. Our trainings are always customizable and free!
---
Texas Advocacy Project is now ranked by Charity Navigator through their Encompass Rating System with a score of 100 out of 100! The Encompass Rating System is a comprehensive evaluation tool that analyzes nonprofit performance based on four key indicators – starting with Finance & Accountability.  
With this new ranking, TAP now has the highest possible rankings by both Guidestar (Platinum) and Charity Navigator (100)! 
---
Black & White Ball - A Virtual Speakeasy to Support Survivors  |  Sat, Sept 26th  | TICKETS