IN THIS ISSUE - April 2018
Teen Ambassadors of Hope Training
Purple Purse Flash Fundraiser
Advocate Spotlight
Honorary Board Spotlight
Hope Brunch


---

Teen Ambassadors of Hope Training
​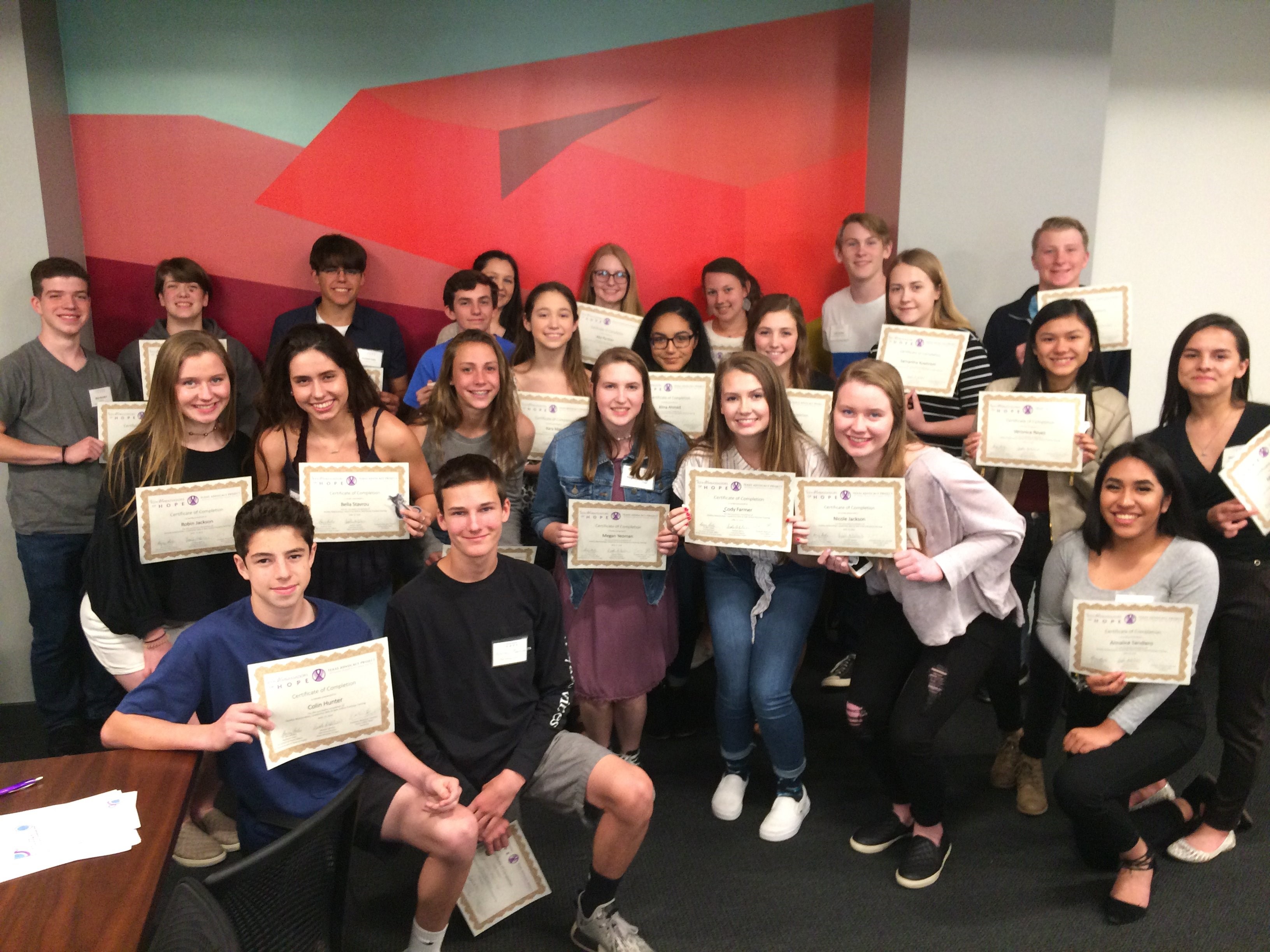 ​On April 15, 2018, 26 new and legacy Teen Ambassadors of Hope gathered for a day of learning, inspiration and motivation.  After outgrowing our old space, this year our 4-hour training took place at the chic new Fareground, downtown. 
The training began with an interactive role play activity called "In Their Shoes," led by Amanda Elkanick Oder, Survivor Services & Training Director at The Project.  Right away this got the teens into small groups and involved in real world/true story scenarios, a "choose your own adventure" of appropriate choices.   Amanda's presentation also included important topics such asconsent, sexting, boundaries and digital boundaries. 
One of the highlights of the training was a heartfelt presentation by Dr. Barry Bales, Assistant Dean, of the LBJ School of Public Affairs at University of Texas at Austin.  Dr. Bales presentation on Leadership Skills included valuable information about credibility, listening skills and valuing other people's perspectives.   At one point he gave the teens a problem scenario and they all gravitated toward different solutions, which exemplified how our solutions to problems are colored by our different perspectives.   As Dr. Bales pointed out, "part of being a good leader is broadening your perspective."  
We were excited this year to have Elizabeth Bliel and Leah Treitman with the Facebook Online Safety Team presenting about online safety.  They highlighted one example of a teen posting a party invite online, forgetting to make it a private, and a mob of 3,000 showed up at her house.  
The three main goals of the Teen Ambassadors of Hope program are to 1) Raise awareness about teen dating violence 2) Promote awareness about Texas Advocacy Project's hope line and free services and 3) Raise funds. To stay up to date on their progress, be sure to follow our Teen Ambassadors Facebook page @TeenAmbassadorsofHope and on Instagram @TexasAdvocacyProject.  You will be hearing more about their individual Crowd Rise Campaigns on social media soon.
---
Purple Purse Flash Fundraiser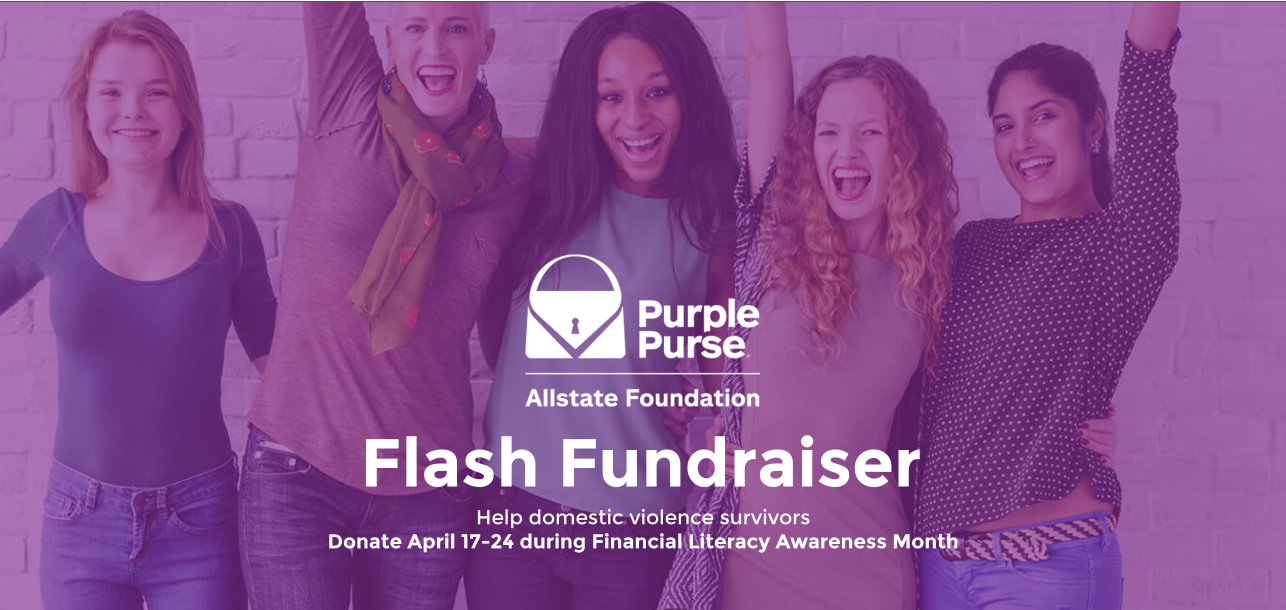 One in four women in America will experience domestic violence in her lifetime. And almost all victims stay in or return to an abusive relationship because of financial abuse. In April, during Financial Literacy Month, Americans can make a difference. 
The Allstate Foundation is excited to announce the 2018 Purple Purse Flash Fundraiser, a friendly fundraising competition for qualified 501(c)(3) nonprofits from around the country. We are competing to win $50,000 in grand prizesand bonus dollars to help further our mission to end domestic violence in Texas. 
The Purple Purse Flash Fundraiser launched yesterday Tuesday, April 17, and runs through Tuesday, April 24, at 1 p.m. CST. 
• The organization that raises the most during the Flash Fundraiser wins a $25,000 donation
• Second place gets $15,000
• Third gets $5,000 
And, there will be a random drawing among all participating nonprofits that raise $1,000 for another $5,000 prize. 
The best part of the Flash Fundraiser is that each nonprofit keeps all the funds they raise to help move the needle on their important work.
Help us win $25,000 by donating here!
---
Advocate Spotlight - 
Highland Lakes Family Crisis Center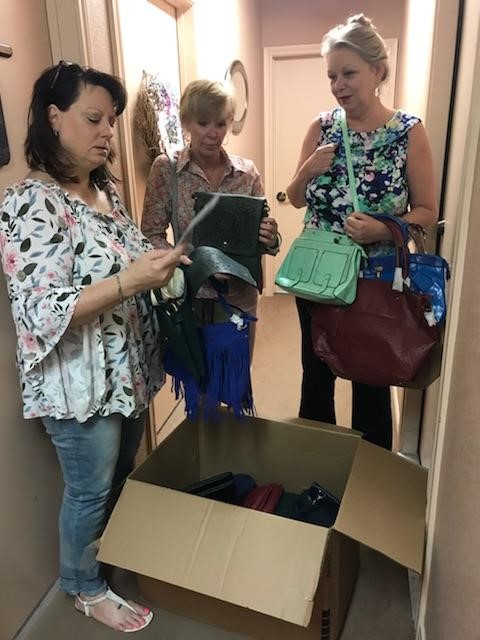 Q & A with Conny Steele, Program Director at Highland Lakes Family Crisis Center
 
1. Describe your agency mission and the services Highland Lakes provides to survivors in your community. 
The Highland Lakes Family Crisis Center is dedicated to offering services for survivors of family violence, dating violence, stalking and adult/child survivors of stranger and non-stranger sexual assault.  We provide emergency shelter, counseling, case management, crisis intervention, legal advocacy, and safety planning.  We cover four counties:  Burnet, Blanco, Llano, and Lampasas.
2. Can you tell us about your agency's history with TAP and how it got involved with Handbags for Hope?
When we started participating in the Handbags for Hope program several years ago, we thought our request for 50 bags was too much!!!  We were so wrong!  Our clients were so appreciative of receiving a beautiful new purse!
3. What is it like on Mother's Day when the handbags are distributed to your survivors? 
Handbags for Hope has been a blessing for clients.  We truly appreciate your program!!   We distribute them for Mother's Day and our Legal Advocate distributes the larger tote bags to her clients that are going through the legal system (i.e. filing for protective orders, divorce, etc).  She calls them "court bags."  She usually puts a bottle of water, note pad w/a pen, stress ball, puzzle book, and a small blanket in case the court room is cold.
4. What keeps you motivated?
Our clients!
---
Honorary Board Spotlight -
Julienne VanDerZiel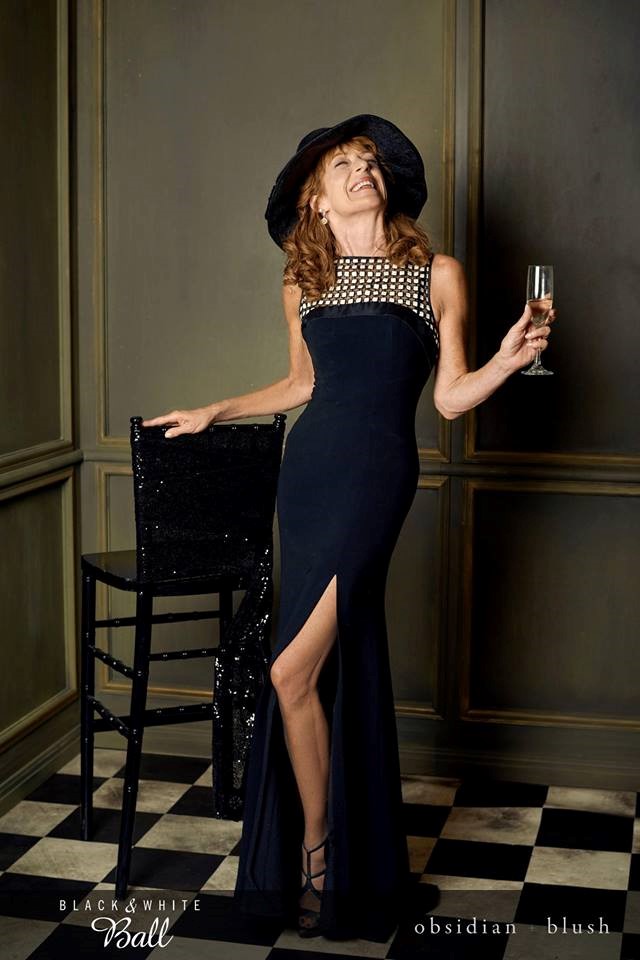 Get to know Julienne Vanderziel, a longtime board member and current Director of ITS Applications for The University of Texas.
1.    What initially brought you to Texas Advocacy Project?
I worked at Accenture and got involved through them; the more I learned about The Project, the more I wanted to be involved!
2.    Why is the Project's mission important to share with others?
Unfortunately, domestic violence and stalking are still very real problems in our society, with very real victims.  We must do everything we can to help stop the cycle, and help the victims escape and make new and better lives for themselves and their families.
3.    How has serving as a board member made a difference in your life?
Serving on the board has broadened my knowledge of the issue, and my ability to make an impact.  I've also met some really terrific people that I never would have crossed paths with otherwise.
4.    What have you learned that you didn't know before joining the board?
How careful The Project is to make sure every dollar is used in the best possible way, to provide help to those in need.
5.    What are your personal goals in serving as a board member?
To broaden my understanding of the legal issues surrounding domestic violence – it's not just about finding a safe place, though that is also very important, it's about getting a permanent solution so the victim can move forward.
6.    What initiative, campaign or event do you enjoy most from the Project?
That's a hard one – I do love getting all dressed up for the Black & White Ball, and it's my excuse to buy new shoes, too!  But the Teen Ambassadors of Hope program really strikes me as a great way to stop the cycle early, before it starts.
7.    How long have you lived in your current city (Austin or Houston)?
I've been in Austin for 13 years; I think I have to get to 20 before I can be "native."
8.    What is your occupation and how would you describe what you do day to day?
I am the Director of ITS Applications for The University of Texas.  That means I manage a team of programmers, analysts and engineers to support UT's computer systems and web sites.
9.    What is your favorite pastime?  Where can we typically find you on a Saturday evening?
If the weather cooperates, you'll find me in my backyard, puttering around my gardens or koi pond.  If it's Saturday evening, I'm probably drinking wine in a nice restaurant, Austin has so many good places to eat!
10.    What is your favorite dish or restaurant?
Is chocolate a dish?   I'm striving to support all the new places down in Dripping Springs – Treaty Oaks Distillery is great!
---
Hope Brunch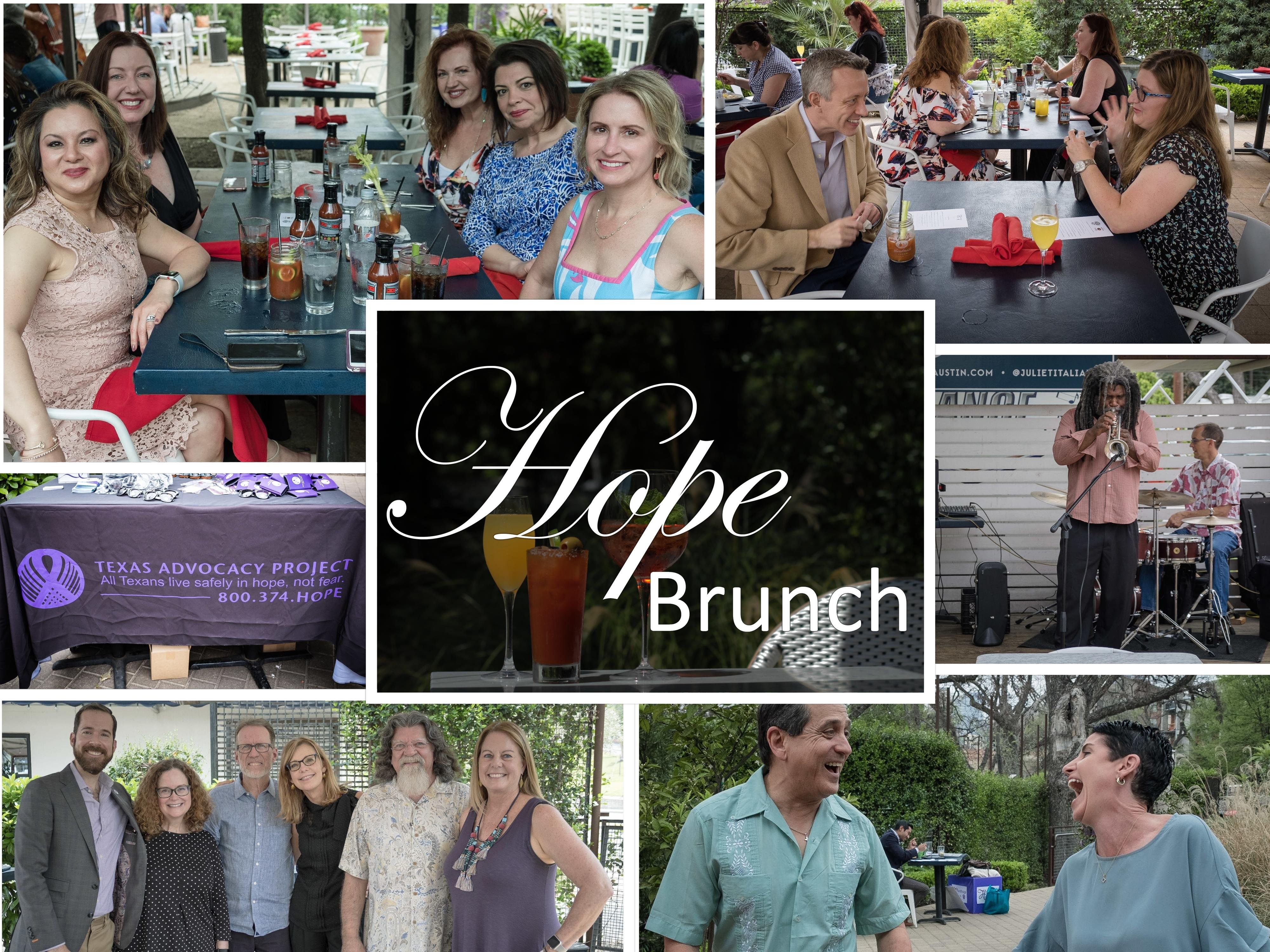 It was a beautiful Spring day in Austin at the 2nd Annual Hope Brunch, as we raised awareness, critical funds, and collected Handbags for Hope.
Thank you to our gracious host Juliet Italian Kitchen, sponsors Tito's Handmade Vodka and Bloody Revolution - Gourmet Bloody Mary Mixes, and everyone who attended and donated new and gently used purses to help women gain access to justice.
---